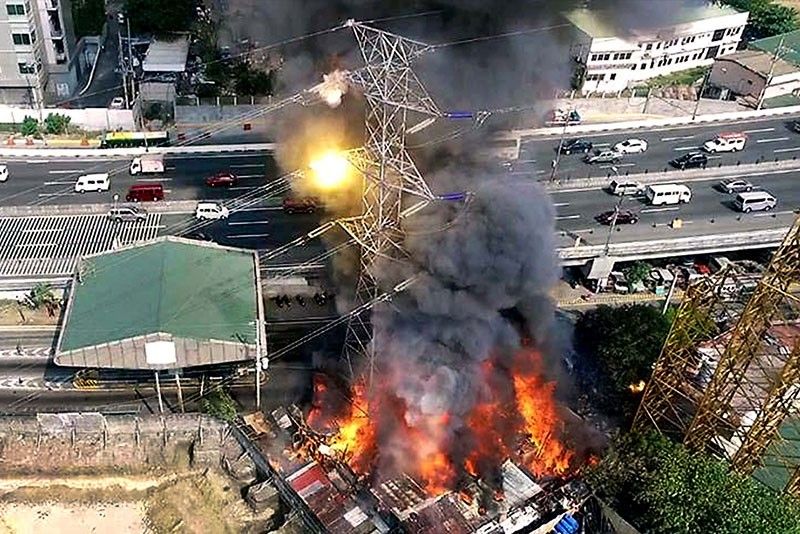 Photo from the Facebook page of Gilbert Dolot shows an NGCP transmission tower collapsing on the Alabang viaduct main carriageway in Muntinlupa following a fire that gutted houses surrounding the structure yesterday.
Fire topples transmission tower at SLEX in Alabang
MANILA, Philippines - A transmission tower of the National Grid Corp. of the Philippines (NGCP) collapsed yesterday after a fire gutted houses built at the foot of the tower in Alabang, Muntinlupa City.
City fire marshal Gilbert Dolot said motorists at the South Luzon Expressway (SLEX) and Alabang viaduct were stranded when the collapsed high-tension wire tower leaned toward the northbound lane of the highway in Barangay Alabang.
Dolot said the blaze that broke out at 8 a.m. had weakened the foundation of the metal tower.
The damaged structure did not hit the Alabang flyover but only leaned and did not reach the pavement as motorists were stopped to prevent any accident.
Authorities temporarily closed the northbound and southbound lanes of the Alabang viaduct.
Arson investigators are still verifying the cause of the fire that affected at least 80 families.
No casualty was reported after the more than one-hour blaze.
On a Facebook post, NGCP said they have deployed personnel on-site to assess the damage and check the safety perimeter.
Aerial patrols were also conducted to evaluate the integrity of the tower located near the SLEX Alabang exit.
The Muntinlupa Social Service Department responded and provided meals for the affected families.
Mayor Jaime Fresnedi vowed to provide financial assistance to the fire victims.
The NGCP said its Biñan-Muntinlupa 230kV line tripped due to a fire reportedly caused by illegal settlers at the foot of the tower.
"Due to the extent of the fire, the foundation of Tower 34 of the line was weakened, causing the tower to lean," it said.
Several areas in the Manila Electric Co. franchise were affected.
"As of 12:35 p.m. 70 customers are still with no power. Areas included are Alabang, Muntinlupa and BF Homes, Parañaque," Meralco spokesman Jose Zaldarriaga said.
The Bureau of Fire Protection (BFP) called on local officials to prevent informal settlers from living near power transmission towers.?BFP spokesman Chief Insp. Ian Manalo said building homes in the vicinity of power transmission towers could be dangerous and could result in electrocution.?The local government units should not allow informal settlers to occupy areas around transmission towers, he added.?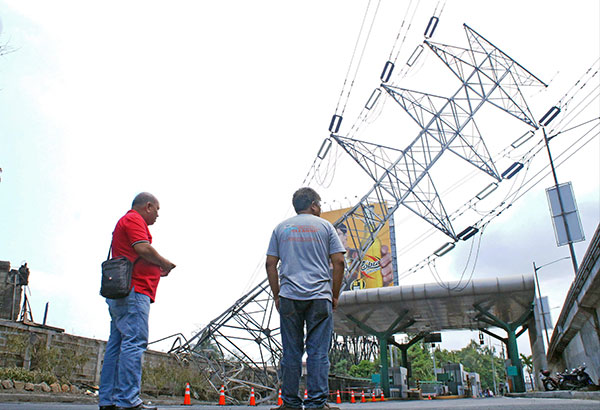 Workers from the National Grid Corp. of the Philippines inspect a toppled electricity tower after a fire gutted houses of informal settlers living under it in Muntinlupa City yesterday. MIGUEL DE GUZMAN
Transmission tower bombed in

Aleosan
Meanwhile, NGCP also reported that its Tower No. 68 of Kibawe-Kabacan 138kV line was bombed by suspected rebels in Barangay Pagangan, Aleosan, North Cotabato last Monday night.
Supt. Romeo Galgo Jr., spokesman for the Police Regional Office-12, said the bombing did not cut the supply of electricity to villages in Aleosan and neighboring towns in the province. – With Danessa Rivera, Cecille Suerte Felipe, Robertzon Ramirez, John Unson