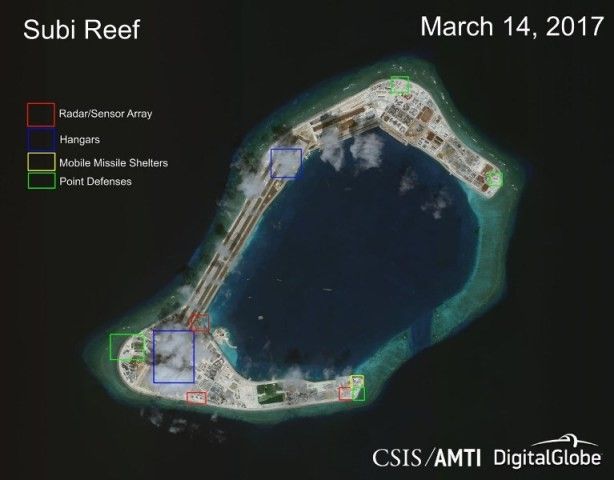 This March 9 satellite image released by the CSIS Asia Maritime Transparency Initiative shows that all hangars for 24 combat aircraft and four larger planes have been completed on Subi (Zamora) Reef.
AMTI/CSIS via DigitalGlobe
Philippines to verify Chinese military assets in Spratlys
MANILA, Philippines — The Philippine government said it is yet to verify the completion of Chinese military assets in the Spratly (Kalayaan) Islands in the South China Sea, the country's top diplomat said Thursday.
This is despite Washington-based think tank CSIS Asia Maritime Transparency Initiative's (AMTI) recently released satellite images showing the nearly complete construction of infrastructures on Subi (Zamora), Mischief (Panganiban) and Fiery Cross (Kagitingan) Reefs.
Acting Foreign Affairs Secretary Enrique Manalo said that the AMTI is basically suggesting that the facilities could accommodate military assets when it took the photos.
"We take it very seriously but I think when they say that this would accommodate this and that... We will have to verify with China," Manalo said in an interview with ANC's "Headstart."
The think tank reported that the facilities in the three air bases would allow Beijing to deploy military assets including combat aircraft and mobile missile launchers to the Spratly Islands any time.
The hangars on the "Big Three" islands can accommodate 24 combat aircraft and four larger planes that can be used for transport or refueling, according to the report.
China's facility on Woody Island of the Paracel Islands would allow military aircraft to operate nearly the entire South China Sea.
Manalo, however, said that the Philippines would have to ask China first on their intention of building the facilities.
"These could also be used for civilian uses and or military. We're not yet sure so we have to really see what happens," Manalo said.
The Foreign Affairs secretary said that the Philippines would have to look at this issue in the context of the country's approach to the South China Sea issue.
"The Philippines is fully committed to seeking a peaceful resolution of the disputes in the South China Sea," the secretary said.
Manalo reiterated that President Rodrigo Duterte made it clear that he would set aside the ruling of the Permanent Court of Arbitration on the issue.
On July 12, 2016, the arbitral tribunal issued its award on Manila's complaint against Beijing's nine-dash line claim over the South China Sea. The United Nations-backed tribunal ruled that China violated its commitment to the United Nations Convention on the Law of the Sea when it constructed artificial islands in the Philippines' exclusive economic zone (EEZ).
The country's top diplomat, however, said that Duterte will raise the arbitral tribunal's ruling with China "at the appropriate time."
"I can't divulge exactly how we'd say it but we would be pointing out that these construction are taking place on islands within our EEZ," Manalo said.