Tight VP race: Academics engage online over 'trends' in quick count
MANILA, Philippines — Statisticians and other academics from top universities in the country have come down from their proverbial academic ivory tower to offer insights on the supposed unusual trend in the quick count of the vice presidential race.
The issue, which has gone viral on social media, began when David Yap — a professor of statistics at the Ateneo de Manila University — claimed on Wednesday that he has discovered patterns on the votes that came into the transparency server of the Parish Pastoral Council for Responsible Voting (PPCRV).
Antonio Contreras, professor of political science at the De La Salle University, followed up with a claim that there were signs of electoral fraud based on the trends on the votes received by Camarines Sur Rep. Leni Robredo and Sen. Ferdinand "Bongbong" Marcos Jr.
RELATED: Leni camp to Bongbong: Respect the democratic process
"They say that the entry of returns are randomized. However, if it is randomized, how come the marginal increases in the numbers are almost uniform every one percent," said Contreras.
Yap initially posted some of his findings, including allegations that the lead of Marcos had been dwindling by 40,000 per 1 percent starting the 80 percent mark.
He has since deleted his posts, saying he would no longer post his findings on social media but would be willing to share it to the camps of the vice presidential candidates.
"I will allow my analyses to be discussed, reviewed, and deconstructed by any and all camps for the sake of impartiality. I will let the results of the analyses come out sober and even-tempered to avoid sowing confusion and discontent," he added.
Contreras, however, continued with his analysis, including an argument on the supposed excuse that Robredo overtook Marcos after votes from her bailiwick came starting late Monday night.
The lead of Marcos went as high as one million in the partial and unofficial tally before he was overtaken by the Camarines Sur lawmaker around 3 a.m. on Tuesday.
READ: Zero votes for Bongbong in some areas possible, says lawyer
Experts elaborate data
After the publication of the posts of Yap and Contreras, several academics have pounced in on the discussion and offered their respective analyses on the supposed trend.
Carmela Lao — who recently made headlines after graduating with top marks at the Massachusetts Institute of Technology — discussed the nature of randomness of the election returns, which she said is a crucial statement to which Yap hinged his argument of electoral fraud.
"The entry of returns is NOT mathematically randomized," said Lao.
"In this case, they probably meant nondeterminism. But the entire analysis afterwards assumes mathematical randomization, that is, each precinct return had an equal chance of being submitted at each time, when this is not the case, and therefore as in mathematics, if one of your assumptions is incorrect, your entire argument thereafter falls apart," she added.
READ: Miriam questions Leni's lead over Bongbong
In another post, statistician Adrian Mendoza refuted the correlation between the cumulative difference between the votes of Robredo and Marcos and the cumulative percentage of polling precincts that have transmitted their election returns.
"Directly correlating the two without checking for co-integration is CARELESS and SPURIOUS. In other words, the linear relationship established may be mostly traced to the time effect and not due to any underlying factor," he said.
"Although we have limited data points, it may be safe to say that the 'clean progression' claimed elsewhere using the wrong data is fraudulent and misleading," added Mendoza.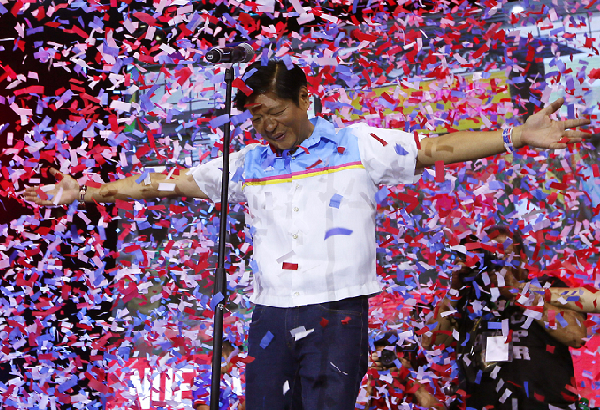 Confetti rain on Vice Presidential candidate Sen. Ferdinand "Bongbong" Marcos Jr., as he is introduced to supporters on his last campaign rally for Monday's presidential elections Thursday, May 5, 2016 at suburban Mandaluyong city east of Manila, Philippines. Marcos, the son of the late Philippine strongman Ferdinand Marcos, is in a "statistical tie" with vice presidential candidate Leni Robredo in poll surveys leading to May 9 elections. AP Photo/Bullit Marquez
Meanwhile, Peter Julian Cayton of the UP School of Statistics stressed that current available data cannot distinguish between cheated and true results and that he would not conclude whether or not there was cheating.
He noted that the data used by Yap and Contreras were collected through time and through geographical areas that were masked or hidden from the view of the reader.
"If readers and statisticians do not take into account these other important variables in their analysis, then they might commit mistakes in making conclusions based on "spurious relationships," he said in his post.
In another post, Jan Carlo Punongbayan — a graduate student of the UP School of Economics — concluded that the appraisal of linear trends of Yap and Contreras cannot in anyway support the conclusion that there was cheating.
"There are a number of techniques to analyze the VP vote data more appropriately and soundly, and our chosen method---a simple examination of growth rates, their moving averages, and their correlations---would tend to argue away from (and not toward) conclusions of cheating in the VP race," he said.
Mig Barretto Garcia, who is studying economics at the University of Zurich, presented evidence which he said refute claims of election rigging made by Contreras and Yap.
"If I were to make a guess, cheating may still exist, but it is likely to be old school. But the data we should be focusing our energies are not incoming transmissions data, but precinct level data," he said.
"The idea is the following: there should be no correlation between voter attendance in a precinct and the share of votes received by a candidate," added Garcia.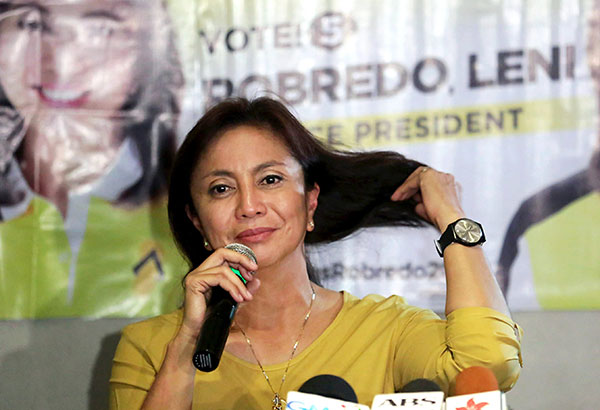 Liberal Party vice presidential bet Leni Robredo on Tuesday described as unfair the insinuations that her lead in the race was due to cheating. STAR/Michael Varcas
John Paul Vergara, Ateneo de Manila University Vice President for Loyola Schools, called for academics to use statistics responsibly.
"It's one thing to show smooth lines demonstrating cumulative vote gaps of candidates, but it's another thing to make conclusions of electoral fraud. Let us use statistics responsibly please," he said.
Chito Abueg of the UP School of Economics also questioned the methodology in gathering and analyzing the data, while communication researcher Clarissa David of UP College of Mass Communication noted the incorrect assumption on how the votes were transmitted.
"What are their assumptions? If they assume that the early returns came from all over the country then everything they say and do after that is incorrect. The assumption is incorrect so all analysis after that is incorrect. Returns come in first from NCR, then the north then Visayas and Mindanao," she said.
"If they are claiming that they can prove cheating with analysis they are wrong. Analysis of ER's at aggregate levels cannot prove cheating. To prove cheating you need evidence of cheating (e.g. tampered ballots), not disliking the outcome," added David.
A computer simulation of the progression of the vice presidential race was also created and has since circulated online.
Tampered script
The discussions over the alleged cheating through the transmission of electoral results happened even as an information technology expert surfaced past midnight Thursday to claim that the script of the transparency server was altered.
The expert, who requested anonymity, claimed that a Smartmatic official have changed the hash code in the server, although he said in reports that they have no proof of actual cheating.
He surfaced hours after Marcos alleged of a tampering in the code.
RELATED: Bongbong unfazed, seeks halt to unofficial count
The senator is claiming that he is being cheated in the partial and unofficial tally, and asked the PPCRV to stop the quick count.
RELATED: Comelec won't stop quick count
Commission on Elections Chairman Andres Bautista reportedly admitted that the script was indeed changed in the server to change a character in the name of one of the candidates from "?" to "ñ."
While Bautista said the change did not affect the results, Contreras questioned why PPCRV Chairperson Henrietta de Villa initially denied the claim.
RELATED: Comelec, Smartmatic deny cheating in revising server script
"If the purpose of the change was to merely correct a spelling, why did Henrietta De Villa just say so when she was asked? Or was she informed? And why were the political parties not informed?" said the professor.
"And if it will not affect counting, and involved only one character and not the full name or surname, why jeopardize the perception of integrity. Why?" he added.