No records opened at bank 'face-off'
Marvin Sy
(The Philippine Star) - May 2, 2016 - 10:00am
MANILA, Philippines - It would have been a moment of truth for their supporters and the public, but yesterday's much-awaited opening of Davao City Mayor Rodrigo Duterte's account with supposedly millions of pesos in bank deposits – in response to a challenge from Sen. Antonio Trillanes IV – failed to materialize.
Hundreds of supporters of Duterte and Trillanes heckled each other outside the Bank of the Philippine Islands (BPI) branch on Julia Vargas in Pasig City as they waited for developments. Duterte had begged off from attending the face-off, citing prior appointment in Davao City.
Duterte's lawyer Salvador Panelo said the bank did not accept his special power of attorney authorizing him to facilitate the opening of the mayor's bank accounts.
Instead, he said the bank management asked that it be given seven days to release details of Duterte's accounts.
In a statement, BPI said it "will not make any comment as regards this morning's discussion involving prominent politicians at our Julia Vargas, Pasig branch."
It added it is "committed to protecting client information and preserving the trust bestowed on us by our client all these years."
Trillanes, for his part, scored the mayor for reportedly reneging on his promise to issue a waiver on the secrecy of his bank deposits despite his taking up Duterte's challenge to issue an affidavit detailing his accusation against the presidential candidate.
He said Duterte's failure to come out with a waiver has shown that the mayor has no intention of telling the truth regarding his alleged hidden wealth.
"Just as I expected, Mayor Duterte is afraid of the truth," Trillanes said in a press conference later held at the headquarters of the Magdalo group in Quezon City.
Trillanes was with Panelo inside the bank for around 30 minutes. He called for a press conference after leaving the bank.
According to Trillanes, Panelo's special power of attorney was only requesting for the account balance and not the transaction history.
"Clearly, Mayor Duterte is hiding something from the nation and the allegation that he had P2.4 billion in transactions in his bank accounts was not refuted," the senator said.
Trillanes said he went to the bank yesterday fully confident that his information about Duterte's accounts was authentic.
He had said that he was also ready to resign immediately if Duterte was able to prove him wrong.
He claimed having prepared an affidavit detailing when and how he was able to get hold of information regarding the alleged bank transactions of Duterte.
Ex-Duterte fan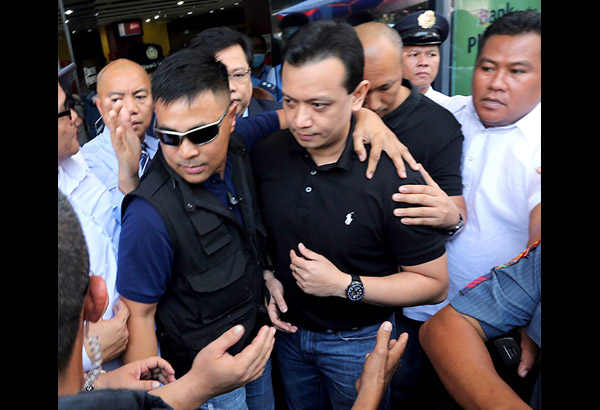 Sen. Antonio Trillanes, who accused the mayor of having fat bank accounts with the bank, is escorted by bodyguards after a meeting with bank officers and the mayor's representative.
Boy Santos
In his affidavit, Trillanes said that he met with a certain Joseph de Mesa at the Magdalo headquarters last April 21, where he was shown information regarding the secret bank accounts of Duterte.
Trillanes described De Mesa as a Duterte fan who had a change of heart after seeing the documents purportedly showing numerous bank accounts where hundreds of millions and even billions of pesos were deposited over the years.
"Mr. De Mesa said he got hold of the documents from a close relative who was working with an agency involved in investigating ill-gotten wealth of government officials," Trillanes said in his affidavit.
Trillanes said that the bank accounts under the names of Duterte and his daughter Sara Zimmerman Duterte at the BPI Julia Vargas and EDSA Greenhills branches and Banco de Oro branch in Mandaluyong City recorded deposits or transfers amounting to P2.4 billion from 2006 to 2015.
"My accusation stands that Mayor Duterte is a billionaire. They just asked for the account balances. They showed nothing. We now know that Mayor Duterte is hiding something. Abangan ang susunod na palusot ni Boy Palusot (Let's wait for the next alibi of Boy Alibi," Trillanes said.
Trillanes said he decided to leave the bank after realizing that Duterte had no intention of opening his accounts to scrutiny.
He vowed to come out with details of the properties allegedly owned by Duterte and his family.
While declining to provide details of the properties pending verification of information, Trillanes said that there are 40 properties listed in the names of Duterte's children alone.
"At the very least this shatters his false claims of being a simple man who lives a simple life," Trillanes said.
He said Duterte's claim of being a crime fighter is a sham, citing a Feb. 10, 2005 report of The STAR.
In the report, Duterte facilitated the release of eight Chinese nationals who were arrested in Davao City following a raid on a shabu laboratory.
Duterte was quoted as saying that he sought their release "in the spirit of the Chinese New Year and for humanitarian reasons."
"Isn't it that Mayor Duterte has been saying that he has killed drug lords but here, with these eight Chinese nationals, he fought for their release," Trillanes said in Filipino.
"Maybe it is their competition that he is killing," Trillanes said.
Corrupt, no doubt – Mar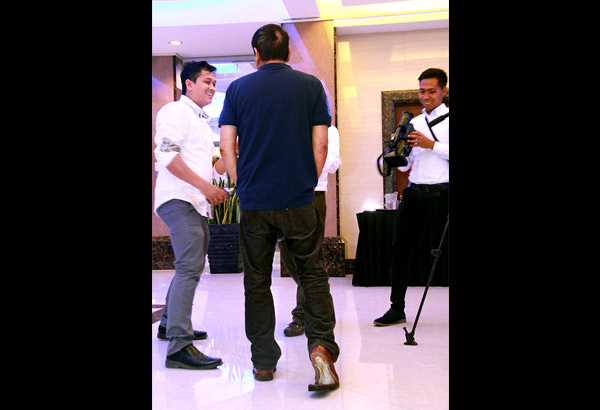 Photo contributed by Sonshine Media Network shows Davao City Mayor Rodrigo Duterte walking with a broken shoe upon arrival at the hangar of Pastor Apollo Quiboloy in Davao City last Sunday night. The mayor said the sole of his right shoe gave way during a campaign rally at Liwasang Bonifacio in Manila.
Liberal Party (LP) presidential candidate Manuel Roxas II also lashed out at Duterte for the latter's admission that he had received millions in cash gifts from friends.
"According to the Anti-Graft and Corrupt Practices Act, you are not supposed to receive such huge amount of money. If it's your birthday and you are given a cake, that's allowed. But if you are given P1 million, that's already a bribe," he added.
"He (Duterte) talks and if he gets caught, he will change the story," Roxas said.
"I thought only his mouth was dirty. It turns out that even his hands are dirty," he added.
Duterte has dared Roxas to release his bank transactions from the last 20 years but the LP standard bearer is not accepting the challenge.
"We are on a wild goose chase for all others but Mayor Duterte is the one who has a hidden account. Mayor Duterte is the one with hidden wealth. He should be the one explaining. Let us not be fooled by his deception and obfuscation. He is just muddling the issue," Roxas said.
"If we base our decision (who to vote for president) on the truth, we won't make a mistake. The truth, if candidates have dirty hands, have hidden wealth and even now would not explain the millions in their bank accounts – what happens if they are elected president?" Roxas said.
He stressed the alleged hidden wealth of Duterte – who is leading the surveys – should be a major concern for voters.
"He's not yet president and yet he already has hidden wealth – hundreds of millions of pesos and more than 40 properties. The media has reported that more than P2 billion came in and out of these accounts," he said.
Vice President Jejomar Binay also called on Duterte to explain his alleged hidden accounts as well as undeclared properties if he is really against corruption.
"Mr. Duterte should just explain," Binay said during a press conference in Ilocos Norte yesterday.
Binay earlier challenged rivals, including Duterte, to sign a waiver allowing the Anti-Money Laundering Council to examine their bank accounts as well as those of their spouses and children.
"Maybe he's afraid he'll be exposed," Binay said of Duterte's not accepting his challenge.
Waiver for poll bets
Meanwhile, Valenzuela City Rep. Sherwin Gatchalian said yesterday he would push for the enactment of a law that would require all candidates to execute bank secrecy waivers upon filing their certificates of candidacy for their respective positions.
Gatchalian, a senatorial candidate, said he is calling for greater transparency in the finances of incumbent and prospective elective officials amid the growing controversy concerning allegations of hidden wealth against Duterte.
He said the proposed waiver would exempt candidates for public office from the protections provided by Republic Act No. 1045, otherwise known as the Law on Secrecy of Bank Deposits.
"The electorate must be armed with as much information as possible about the candidates before casting their vote. This law would provide the general public with a powerful tool to scrutinize one of the most critical aspects of an aspiring elective official – his or her integrity," he said.
Gatchalian's proposal provides for the automatic disqualification of any local or national candidate who fails to execute a bank secrecy waiver and file it with the Commission of Elections (Comelec) on or before the filing deadline for certificates of candidacy.
The waiver would be valid throughout the campaign period, and through the entire term of office of winning candidates.
Gatchalian said his proposal would make it easier for government auditors and civil society watchdogs to check the veracity of the statement of assets, liabilities and net worth (SALN) filed by public officials yearly.
"In the face of the continuing scourge of corruption in government, public servants must be held to a higher standard of transparency. The mandatory bank secrecy waiver would be a precise scalpel which we can use to cut the cancer of corruption out of government once and for all," he said. – Robertzon Ramirez, Paolo Romero, Helen Flores, Alexis Romero, Lawrence Agcaoili, Jaime Laude, Romina Cabrera