In Italy, PNoy bashes 2016 presidential bets
(Philstar.com) - December 3, 2015 - 8:11pm
ROME, Italy (UPDATED 2:10 p.m.) — President Benigno Aquino III on Friday made a pitch for the candidacy of Liberal Party presidential bet Manuel Roxas II and took potshots at other potential contenders in the 2016 presidential race.
What was supposed to be a meeting about the plight of Filipino communities turned into a subtle campaign rally after Aquino suggested that Roxas alone can continue the reforms he initiated.
"We dreamed and now our dreams came true. Are we going to hold back? Why would we rely on those who only deliver promises or those who might, I repeat, might fulfill their promises if we already have a companion who joined us and worked with us to transform our country?" Aquino told about 500 Filipinos at the Ergife Palace Hotel here.
"Maybe you already know who I am referring to," he added.
Aquino did not mention names but alluded the opponents of the administration bet.
"Mayroon po diyan, inakusahan ng pagsasamsam ng kaban ng bayan sa pagkatagal-tagal na panahon. Kung totoo ang alegasyon at nagnanakaw nga itong taong ito, ano po kaya ang matitira para tustusan ang pagpaganda ng buhay na ipinapangako niya?" the president said.
Vice President Jejomar Binay is facing numerous corruption allegations over questionable project transactions in Makati City during his term as mayor.
Meanwhile, Aquino alluded to the "Bagong Umaga" slogan of Sen. Grace Poe, noting that she does not have specific plans to achieve her promises.
"Walang konteksto, walang plano, panay batikos at hilaw na pangako. Akala po yata niya, 'pag nahalal siya, gigising siya kinabukasan sa isang bagong umaga nang may solusyon na sa lahat ng mga binanggit niyang problema," Aquino said.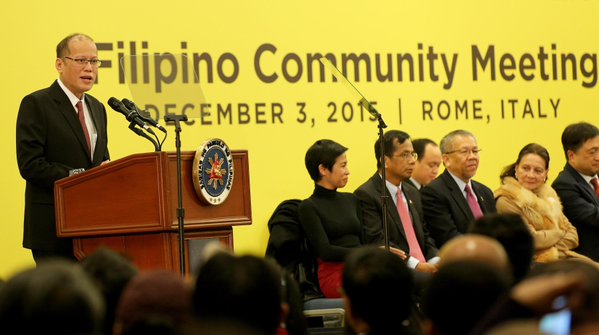 President Aquino meets the Filipino community in Rome, during his official visit to Italy. He addressed 500 Filipinos at the Ergife Palace Hotel. Malacañang Photo Bureau
Poe, however, has been disqualified by the Commission on Elections (Comelec) from the presidential race in the upcoming elections. The senator is yet to file an appeal before the Comelec en banc and the Supreme Court.
The president also cited the threat of Davao City Mayor Rodrigo Duterte to kill criminals once he wins the presidency.
"May isa naman po, marami raw hong tila papatayin," the president said.
Duterte earlier warned of an iron hand should he become the country's next president, suggesting that more funeral parlors should be put up to accommodate drug pushers.
"Ang isa pa, dadaanin lang daw basta ang kampanya sa social media—siguro po, hindi siya mulat na hindi ka makakapagpatayo ng kalsada at makakapagpakain ng nagugutom gamit lang ang Facebook," Aquino said.
Sen. Miriam Defensor Santiago recently topped a presidential survey on Facebook page Pinoy History.
Aquino implied that Roxas would be able to continue the programs he started upon winning the 2010 presidential elections.
"Aatras po ba tayo? Bakit tayo pupunta sa mga nangangako lang, o doon sa mga baka sakaling tumupad sa mga ipinapangako nila, kung meron namang kasama na nating nakibahagi at nagsikap para maabot ang nagbagong anyo ng bansa natin. Alam naman po siguro ninyo ang tinutukoy natin," the president said.
Aquino held separate meetings with Italian Prime Minister Matteo Renzi and President Sergio Mattarella to strengthen diplomatic relations between the Philippines and Italy. He also attended the 21st Conference of the Parties to the United Nations Framework Convention in Paris, France.
He is also set to take a side trip to the Vatican City to have a private audience with Pope Francis at the Apostolic Palace.
Aquino urged members of the Filipino community to choose carefully the candidates they will support for the 2016 polls.
"According to a study, if our momentum is not disrupted within a generation, we will attain what is called a high-income status or first world status. The question for the next elections: Will we continue soaring high or will we fall to where we came from?" the president said.
He likened the relationship between the president and his constituents to the marriage of his parents, the late Sen. Benigno Aquino Jr. and former President Corazon Aquino.
"We are looking for similarities: Similarities in heart, and in dream, an opportunity to put you first, to which you are ready to contribute to attain our objectives," the president said.
"If that happens, and if the heart of the leader is in the right place, he will fight for you and clash with anyone who will try to oppress you because you have given him strength, because he knows that whatever happens, you are right behind him," he added.
With six months remaining in his term, Aquino said he is ready to face those who were affected by his anti-corruption drive.
"The fight is not over yet. After I step down, the corrupt who were made accountable for their actions might get back at me to threaten those who have noble aims," the president.
"I am ready to face this. It is clear to me that I if I agreed to retain the status quo, nothing good will happen to our country," he added.
Mixed reactions
Some Filipino migrants who listened to Aquino's speech were disappointed by his subtle endorsement of Roxas.
Liza Bueno, a native of Batangas, said the president should not have bashed Roxas' rivals during the event.
"As a leader, he should be fair," Bueno said in an interview.
"I did not hear any agenda related to OFWs (overseas Filipino workers). I am not yet convinced that I should vote for Roxas," she added.
Rita Perez Landicho, a native of Oriental Mindoro, lamented that Aquino did not ask them about their condition. She said she expected the president to take questions from members of the Filipino community.
"He is the president and as a leader of the country, he should not be speaking against other candidates," Landicho added.
Other Filipino migrants, however, are impressed by Aquino's performance as president.
"What he said is right. While other candidates are just starting, the president has already done something and this should be continued," Paul Reyes, a native of Tarlac, said.
"I'm saying this not because I am from Tarlac. We can see the positive developments in our country," he added.
Reyes, however, said it is still too early for him to choose a candidate, saying he needs to listen to the parties' platforms first.
A Pulse Asia survey conducted from October 18 to 29 showed that Poe was the most preferred presidential candidate for the 2016 election. The neophyte senator was preferred by 39 percent of respondents while Vice President Jejomar Binay ranked second with 24 percent.
Roxas placed third with 21 percent while Sen. Miriam Defensor-Santiago ranked fourth with 11 percent.
The survey was held weeks before Duterte declared his candidacy and before the Commission on Elections disqualified Poe for failing to meet the 10-year residency requirement.
--
Patricia Lourdes Viray reported from Manila.