Survey: Philippines most concerned country in territorial dispute vs China
MANILA, Philippines - Among its neighbors in the Asia-Pacific region, the Philippines is the most concerned country about the territorial dispute with China, according to a global study released on Wednesday.
A survey of Asia-Pacific perceptions of various global threats conducted by Pew Research Center showed that 91 percent of Filipinos are concerned with the dispute over the South China Sea.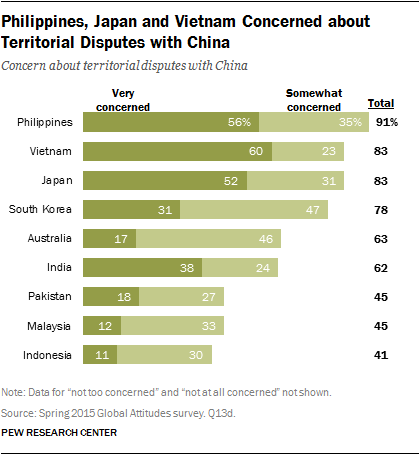 Vietnam and Japan both registered 83 percent in the same survey. These three countries are the most troubled by the territorial dispute.
The three countries also recorded the highest unfavorable ratings of China.

Meanwhile, most Filipinos favor Japan the most among its neighbors in the Asia-Pacific region.
The survey was conducted from April 6 to May 27 among 15,313 respondents in ten Asia-Pacific nations and the United States.
The Philippines recently filed an arbitration case against China before the United Nations, being the first country to challenged the latter's nine-dash line claim over the South China Sea. The Permanent Court of Arbitration is set to decide on the case within the year.
RELATED: FULL TEXT: Transcript of oral arguments on Philippines vs China arbitration case