Grace Poe's personal files, US listing on citizenship
September 2, 2015 | 2:56am
MANILA, Philippines — One of the senatorial candidates whom Sen. Grace Poe defeated in 2013 questioned the validity of her office based on her citizenship and years of residency in the Philippines.
Rizalito David filed a disqualification complaint against Poe before the Senate Electoral Tribunal (SET) and an electoral offense case before the Commission on Elections for alleged "material representation" in her Certificate of Candidacy (CoC) for senator filed in 2012.
David said Poe, who was adopted by film stars Fernando Poe Jr. and Susan Roces, could not be regarded as a natural-born citizen as a foundling whose biological parents' citizenship is unknown.
He also challenged Poe's claim of fulfilling the two-year residency requirement for senatorial candidates as she lived in the United States since 1991 and was naturalized as an American citizen in 2001.
A publication archived with the US Federal Register obtained by Philstar.com indicates Poe's loss of her US citizenship has been recognized by the national government.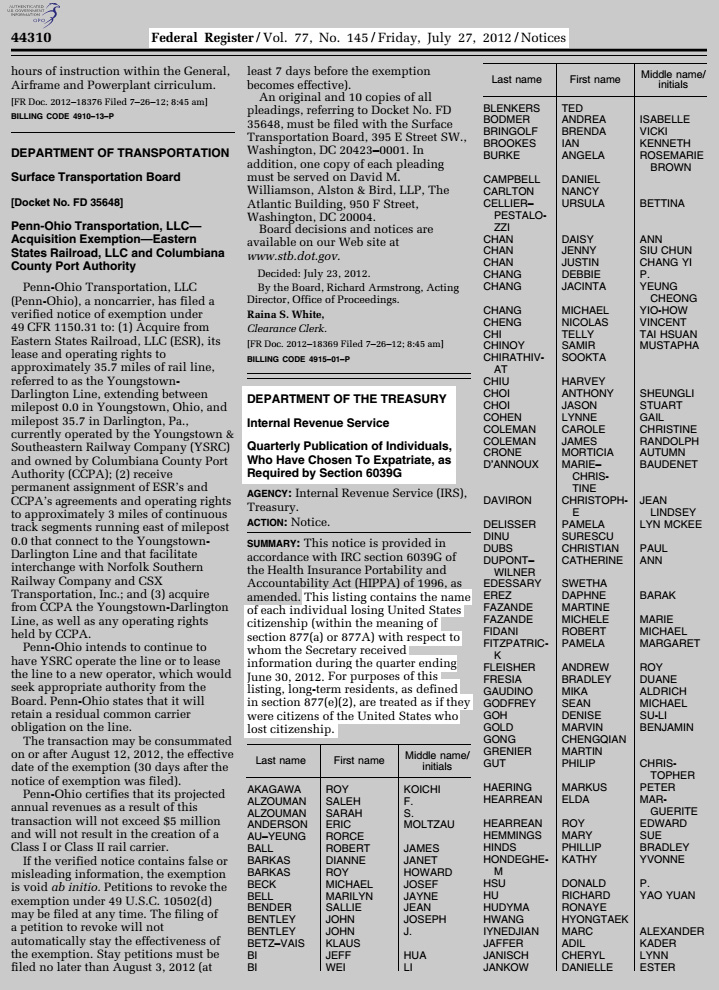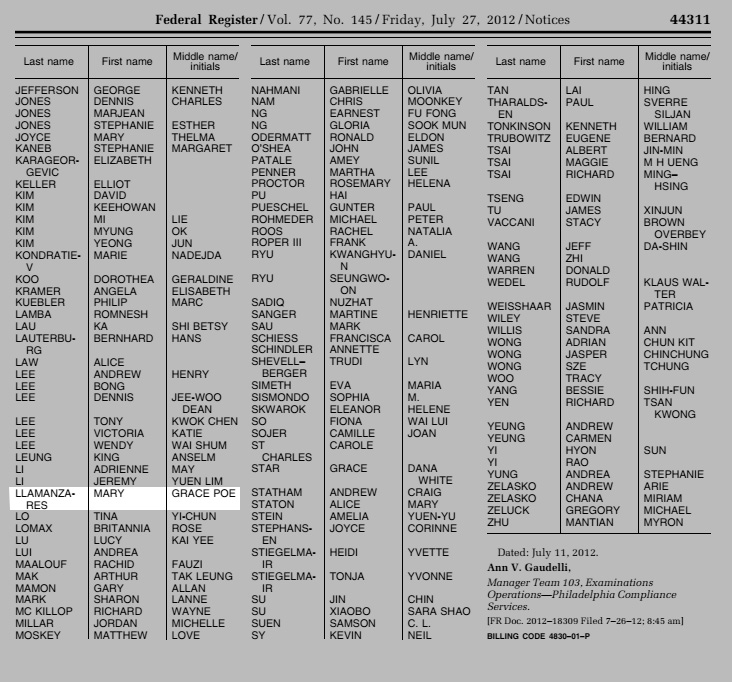 Two pages from a notice issued by the United States Internal Revenue Service indicating that then US Treasury Secretary Timothy Geithner had received information of several individuals, including Sen. Grace Poe, who lost their citizenship before June 2012. It does not suggest, however, that Poe and the listed names only lost citizenship within the same quarter.
On Wednesday, the camp of Poe released her personal files annexed to the 107-page reply to David's quo warranto petition before the SET aiming to have it dismissed.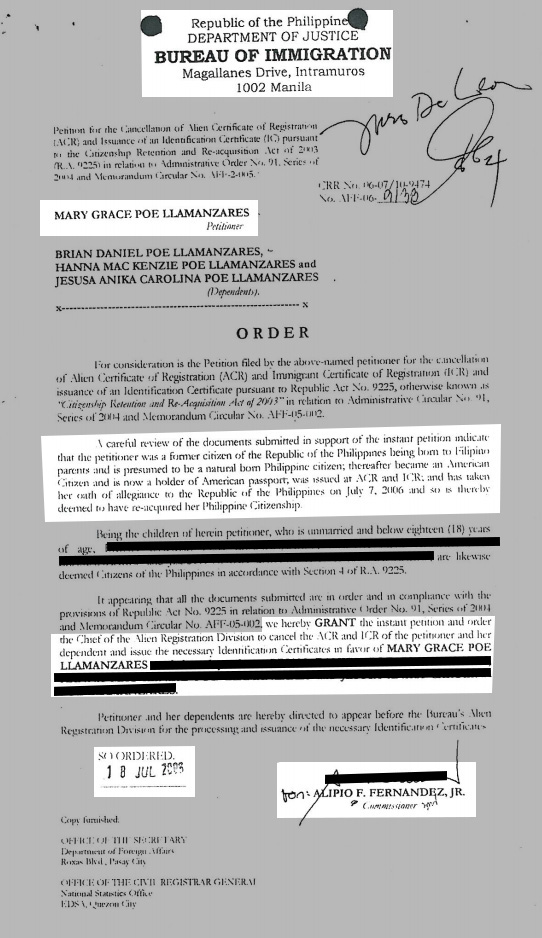 A July 18, 2006 order from the Bureau of Immigration granting Poe and her three children reacquisition of their Philippine citizenship and passport. (Highlights applied by Philstar.com)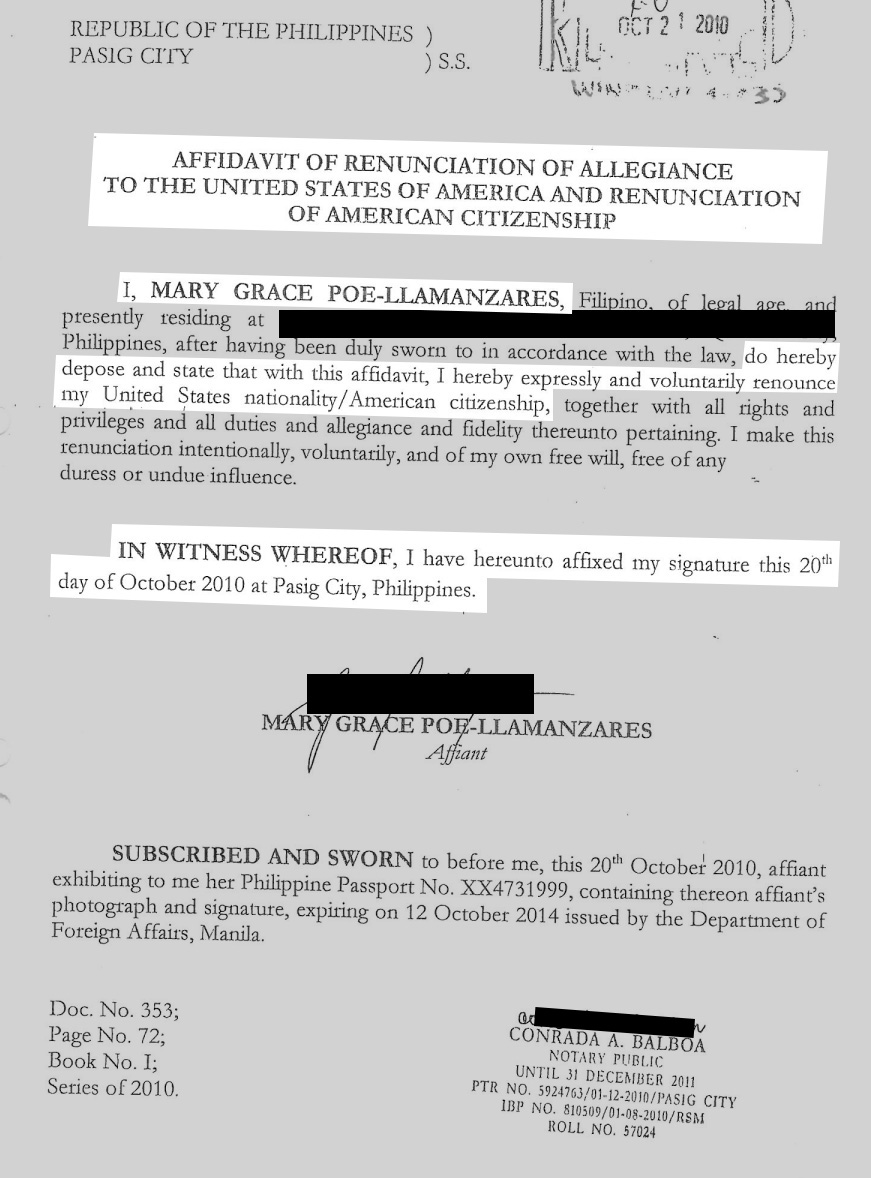 Poe's notarized affidavit in Pasig City officially renouncing her US citizenship and allegiance following notice of her appointment as Movie And Television Review And Classification Board chair by President Benigno Aquino III on Oct. 6, 2010. (Highlights applied by Philstar.com)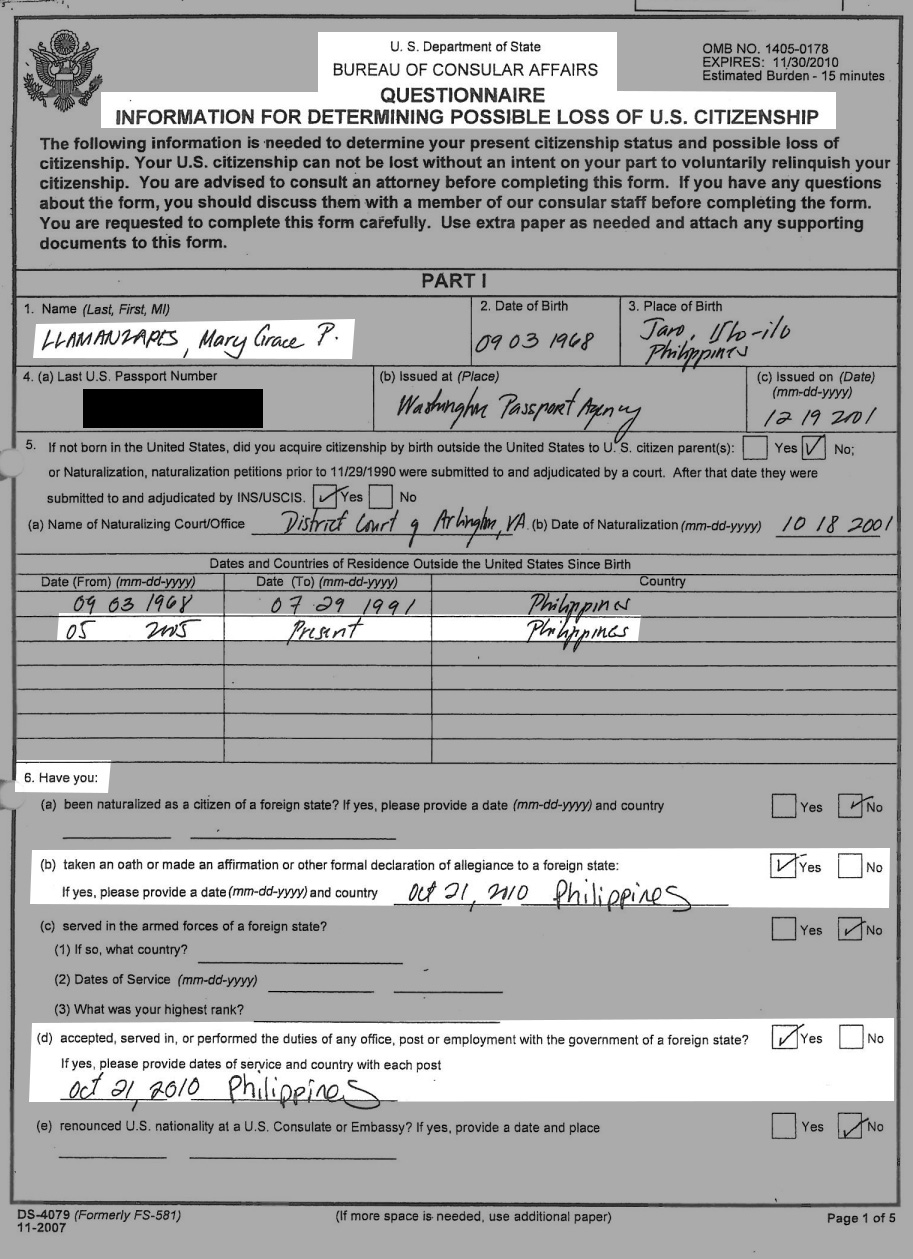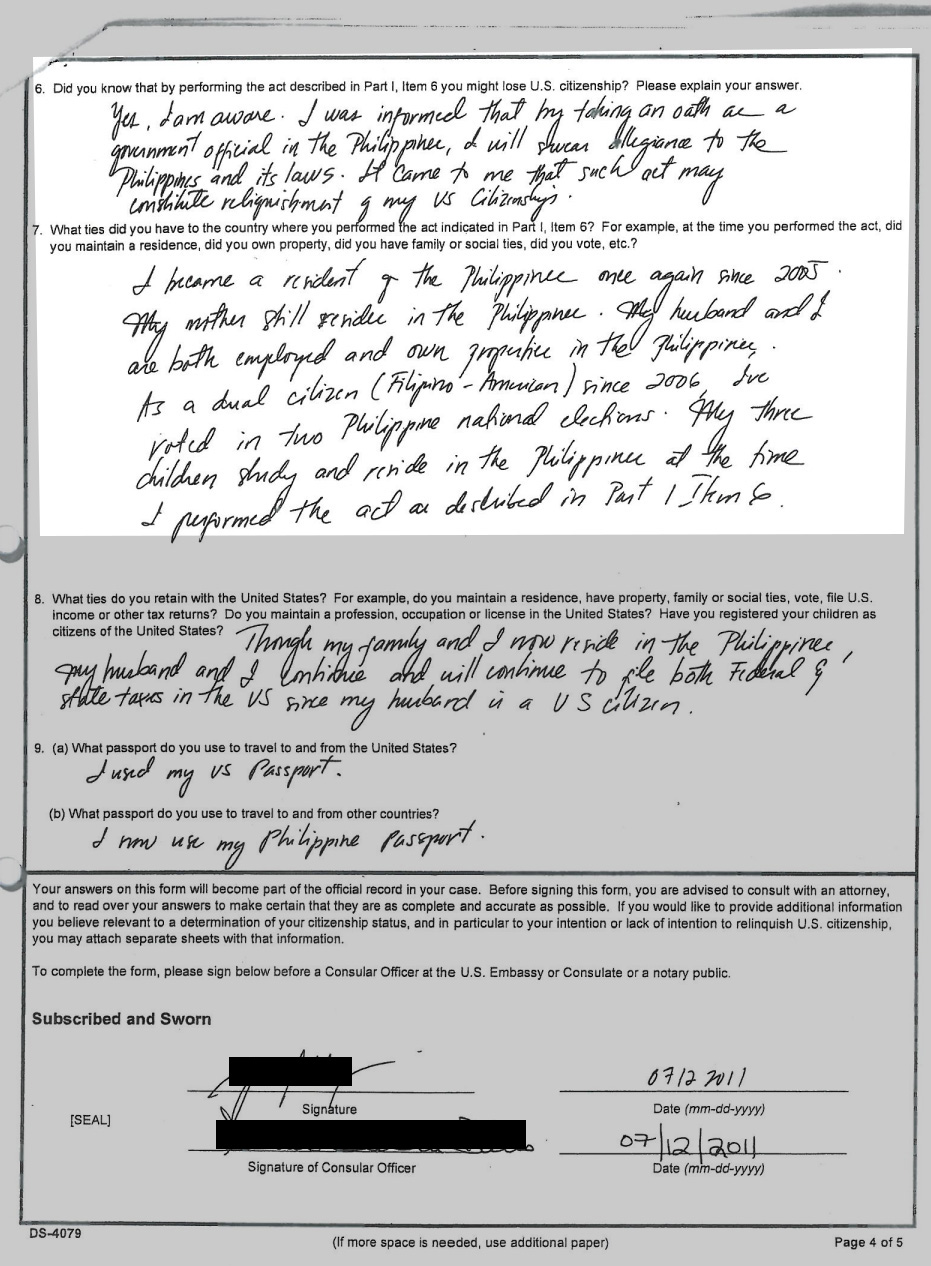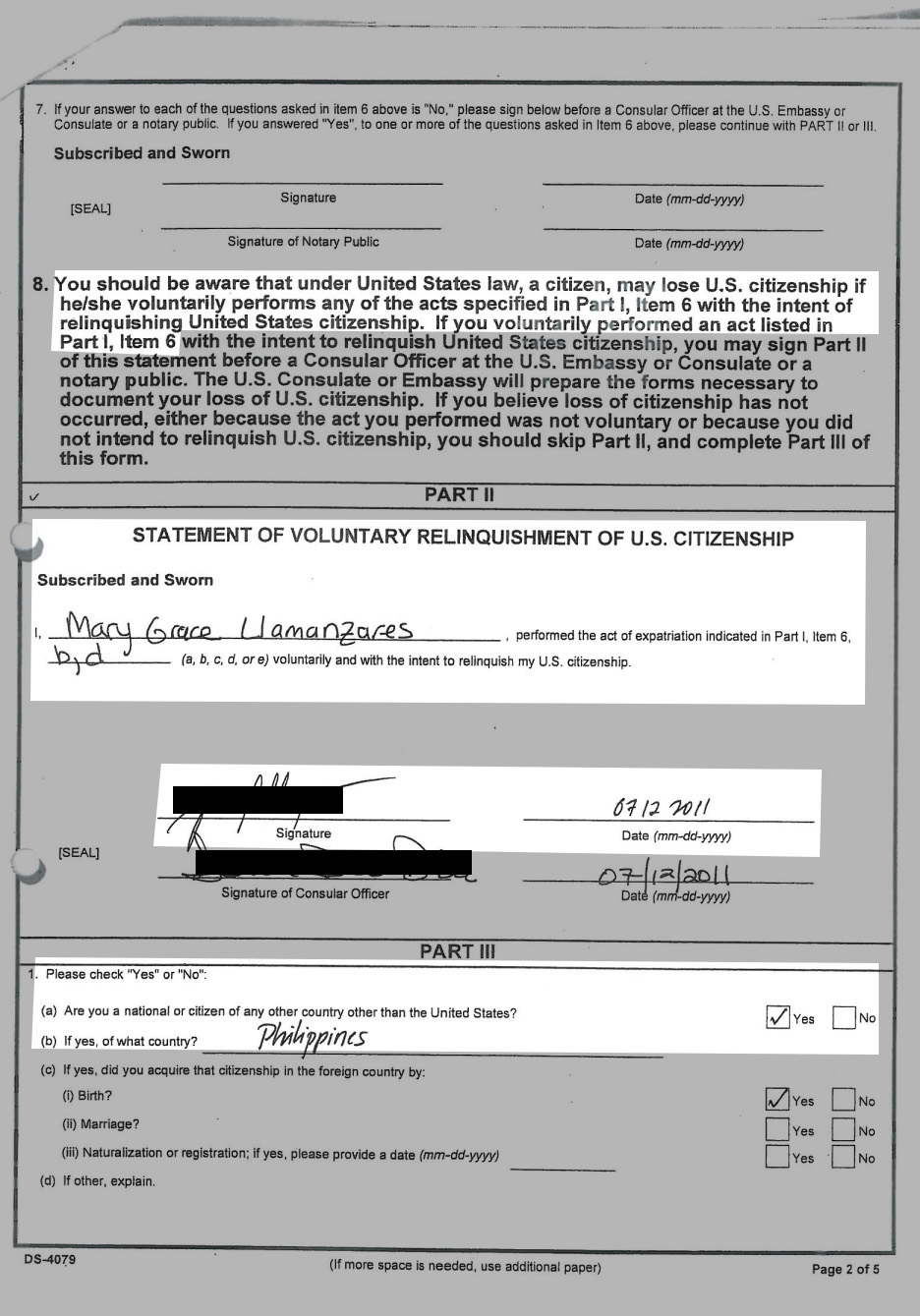 Select pages from a US embassy questionnaire executed by Poe on July 12, 2011 specifying that she has performed two acts with an intent to relinquish her US citizenship (Highlights applied by Philstar.com)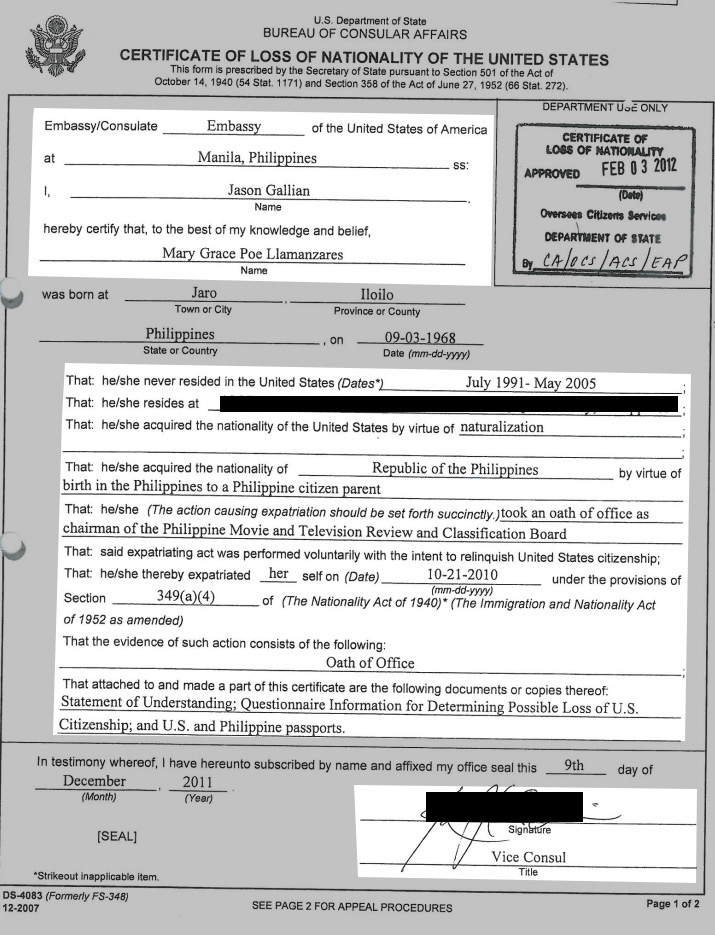 US Vice Consul Jason Gallian issued a certificate of Poe's loss of nationality on Dec. 9, 2011, attesting that she took an oath of public office, which is considered as a voluntary act of expatriation, on Oct. 21, 2010. (Highlights by Philstar.com)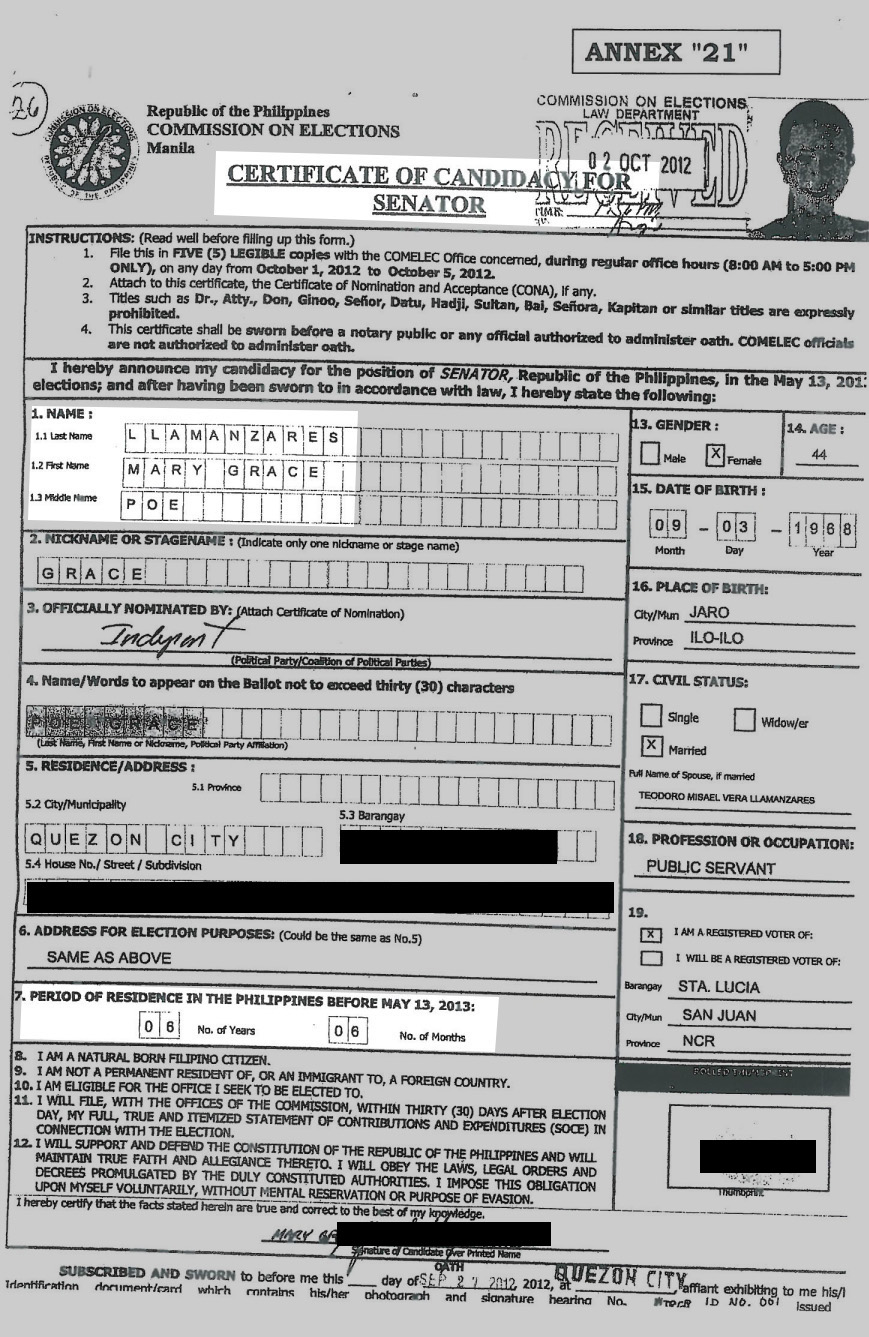 Poe's certificate of candidacy (COC) filed at the Commission of Elections seeking to join the senatorial race in 2013. She claimed six years and six months of Philippine residency.
In its reply to the SET petition, Poe's legal team admitted the senator committed an "honest mistake made in good faith" in stating her period of residency before May 13, 2013.
"The truth is that, as of 13 May 2013, respondent [Poe] had been residing in the Philippines for more than six (6) years and six (6) months," the reply noted. "However, this mistake was an excusable error arising from complex legal principles that a layman is not expected to fully know, much less understand."
Poe's lawyers said that she and her family began to reside again in the Philippines in 2005 after the death of her father and sold their US home in April 2006.