Grace Poe's citizenship questioned before Comelec
(Philstar.com) - August 16, 2015 - 10:34pm
MANILA, Philippines — Defeated 2013 senatorial candidate Rizalito David on Monday accused Sen. Grace Poe anew of distorting facts in her certificate of candidacy before the Commission on Elections (Comelec).
David filed a case against Poe for material representation, claiming the senator failed to satisfy the two-year residency requirement for senatorial candidates, according to radio reports.
David cited United States government records indicating that Poe, whose full married name is Mary Grace Poe Llamanzares, lost her US citizenship in 2012. Poe then ran for senator in 2013, earning the most votes in the senatorial race.
In a radio interview, David denied allegations that opposition leader and potential presidential candidate Vice President Jejomar Binay is behind his move to unseat Poe, who topped recent presidential preferences surveys.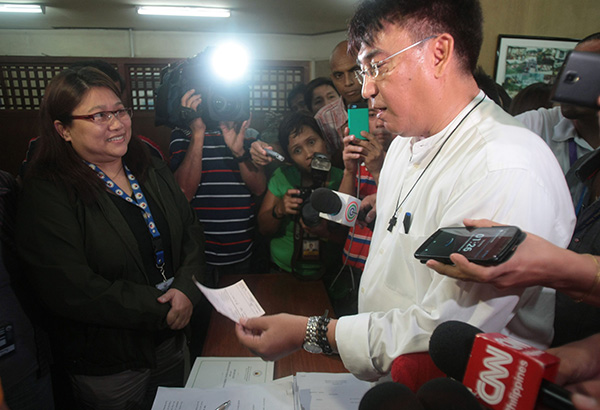 Losing senatorial candidate Rizalito David is seen in this Aug. 5, 2015 photo filing a quo warranto petition before the Senate Electoral Tribunal. STAR/Michael Varcas, file
On August 7, David similarly questioned Poe's citizenship status before the Senate Electoral Tribunal, saying she failed to meet the constitutional requirements for congressional candidates.
Poe had said the petition filed before the Senate tribunal is an opportunity to address issues on her citizenship and residency.
"I assure the 20 million fellow Filipinos who voted for me, as well as the rest of the country, that their confidence in me is not misplaced," Poe said in a statement. "I remain truthful to our countrymen. I am a Filipino by birth, abode and choice." — Camille Diola