Banned herbal drink from Indonesia being peddled in Quiapo
August 13, 2014 | 11:33am
MANILA, Philippines — The Food and Drug Administration (FDA) has warned consumers against Jamu Sehat Badan, a food supplement from Indonesia, but the product was discovered to be sold in Quiapo, Manila and locally based online stores.
Environmental group EcoWaste Coalition said Wednesday that a staff member was able to purchase the banned herbal drink for P350 from a shop outside the Golden Mosque in Quiapo.
The product is also being openly sold on www.olx.ph and other buy-and-sell websites.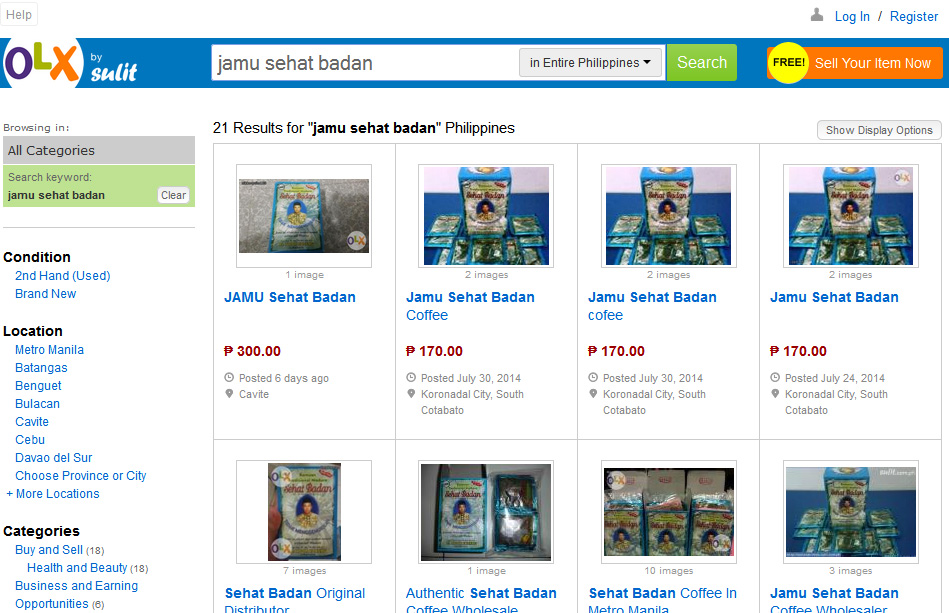 An online shop selling the FDA-banned product. screengrab
In separate advisories issued January 15 and July 21, the FDA said the product, manufactured by PJ Nyior Koneng in Surabaya, Indonesia, poses risks to public health for having no English translation of its labels and unbacked claims.
Sehat Badan is advertised as a drink "that promotes and enhances general well-being and treats various diseases such as asthma, urinary stones, allergy, impotence, rheumatism, toothache and ulcer."
The FDA said that the claims "are not approved" and the product is unregistered.
Thony Dizon, coordinator of the EcoWaste Coalition's Project Protect, called on authorities to stop the trade and consumption of Sehat Badan.
"Health authorities have twice reminded the public against consuming the powdered herbal drink Jamu Sehat Badan, but we still find it openly traded in Quiapo and online," Dizon said.