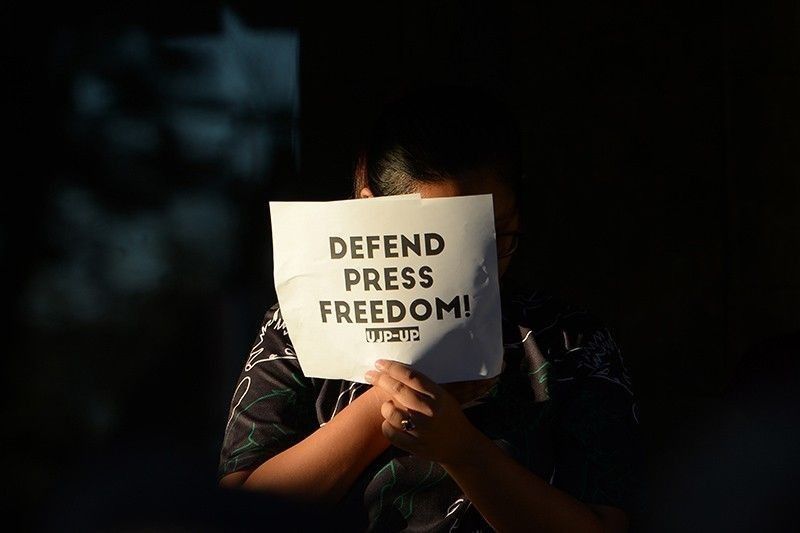 Major updates on state of press freedom
LATEST UPDATE: September 15, 2019 - 1:48pm
+ Follow Story
September 15, 2019
In a country splintered by conflict and propaganda wars, Libya's journalists are caught in the crossfire between battlefronts and partisan employers, exposing them to risks on the ground.
Fighting that erupted in early April when eastern strongman Khalifa Haftar launched an offensive on the capital Tripoli has only exacerbated the cleavages in the country's already fragmented mediascape.
The battle pits the forces of Tripoli's UN-recognised Government of National Accord against fighters loyal to Haftar, who backs a parallel administration in eastern Libya.
The rival sides each run their own news agencies and official television channels. — AFP
July 28, 2019
Reporters investigating Russian military intelligence have been targeted by highly sophisticated cyberattacks through their encrypted email accounts, with evidence suggesting Moscow was responsible, the email service provider ProtonMail and journalists say.
The phishing attack, which sought to dupe users into sharing their ProtonMail passwords, was aimed at journalists from the award-winning website Bellingcat, which helped identify the agents who poisoned former Russian spy Sergei Skripal in Britain. — AFP
June 16, 2019
A Somali journalists' association Sunday slams the actions of police who it said threatened to shoot reporters trying to access the scene of a car bombing near parliament, and warned of a "worsening situation" for the country's press.
Police at a checkpoint near the site of Saturday's bombing in Mogadishu, which killed eight people and was claimed by the Al-Shabaab jihadist group, stopped a group of reporters from international news groups, including Al Jazeera's Jama Nur Ahmed.
"When the journalists tried to explain to the police about their reporting mission, a police officer fired two bullets (in the) air and then pointed his rifle on Jama Nur's head, according to Jama Nur Ahmed and two other colleagues," the Somali Journalists Syndicate (SJS) says in a statement.
Also in the group were journalists from Reuters, AFP and the Turkey's Anadolu news agency, followed by a second wave of reporters who were similarly denied access.
"The journalists said the police officers told them they had orders restricting journalist coverage at the scenes of attacks and threatened that any journalist who tries to film will either be shot dead or his/her equipment will be broken resulting (in) the journalists to return back from the scene," say the SJS. -- Agence France-Presse
June 14, 2019
The Commission on Human Rights expresses deep concern over the arrest of journalist Margarita Valle in what police claimed was a case of "mistaken identity" and the "freezing" of ABS-CBN's franchise bill at the House of Representatives.
"The Commission has repeatedly pointed out the growing trend of harassment and intimidation experienced by individuals and groups including media, which are vocal about their criticism on certain government policies and actions. The 'mistaken arrest' of journalist Margarita Valle raise similar fear and doubts given her active advocacy on human rights," CHR spokesperson Jacqueline Ann de Guia says in a statement.
"It is alarming that due process was not observed in her arrest. We reiterate utmost compliance to the requirements of the Constitution in carrying out arrest warrants. There are no excuses to circumvent the standards enumerated in the bill of rights especially by those duty-bound to uphold it."
"Truth stays alive because there is a free press that guards it. All that we treasure and value are anchored in truth. Media speaks truth to power in the form of factual reportage, well-intentioned criticism, and/or dissenting perspectives. A government that genuinely serves the people would view free media as essential to social good instead of labeling it as anti-government."
June 13, 2019
President Vladimir Putin on Thursday sacked two senior police officers over the arrest of investigative reporter Ivan Golunov on trumped up drugs charges.
The journalist's arrest last week was widely seen as punishment for his investigative work and sparked an unprecedented campaign of solidarity in Russian society.
On Tuesday, Interior Minister Vladimir Kolokoltsev said he had requested Putin dismiss the officers after lifting the charges against Golunov on the basis of a lack of evidence.
On Thursday, Putin signed a decree to dismiss the police chief for western Moscow, Major General Andrei Puchkov, and the head of the Moscow police department for narcotics control, Major General Yury Devyatkin.
Golunov is a reporter for Meduza news site, which is based in EU member Latvia. He walked free from a Moscow police building on Tuesday evening after his house arrest was lifted.
Moscow police had charged him with attempted drug dealing, saying that officers found him in possession of drugs including cocaine.-- Agence France-Presse
June 12, 2019
Russian investigative journalist Ivan Golunov walks free from a Moscow police building after authorities drop drug charges against him and he weeps as he thanks supporters gathered outside.
"A huge thank you for your support," Golunov tells journalists and supporters as he walks out of the gates with tears running down his cheeks.
He vows to continue his reporting for Meduza independent news site, saying: "I will continue the work I was doing. I will be doing investigations because I have to justify the trust of those who supported me."
June 11, 2019
The family of journalist Margarita "Gingging" Valle, who was "mistakenly arrested," calls out the police for the manner of arrest which they say is a "violation of her fundamental rights."
"Gingging Valle was arrested and remained incommunicado for about eight (8) hours. She was not allowed to be assisted by counsel, to be appraised of the charges against her and to examine the purported warrant/s that was made the basis of her arrest. Worse, at 61 years old, she was made to undergo such physical, emotional and psychological anguish without due regard and consideration to her health condition," Rius, Valle's son, says in a family statement on Facebook.
They say Valle's case is not one of mistaken identity.
"She was a clear state target. Mistaken identity is but a ludicrous propaganda of the PNP in the advent of the public outrage and pressure to surface and release our Nanay Gingging."

"Our mother's ordeal in the hands of CIDG was a clear example of the vicious pattern of state forces of attacks against journalists, dissenters and human rights defenders, the wanton disregard for the rule of law justified by the current Martial Law in Mindanao."
June 10, 2019
AlterMidya, a group composed of journalists working in alternative media, says it denounces the unlawful arrest of Margarita Valle, veteran Mindanao-based journalist and a columnist of Davao Today.
"We believe that despite these convenient claims of blunders by the police, Valle's arrest was a clear case of harassment. The lame excuse of mistaken identity does not mitigate the illegal and preposterous arrest of Valle, and the numerous violations of due process by the CIDG," it says.
"If anything, the arrest only demonstrates the rampant abuse of power and impunity by state forces in Mindanao, and sends the message that they can take anyone prisoner."
The group says the attempt to intimidate Valle is not an isolated case in Mindanao under Martial Law and elsewhere in the country.
"We have not forgotten the harassment against her fellow Mindanao columnists Arnold Alamon and Cong Corrales, who last year both figured in a list that named them as alleged members of the CPP. In Northern Luzon, columnist Sherwin De Vera was also arrested without warrant in 2017 and charged with rebellion. And just last month, Malacanang came out with the notorious matrix that named several Manila-based journalists as alleged destablizers."
"All these are patent acts of tyranny, and we urge our fellow journalists, human rights advocates, and the public to continue resisting these abuses."
June 10, 2019
The Rural Missionaries of the Philippines, a national organization of women and men religious, priests and lay, welcomes the release of journalist and development worker Fidelina Margarita Valle, who was arrested in what police say is a case of "mistaken identity."
The RMP, however, says it condemns the Criminal Investigation and Detection Group of the Philippine National Police in the Zamboanga Peninsula, saying the manner of Valle's arrest violated her rights.
"Valle was taken by joint operatives of CIDG, police and military morning of June 9 at the Laguindingan Airport in Cagayan de Oro City. She was not read her rights, was not allowed to read the warrant used against her, was not allowed a legal counsel, and was held incommunicado for eight hours as she was brought to Camp Abellon in Pagadian," the group says.
May 31, 2019
Sudan has decided to close the Khartoum office of Qatari broadcaster Al-Jazeera, the station says on its website, adding that its staff members' work permits had also been withdrawn.
The Qatar-based broadcaster says Sudanese security officers informed it of the decision by the Sudanese Transitional Military Council to shut its office down.
"The decision also includes the withdrawal of the work permits for the correspondents and personnel of the Al-Jazeera network starting from now," says the station, which regularly broadcasts footage of demonstrations in Sudan. — AFP
May 8, 2019
The case of two Reuters journalists -– freed in Myanmar on Tuesday -– played a key part in shredding Nobel laureate Aung San Suu Kyi's reputation as a rights champion after she failed to come to their defence or speak up for the persecuted Rohingya minority.
Suu Kyi was once a staunch advocate for the press and a darling of the foreign media, but her silence over the persecuted Rohingya minority has drawn widespread condemnation.
During her long years of house arrest under the former junta -– which choked the media inside Myanmar -– it was foreign correspondents who beamed her message of peaceful defiance to the outside world.
Glowing profiles burnished her image, with comparisons made to the Dalai Lama, Nelson Mandela and Martin Luther King.
Suu Kyi remains adored inside Myanmar. Supporters of her democracy battle say she has limited control over the military, which embarked on reforms in 2010 after almost 50 years in power. -– Agence France-Presse
May 7, 2019
Freedom of expression in Myanmar still 'dire', the UN rights office says in an Agence France-Presse report.
May 7, 2019
Wa Lone, one of two Reuters reporters who walked free from prison in Myanmar, where he was jailed for his work on the Rohingya crisis, vows he would continue his journalism.
"I am a journalist and I am going to continue," he tells a crowd of reporters outside Insein prison in Yangon. "I can't wait to go to my newsroom."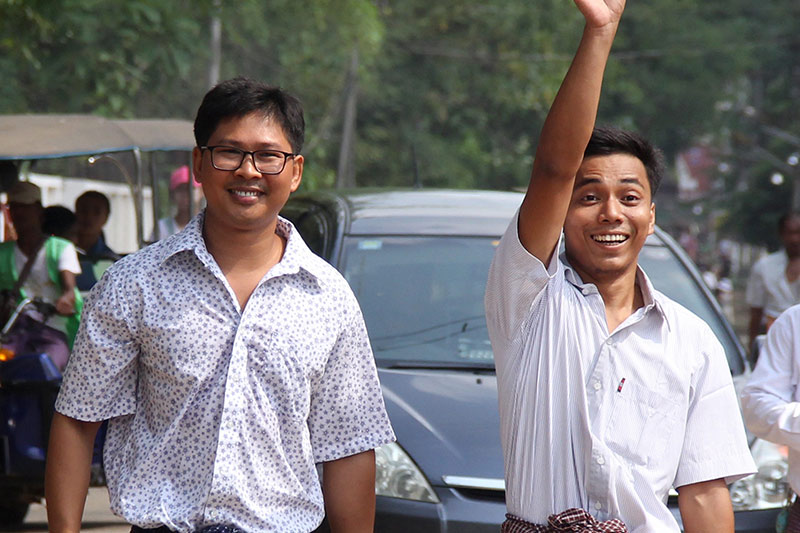 Reuters journalists Kyaw Soe Oo (R) waves beside colleague Wa Lone as they walk out of Insein prison after being freed in a presidential amnesty in Yangon on May 7, 2019. AFP
— AFP
May 7, 2019
Myanmar frees two Reuters journalists who had been jailed for their reporting on the Rohingya crisis from prison today following a presidential amnesty, according to video from the agency.
The two, Wa Lone and Kyaw Soe Oo, were mobbed by media as they stepped out of Yangon's notorious prison after spending more than 500 days in detention. — AFP
We give you the latest developments on the state of press freedom worldwide.