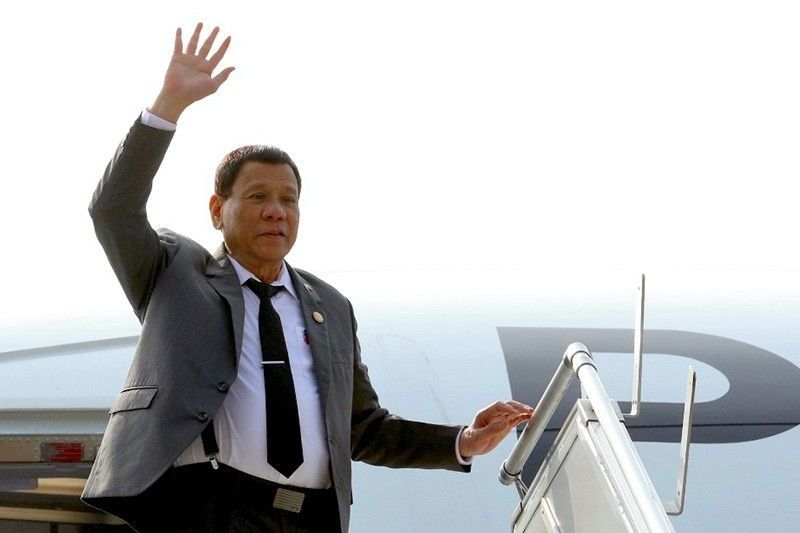 Duterte admin: People who left, got fired
LATEST UPDATE: May 22, 2020 - 9:15am
+ Follow Story
May 22, 2020
Office of the Civil Defense Assistant Secretary Kristoffer James Purisima has been relieved from his post effective immediately.
Presidential spokesperson Harry Roque confirms this development, citing loss of trust and confidence.
The Palace confirms that OCD Assistant Secretary Kristoffer James Purisima has been relieved from his post effective immediately due to loss of trust and confidence.

We likewise affirm that the President has accepted the resignation of DICT Undersecretary Eliseo Rio, Jr. pic.twitter.com/ejS8VkuZZt

— Harry Roque (@attyharryroque) May 22, 2020
May 22, 2020
President Rodrigo Duterte has accepted the resignation of DICT Undersecretary Eliseo Rio.
According to a report from News5, presidential spokesperson Harry Roque confirmed this but did not provide any further details.
JUST IN | Kinumpirma ng Palasyo na tinanggap na ni Pres. Duterte ang pagbibitiw sa puwesto ni DICT Usec. Eliseo Rio. Hindi binanggit ni Sec. Harry Roque ang dahilan kung bakit pero nagpasalamat siya sa naging serbisyo ni Rio sa bayan. | via @halili_maricel pic.twitter.com/gEBI2igYnA

— News5 AKSYON (@News5AKSYON) May 22, 2020
April 18, 2020
The Palace extends gratitude to former Socioeconomic Planning Secretary Ernesto Pernia for his valuable contribution to the Philippine economy.
"Sec. Pernia formed part of the President's Economic Team which steered the country's strongest economic growth since the mid -1970s," says presidential spokesperson Harry Roque.
"We expect Acting NEDA Director-General Karl Kendrick Chua who is set to assume office next week to continue the economic momentum set by his predecessor, who is also a former colleague in the UP School of Economics; and work in close coordination with the other members of PRRD's economic managers, to prepare the Philippines for a new normal and mitigate the socioeconomic impact of the COVID-19 pandemic," he adds.
April 17, 2020
Ernesto Pernia, Secretary of Socioeconomic Planning and Director-General of the National Economic and Development Authority, resigns from his post.
Pernia cites "personal reasons" and "differences in development philosophy" with some of his fellow Cabinet members upon stepping down.
"I would like to thank the president for appointing me to the position. It has been an honor and privilehe to have served the country under his administration for the past nearly four years," Pernia says in a statement.
October 15, 2019
Pedro Aquino, chief of the Philippine National Oil Company, is resigning upon orders of President Rodrigo Duterte, a report says.
The PNOC is a government controlled and owned oil exploration company.
September 10, 2019
President Duterte axes Jose Antonio Goitia as executive director of the Pasig River Rehabilitation Commission.
Presidential spokesperson Salvador Panelo says the termination is made pursuant to the president's continuing mandate to eradicate graft and corruption, and to ensure that public officials and employees conduct themselves in a manner worthy of public trust.
September 5, 2019
Sacked by the president last night as director-general of the Bureau of Corrections, Nicanor Faeldon bids his staff farewell.
He tweets, "Do not cry, do not be sad, we were gifted with an opportunity to serve our country. Not everyone is given the gift to serve our country and people."
His Twitter account, run by his "legal team," also reports that Faeldon, along with his wife, 3-year-old daughter and 1-year-old son, left the Correction chief's quarters at 1 a.m. on Thursday. (Photo released by Faeldon's camp)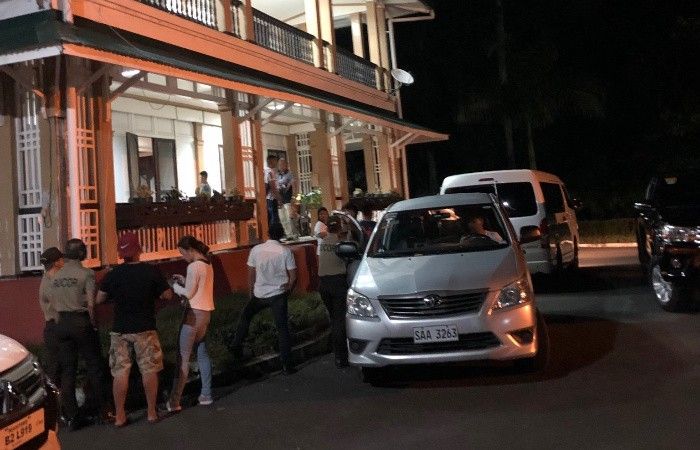 September 4, 2019
President Rodrigo Duterte says Bureau of Corrections chief Nicanor Faeldon should resign from his post.
"Faeldon has to go because he disobeyed my order," Duterte says.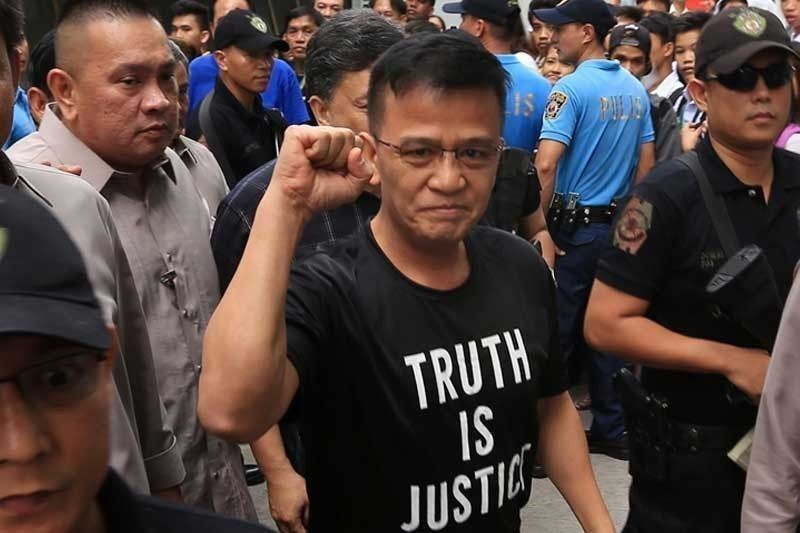 June 3, 2019
Malacañang denies former Deputy Ombudsman Melchor Arthur Carandang's motion for reconsideration over his removal from office.
November 27, 2018
Presidential Adviser on the Peace Process Jesus Dureza has resigned, President Rodrigo Duterte announces at the inauguration of the
Bohol-Panglao International Airport on Tuesday.
Duterte: I am very sad that I accepted the resignation of (peace process) secretary Dureza | @alexisbromero

— Philstar.com (@PhilstarNews) November 27, 2018
Dureza, who was named special envoy to the European Union in October, had been involved in preparations for "goodwill" talks with members of the National Democratic Front of the Philippines for a potential return to formal peace talks with communist rebels.
On November 18, he said that the president had tasked him and presidential spokesperson Savador Panelo to meet with National Democratic Front of the Philippines leaders Fidel Agcaoili and Luis Jalandoni for "an informal chat" in Manila. He had previously said the meeting could happen before the end of November.
Duterte also announced Tuesday that he had fired Ronald Flores, an undersecretary at Dureza's Office of the Presidential Adviser on the Peace Process.
November 22, 2018
The Palace has announced that Housing and Urban Development Coordinating Council Secretary-General Falconi Millar has been fired over allegations of corruption.
"We assure the public that the delivery of public services shall unimpedely continue, especially in rehabilitating Marawi City and other affected areas," presidential spokesman Salvador Panelo says.
Millar was also Task Force Bangon Marawi secretary-general.
"There are no sacred cows in the administration, especially in its drive against corruption. As the President said, he will not tolerate even a whiff of corruption in the executive branch of government," he also says.
August 20, 2018
Anti-Poverty Commission Secretary Liza Maza submits her resignation letter to President Rodrigo Duterte.
Aside from the revival of old cases against her, Maza said the final straw was the cancellation of the peace talks between the Philippine government and the National Democratic Front.
August 7, 2018
President Rodrigo Duterte has fired the entire board of Nayong Pilipino, a government corporation attached to the Department of Tourism, over a long-term lease agreement.
Presidential spokerperson Harry Roque announced the firing at a press briefing on Tuesday.
WATCH: Presidential spokesman Harry Roque on why President Duterte fired the entire Nayong Pilipino board @PhilippineStar @PhilstarNews pic.twitter.com/uBPalEr1Uy

— Alexis B. Romero (@alexisbromero) August 7, 2018
Roque noted the 70-year lease that Nayong Pilipino granted was for a "ridiculously long period of time, beyond the lifetime of anyone."
May 30, 2018
President Rodrigo Duterte has fired Customs deputy commissioner Noel Patrick Sales Prudente over excessive travels.
Among the destinations that the president said Prudente went are Singapore and Europe.
Prudente was fired the same week as Rudolf Philip Jurado, the former government corporate counsel.
The president has fired officials in the past for taking too many trips abroad.
May 28, 2018
President Duterte says Government Corporate Counsel Rudolf Philip Jurado is fired.
Jurado, formerly a lawyer with the Volunteers Against Crime and Corruption, had been facing corruption allegations.
Juradeo last week issued a statement saying the allegations against him were "invented by his subordinates who were affected by reforms he implemented in the office" – especially in relation to excess allowances they received that were earlier flagged by the Commission on Audit.
May 21, 2018
Another day, another firing. President Duterte axes Assistant Secretary Mark Tolentino from the Department of Transportation.
Spokesperson Harry Roque says Tolentino talked to Duterte's relatives about a project. "Huwag na po subukan ang pasensya ng president," Roque says at a press briefing.
May 15, 2018
Justice Secretary Menardo Guevarra says that Assistant Secretary Moslemen Macarambon Sr. has vacated his position following allegations of corruption.
This was after presidential spokesman Harry Roque said that President Rodrigo Duterte has asked him to tender his resignation after he allegedly intervened "on behalf of suspected smugglers of gold and precious jewelry" at the Ninoy Aquino International Airport.
Guevarra, in a message to reporters, said: "My understanding is, the president appointed someone to replace DOJ Asec Macarambong. So that is effectively a termination. No other acts needed."
April 30, 2018
Secretary Guevarra says all the undersecretaries and assistant secretaries ordered to step down as a courtesy have all filed their resignation letters. Career officials were exempted from his directive.
There are no replacements yet for the leaving Justice department officials.
April 30, 2018
Justice Secretary Menardo Guevarra orders Department of Justice undersecretaries and assistant secretaries, who are mostly fraternity brothers of President Rodrigo Duterte, to file their courtesy resignations not later than today. — with Edu Punay
April 5, 2018
President Rodrigo Duterte announces that he has accepted the resignation of Justice Secretary Vitaliano Aguirre II.

Senior Deputy Executive Secretary Menardo Guevarra says the Office of the President has not received resignation letters from Justice Secretary Vitaliano Aguirre and Labor Secretary Silvestre Bello.
President Rodrigo Duterte will fire Aguirre this week, according to sources, as the chief executive was unhappy with the dismissal of raps against alleged drug lords.