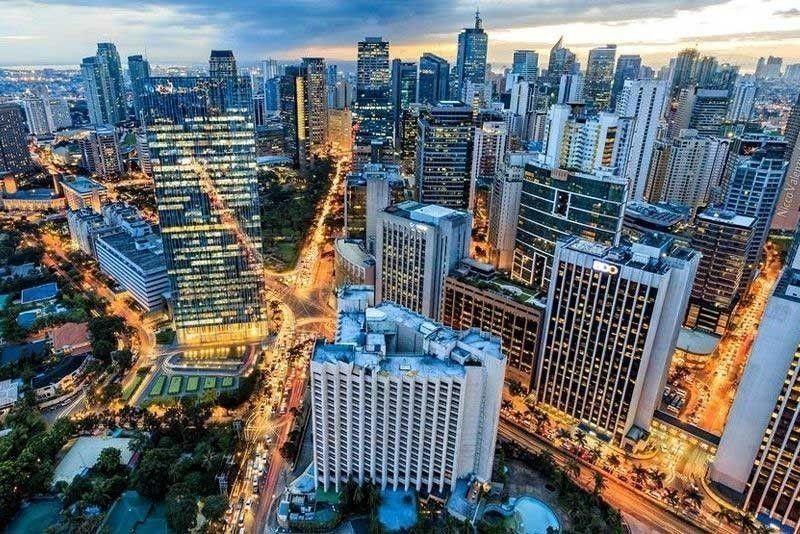 LATEST UPDATE: July 17, 2019 - 8:08pm
LOCATION:
NORTH KOREA
SOUTH CHINA SEA
SOUTH KOREA
PHILIPPINES
CHINA
UNITED STATES
+ Follow Story
7 hours ago
Rising concerns about a no-deal Brexit hit the pound once more while stock markets retreated amid renewed trade war worries and uncertainty over the outlook for US interest rates.
The pound dropped to $1.2382, a new low since April 2017.
The euro jumped to a fresh six-month high at 90.51 pence.
Key figures around 7:30 p.m. Manila time:
Pound/dollar: DOWN at $1.2406 from $1.2408 at 2040 GMT
Euro/pound: UP at 90.45 pence from 90.32 pence
Euro/dollar: UP at $1.1218 from $1.1211
Dollar/yen: UP at 108.27 yen from 108.26 yen
London - FTSE 100: DOWN 0.3 percent at 7,558.35 points
Frankfurt - DAX 30: DOWN 0.2 percent at 12,408.06
Paris - CAC 40: DOWN 0.2 percent at 5,604.60
EURO STOXX 50: FLAT at 3,520.15
Tokyo - Nikkei 225: DOWN 0.3 percent at 21,469.18 (close)
Hong Kong - Hang Seng: DOWN 0.1 percent at 28,593.17 (close)
Shanghai - Composite: DOWN 0.2 percent at 2,931.69 (close)
New York - Dow: DOWN 0.1 percent at 27,335.63 (close)
Brent North Sea crude: UP 1.0 percent at $65.01 per barrel
West Texas Intermediate: UP 0.6 percent at $57.96 per barrel
2 days ago
The Bank of England says World War II code-breaker Alan Turing had been chosen to feature on the back of Britain's new £50 bank note ($63, 56 euros).
"Alan Turing was an outstanding mathematician whose work has had an enormous impact on how we live today," Bank of England governor Mark Carney says as he unveiled the note at the Science and Industry Museum in Manchester, northwest England.
"As the father of computer science and artificial intelligence, as well as war hero, Alan Turing's contributions were far ranging and path breaking. Turing is a giant on whose shoulders so many now stand," the BoE chief adds.
2 days ago
Asian markets recover after an early stumble on Monday as data showed China's economy growing at its weakest pace in nearly three decades, hit by the US trade war, while investors debated the depth of an expected Fed rate cut.
The world's number-two economy expanded 6.2 percent in April-June, the worst reading since the early 1990s but in line with forecasts and within the government's target range.
Key figures around 4 p.m. Manila time
Hong Kong - Hang Seng: UP 0.3 percent at 28,554.88 (close)
Shanghai - Composite: UP 0.4 percent at 2,942.89 (close)
Tokyo - Nikkei 225: Closed for a holiday
Euro/dollar: UP at $1.1277 from $1.1270 at 2100 GMT on Friday
Pound/dollar: DOWN at $1.2558 from $1.2576
Dollar/yen: UP at 107.96 yen from 107.89 yen
West Texas Intermediate: DOWN five cents at $60.16 per barrel
Brent North Sea crude: FLAT at $66.72 per barrel
London - FTSE 100: FLAT at 7,508.15
New York - Dow: UP 0.9 percent at 27,332.03 (close)
3 days ago
Facebook's planned virtual unit Libra, already under heavy attack from US President Donald Trump and global regulators, faces skepticism among the wider cryptocurrency community as well.
One theme — besides Brexit — dominated discussion among the movers and shakers from London's financial technology or FinTech industry as gathered for their annual get-together: the future of virtual currencies.
July 9, 2019
Tokyo's benchmark Nikkei index edges up Tuesday on a cheaper yen in sluggish trade, with the market focused on the Federal Reserve's interest rate stance after strong US jobs figures.
The Nikkei 225 index rises 0.14%, or 30.80 points, to close at 21,565.15, but the broader Topix index lost 0.22% or 3.51 points, to 1,574.89.
July 5, 2019
Tokyo stocks open flat on Friday in cautious trade ahead of closely watched US jobs data.
The benchmark Nikkei 225 index is down just 0.01% or 2.36 points at 21,700.09 in early trade, while the broader Topix index is up just 0.02% or 0.29 points at 1,590.07.
July 4, 2019
Tokyo stocks close higher on Thursday, taking a positive lead from record-setting gains on Wall Street, with investors waiting for the release of US unemployment figures.
The benchmark Nikkei 225 index climbs 0.30%, or 64.29 points, to 21,702.45, while the broader Topix index is up 0.65%, or 10.24 points, at 1,589.78.
"The New York Dow's renewing its record was certainly positive news for Tokyo," says Toshikazu Horiuchi, a broker at IwaiCosmo Securities.
July 4, 2019
Former British finance minister George Osborne is lining up a bid to replace Christine Lagarde as head of the International Monetary Fund, UK newspapers report.
Making his interest known to friends, Osborne says the job required a "skilled political communicator and operator... not a technocrat," the Financial Times reports.
July 4, 2019
Tokyo stocks open higher on Thursday, taking a positive lead from record-setting gains on Wall Street.
The benchmark Nikkei 225 index climbs 0.48% or 104.23 points to 21,742.39 in early trade while the broader Topix index was up 0.47 percent or 7.49 points at 1,587.03.
"Tokyo shares will likely bounce back, lifted by the New York Dow's renewing its record and a breather in the yen's rise," Okasan Online Securities chief strategist Yoshihiro Ito says in a note.
July 2, 2019
France is "not yet ready to ratify" the blockbuster trade deal sealed by the European Union and the South American bloc Mercosur after 20 years of talks, the government's spokeswoman says.
Citing the EU-Canada trade deal which took years to ratify, spokeswoman Sibeth Ndiaye tells the BFM news channel: "We will do the same thing with the Mercosur countries... We will look at it in detail and depending on the details we will decide.... France is not yet ready to ratify (the deal)."
July 1, 2019
Asian markets surge Monday after Donald Trump and Xi Jinping agreed to restart trade talks, reviving hopes of an end to their tariffs war, while oil prices also rallied on news that Saudi Arabia and Russia will extend their output caps.
June 27, 2019
Tokyo stocks closes higher on Thursday boosted by a halt in the yen's appreciation, with investors focused on this week's Group of 20 summit and key US-China trade talks.
The benchmark Nikkei 225 index gained 1.19 percent or 251.58 points to end at 21,338.17, while the broader Topix index rose 1.23 percent or 18.93 points at 1,553.27.
June 26, 2019
San Francisco becomes the first major US city to effectively ban the sale and manufacture of electronic cigarettes.
The city's board of supervisors unanimously endorsed legislation which backers said was necessary due to the "significant public health consequences" of a "dramatic surge" in vaping among youths.
The ordinance says e-cigarette products sold in shops or online in San Francisco would need approval by the US Food and Drug Administration, which none currently has.
The city's mayor has 10 days to sign the legislation, which she has said she will do. — AFP
June 26, 2019
Current economic warning signs could prove temporary and the US central bank should seek confirmation before taking any policy action, Federal Reserve Chairman Jerome Powell says.
"It's important not to overreact in the short term to things which may turn out to be temporary," he says at a Council on Foreign Relations event in New York. — AFP
June 26, 2019
America's grinding trade wars are darkening the economic horizon and could justify a decrease in interest rates, Federal Reserve Chairman Jerome Powell says.
"The question my colleagues and I are grappling with is whether these uncertainties will continue to weigh on the outlook and thus call for additional policy accommodation," Powell says, according to remarks prepared for a speech in New York.
But he also insists the central bank is "insulated" from political pressures despite persistent antagonism from President Donald Trump, including sharp criticism from the Republican leader. — AFP
June 20, 2019
Premier Li Keqiang vows to further open up China's economy during a meeting with CEOs of top global companies amid simmering trade tensions with the United States.
Washington and other trade partners have long complained about the uneven playing field foreign companies encounter in China, theft of intellectual property and entry barriers that allow state-backed companies to dominate crucial sectors of the economy. — AFP
June 20, 2019
US Federal Reserve chief Jerome Powell says the central bank does not use interest rate policy to effect the American currency.
President Donald Trump bashed European Central Bank chief Mario Draghi, saying his signal of more stimulus ahead would put the US dollar at a disadvantage against a weaker euro.
Powell declines to comment on the exchange rate but says "we don't target the dollar... we will target our domestic economic and financial conditions and not our exchange rate."
— AFP
June 19, 2019
President Donald Trump touts the American economy as the "envy of the world" as he launches his 2020 reelection bid at a rally in Florida.
"Our country is now thriving, prosperous and booming and it's soaring to incredible new heights," Trump tells the cheering crowd.
"Our economy is the envy of the world. Perhaps the greatest economy we've had in the history of our country," says the US leader, who is betting that a strong economy will help persuade the country to give him a second term.
June 18, 2019
Asian markets mostly rise but gains are limited with investors treading uneasily as they await the conclusion of a crucial Federal Reserve meeting this week.
Key figures around 10:50 a.m. on Tuesday (Manila time):
Tokyo - Nikkei 225: DOWN 0.3 percent at 21,067.95 (break)
Hong Kong - Hang Seng: UP 0.5 percent at 27,358.68
Shanghai - Composite: UP 0.3 percent at 2,894.55
Euro/dollar: UP at $1.1233 from $1.1217 at 2050 GMT
Pound/dollar: DOWN at $1.2528 from $1.2532
Dollar/yen: DOWN at 108.35 yen from 108.53 yen
Oil - West Texas Intermediate: DOWN 14 cents at $51.79 per barrel
Oil - Brent North Sea: DOWN 13 cents at $60.81 per barrel
New York - Dow: UP 0.1 percent at 26,112.53 (close)
London - FTSE 100: DOWN 0.2 percent at 7,357.31 (close)
— AFP
June 6, 2019
India's central bank cuts interest rates in a boost to newly re-elected Prime Minister Narendra Modi, as he grapples with sluggish economic growth and decades-high unemployment.
The Reserve Bank of India says that the benchmark repo rate — the level at which it lends to commercial banks — will be reduced by 25 basis points to 5.75%. — AFP
May 10, 2019
Britain's economy grew by an expected 0.5% in the first quarter, boosted by companies stockpiling ahead of Brexit, official data shows.
Gross domestic product expanded from output 0.2% in the final three months of 2018, the Office for National Statistics said in a statement, adding that manufacturing jumped 2.2% with recent surveys showing Brexit-facing companies building inventories. — AFP
March 27, 2019
The US trade deficit dropped nearly 15 percent in January compared to December, as imports of goods and services fell, the US Commerce Department reports.
The drop reversed most of the growth in the trade gap posted in the final month of 2018, a year that saw the deficit surge to a 10-year record, despite President Donald Trump's aggressive tariff policies.
US imports fell 2.6 percent of $258.5 billion while exports rose just under 1 percent to $207.3 billion, for a deficit of $51.1 billion. And the deficit with China — the primary foe in Trump's trade wars — fell by $5.5 billion in the month, according to the report. — AFP
March 26, 2019
German Chancellor Angela Merkel urges Chinese President Xi Jinping to offer more "reciprocity" in terms of trade and investments between China and Europe, in particular with regards to Beijing's huge Belt and Road infrastructure initiative.
The initiative is a "very important project" and "we, Europeans, want to play a role," Merkel said at a press conference in Paris.
"That must lead to reciprocity and we're having a bit of trouble in finding it," Merkel said after talks with Xi alongside France's Emmanuel Macron and EU Commission President Jean-Claude Juncker. — AFP
March 6, 2019
Global trade tensions and political uncertainty are weighing on the world's economy, the OECD warns, cutting its global growth forecast for this year to 3.3 percent, down from the 3.5 percent it predicted in November.
"High policy uncertainty, ongoing trade tensions, and a further erosion of business and consumer confidence are all contributing to the slowdown," the Organisation for Economic Co-operation and Development said in an interim version of its Economic Outlook. — AFP
The Economist Intelligence Unit launches a new report which identifies an outbreak of hostilities in the South China Sea due to territorial disputes and a major military confrontation on the Korean Peninsula as among the top 10 risks to the global political and economic order.
The EIU report also cites that the two top risks are a prolonged fall in major stock markets that destabilizes the global economy and a trade war provoked by US protectionism.
The report details how the various risks could morph into threats that may destabilize large parts of the world.