You oughta know: Alanis Morissette finally staging Manila return in August 2023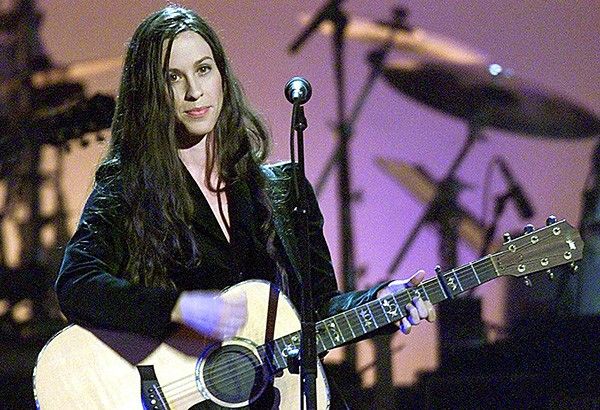 MANILA, Philippines — After several postponements, rock singer Alanis Morissette is all set for her Philippine return as she finally brings her "Jagged Little Pill" world tour to Manila this August.
The world tour was initially supposed to celebrate the 25th anniversary of her iconic album of the same name, but Alanis' initial concert date at the Mall of Asia Arena had to be delayed because of the COVID-19 pandemic.
From April 2020 it was moved to December 2021, then to November 2022, and at long last the concert has settled on August 1, 2023, still in Mall of Asia Arena and presented by Ovation Productions.
By then it will be closing on 27 years since Alanis last performed in Manila — at the time it was for her "Can't Not Tour" — a year after the release of "Jagged Little Pill."
Related: Isn't it ironic? Alanis Morissette cancels Manila concert for 3rd time
The album, which included her hit singles "You Oughta Know," "Ironic," "Hand in My Pocket," and "All I Really Want," won five Grammy Awards, including Album of the Year, making Alanis the youngest winner of the title until Taylor Swift claimed it 14 years later, then Billie Eilish in 2020.
Alanis herself has a total of seven Grammys from 14 nominations, and "Jagged Little Pill" was ranked number 69 on Rolling Stone's list of its "500 Best Albums of All Time."
Since her debut, Alanis has released nine albums, composed for and appeared on the silver screen, became an advocate for female empowerment and spiritual, psychological, and physical well-being, even launching her own podcast.
"Jagged Little Pill" was also adapated into a Broadway musical, winning two Tony Awards from 15 nominations in 2021, and the eponymous world tour will further cement Alanis as one of the biggest rock icons to emerge from the '90s.
RELATED: 'Renaissance,' 'Midnights,' 'Hold Me Closer': The music of 2022