GMA network, Regal Entertainment continue partnership to tell 'feel-good' stories
October 1, 2023 | 12:00am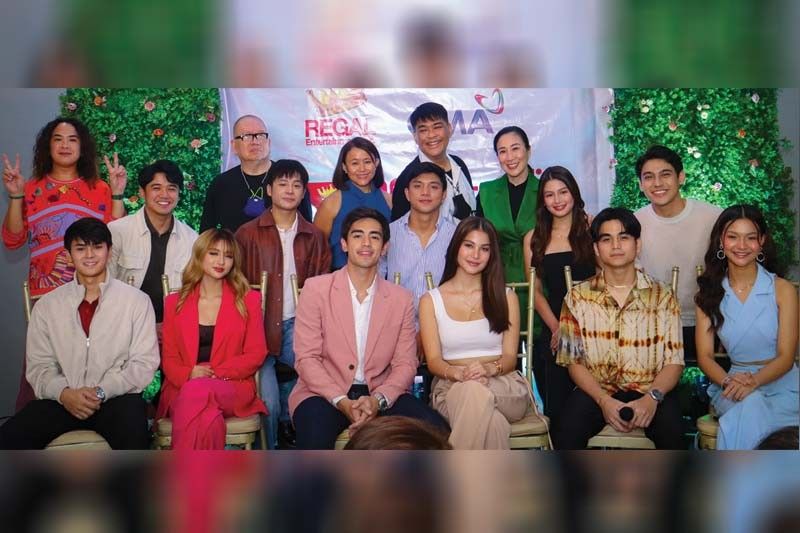 Narrating inspiring and feel-good stories about love and relationships continues on in Regal Studio Presents, which has just turned two and entered its latest season.
The weekly anthology series is a creative collaboration between GMA 7 and Regal Entertainment, both institutions in the local entertainment scene.
"Para kaming magkakapatid lang at masaya kaming nag-ta-trabaho (We're all like siblings, who are happy working together)," said Roselle Monteverde, COO and VP of Regal Entertainment Inc. and Regal Multimedia Inc. in a recent press conference, which was also graced by Jose Mari Abacan, GMA's first VP for program management department; and lawyer Annette Gozon-Valdes, GMA Network SVP for programming, talent management, worldwide, and support group, and president and CEO of GMA Films, with directors Joey Reyes and Easy Ferrer from the Regal Entertainment group.
"We love what we're doing, we're always happy in creating new stories na masaya na para pang-pamilya para may mapanood naman sila sa Sunday (that are feel-good stories for families to enjoy on a Sunday), which is really a family day," added Monteverde.
Abacan shared that the partnership is "really getting stronger," which has given artists from GMA Sparkle and Regal Entertainment the platform to showcase their acting talent. He was also looking forward to seeing these faces in more acting projects and better roles.
The Kapuso executive recalled that the idea of coming up with Regal Studio Presents began during the pandemic times, two years ago to be exact.
"We were conceptualizing what we could possibly do with artists who didn't have work then as well as those people (from the production) who were not working during that time," said he, who hopes to see that the show will run for a long time.
For her part, Monteverde appreciated the trust GMA has given Regal in producing the program, in which they do not only share acting talents but also writers and directors.
"Hopefully, we'll do more shows together with them, and we're very happy as well as our family," said she. "Matagal na rin kaming partners noon sa pelikula at sa mga programa (We've been longtime partners in films and TV programs) since Mother Studio days, Regal Shocker. Sana tuloy-tuloy pa rin ito (I hope the partnership will continue on)."
"I'd like to thank Regal for being the producer of the show on GMA 7 and I'd just like to say that Regal Entertainment is not just a valued business partner of GMA, but we consider them as our family," said Gozon-Valdes. "So, we know that our relationship will only grow stronger in the years to come."
During the event, GMA and Regal executives were also asked about the reasons Regal Studio Presents episodes click with the viewers.
Each story being produced should be entertaining, shared Monteverde, and the team has devices in achieving it. According to Gozon-Valdes, its success lies in its being family-oriented and wholesome.
The show also presents new faces and actors who have become the inspiration for creatives in crafting stories. Abacan said they see the potential of the stars and tend to know the latter better.
"We see what role fits them," said Abacan. "We try to write the best scripts for them to showcase their talents, kasi yung iba sa kanila ay hindi nabibigyan talaga ng bida roles, eh (some of them are not given lead roles), especially kapag maraming mga malalaking artista (when there are big stars) and at this time, I'm very, very happy that these people are shining through Regal Studio Presents."
For director Reyes, the GMA-Regal collaboration is "about discovering the potentials of these young actors" who will capture everyone's imagination and fill their hearts in the future through the roles they play and stories they tell.
As a creative manager, director Ferrer assured Regal Studio Presents followers of diversity and newness, genre-wise.
"Para iba-iba yung napapanood nila every week, so we have romantic comedy, heartwarming family, father and son, magic realism and hugot, lahat ng genre pin-repare namin na iba-iba para iba-iba every week para iba-iba yung flavor, so maraming kwento na mapapanood na hindi pa natin napanood before," said he.
"The challenge is sometimes, since a lot of stories have been already told, the need to think outside the box talaga, so, marami kayong maaabangan na ibang storya na hindi pa ninyo napapanood before from our anthology series."
The information given to this paper said that the newest season commenced with My Farmer Girl, starring Arra San Agustin and Paul Salas and "highlighting the importance of life decisions." The tandem of Yasser Marta and Lexi Gonzales came onboard for Battle of the Exes, about a rekindled romance.
Lianne Valentin and Royce Cabrera essayed characters and the latter's stories about moving on in I Love You Bien.
What's also in the line-up is the episode of Carlo San Juan and Brianna Bunagan titled The Dream Band, anchored on the idea of chasing one's dreams.
Next are Bed and Break Hearts with Kimson Tan and Sarah Edwards in lead roles, and The Poster Boy bannered by Will Ashley and Althea Ablan.
From the tales of romance, Regal Studio Presents offers the hilarious episode My Fake Family with Miggs Cuaderno. His character will "fake his way to fulfill his ambitions" and "learn an important lesson."
Shayne Sava and Dustin Yu headline "the story of a daughter's search for her mother," with "challenges and misadventures" along the way. Thus, the title is Mother, Mother, Where Are You?
AZ Martinez and Larkin Castor are also featured in the weekly anthology's episodes.
(Watch Regal Studio Presents Sundays at 4:15 p.m.)