Why Japanese film Plan 75 can make Filipinos proud of who they are
December 8, 2022 | 12:00am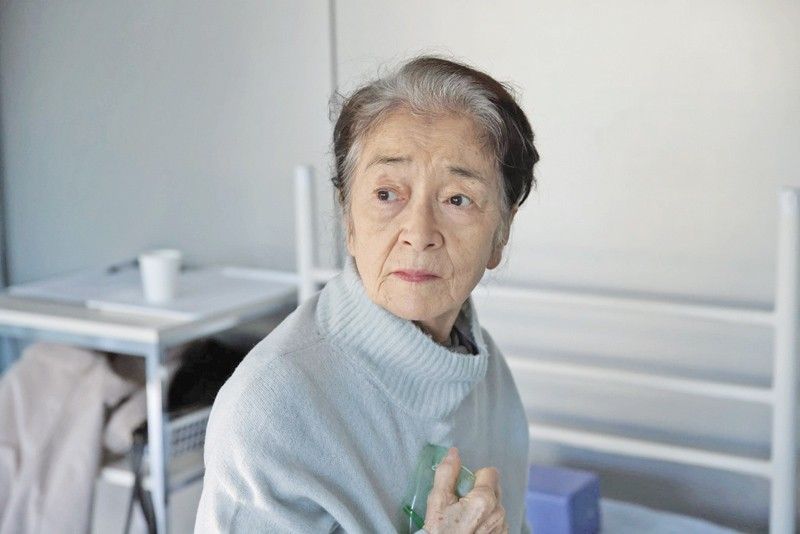 MANILA, Philippines — Japanese filmmaker Chie Hayakawa said she was proven right in her depiction of how Filipinos treat their elderly in her directorial debut Plan 75.
The STAR had recently joined an interview with Hayakawa and her Filipino-Japanese actress Stefanie Arriane ahead of the Philippine theatrical release of the Cannes-winning dystopian drama this week. The film was acquired for distribution here by TBA Studios.
Both filmmaker and actress graced their film's premiere at the QCinema's 10th edition, where it was a Main Competition entry, last month. And one of the things Hayakawa did while in the country was to meet the 90-year-old lola of Stefanie.
"I went to see Stefanie's grandma yesterday. She's 90 years old and I saw her family, and they're all so loving to each other, they're taking care of each other. I really witnessed the real Filipino family bonding so my imagination was right," Hayakawa shared.
The "traditional" Filipino respect for the aged gets highlighted in Hayakawa's film, set in a future Japan, where a government program called Plan 75 is in place to encourage senior citizens to be "voluntarily euthanized" as a solution to the aging society.
The film tells the intertwining stories of an elderly woman, a Plan 75 salesman and a young Filipino caregiver. Plan 75 stars award-winning Japanese actors Chieko Baisho and Hayato Isomura, and newcomer Stefanie.
While her conscious choice of including a Filipino character was a reflection of the "reality that more and more Filipino caregivers come to Japan to work and fill out the labor shortage, especially in the caring of the elderly," the director said that her main reason was because "Filipino people, to me, have a very strong bond as a family and community."
She looked back on the inspiration of her film: "In 2016, there was this national incident in Japan (involving) this facility for disabled people. Nineteen patients were randomly stabbed to death by a younger man and he declared, in his manifesto, that he did it for good because disabled people are a burden to the country."
"But that kind of social atmosphere already existed in our society, that's why this kind of incident happened. I wanted to raise a projection of a society where people talk about the value of life based on productivity.
"I thought (Plan 75) is possible, that's why I made this film to avoid it," she further said.
The movie has a Rotten Tomatoes rating of 98 percent, with reviews describing it as a commentary on the so-called throw-away culture. Slant Magazine wrote that the film "reveals a culture that seems almost mobilized to destroy its own soul," while Seventh Row said it's a "plea for empathy" and "a damning indictment" of how people are increasingly considered as disposable.
When asked about the Japanese public's reception to her film, Hayakawa shared that a lot said that "it's very real" and that "it could happen."
But there were also many audiences who said that "they want this option for security," said Chie. "There are people who feel anxiety and who are concerned about aging because they all have a negative image about being old. So, they want this kind of option for emotional stability not because they don't want the elderly. It's for themselves."
The reaction has been similar in other countries where Plan 75 was screened, she said.
"We have shown this film in different countries around the world, and most if not all would say that 'Wow, this could happen with us,' They would say that," she said.
However, Hayakawa noted that only in the Philippines did she hear a different feedback. "Only in the Philippines, they're saying that it will never (happen), it's impossible that it's going to happen, that's the reaction I got," she said.
With a nationwide theatrical run for Plan 75, Hayakawa thinks that the Filipinos who would watch her movie "would probably have pity on the Japanese for having such a society and because of that, they would feel may be proud of their own, of the Filipino spirit. They will be proud of what Filipinos are because they are far from what (how) the Japanese are depicted in the movie."
Stefanie shared her director's sentiments, saying: "When Filipinos really watch this, iba yung mindset natin, we're going to be like, ay bakit ganyan, why is it happening?"
"I remember Chie was asking me in the car, sabi niya, 'What happens if an elderly person here doesn't have a family, what happens to them?' And we were in the car with another (Filipino) director, and we were both, like, brainstorming (and saying) that rarely happens, you know. I've never heard of, like, an elderly who has to live on their own in the Philippines.
"But yung bonding talaga natin kasi and how we are as a family, iba talaga. Like no matter what issues we have with each other, no matter if we're happy or sad… we still look after each other, you always have someone to fall back on. I think, that's really, really beautiful in our culture."
Stefanie, who was born here and raised by her grandmother until she joined her family in Japan at 18, also said that the director "really incorporated" the Filipino familial values into Plan 75.
"In one scene, (the characters) we're all strangers, we don't know each other, but we treat each other as family. Alam mo yung kahit kapitbahay mo, 'Uy, kain ganyan.' Like, if you have a guest, our love language is 'Kumain ka na ba?' or 'Have you eaten already?' Right? We always ask that and make sure that the other person feels welcome, feels loved all the time," she said.
"That's something that I hope the Japanese society will also learn from the movie and also the Filipinos would understand how and would be proud of how rich and beautiful our culture is. Because, sometimes, we try to romanticize other cultures, pero we need to also appreciate what we have — we have to see how we are as people."
Plan 75 also boasts of Filipino co-producers, namely Alemberg Ang's Daluyong Studios and Will Fredo's Fusee, working hand-in-hand with Japan's Loaded Films, Happinet-Phantom Studios and Dongyu Club and France's Urban Sales.
Now showing in Philippine cinemas, the film won the Camera d'Or special mention at this year's Cannes international filmfest and is Japan's official Best International Feature submission to the 2023 Oscars.
At the recent QCinema, Plan 75 won for veteran actress Chieko Baisho the Best Lead Performance prize. It was the filmfest's first time to give out a singular acting award regardless of gender.