GMA opens 11th regional station to serve Southern Tagalog
February 21, 2022 | 12:00am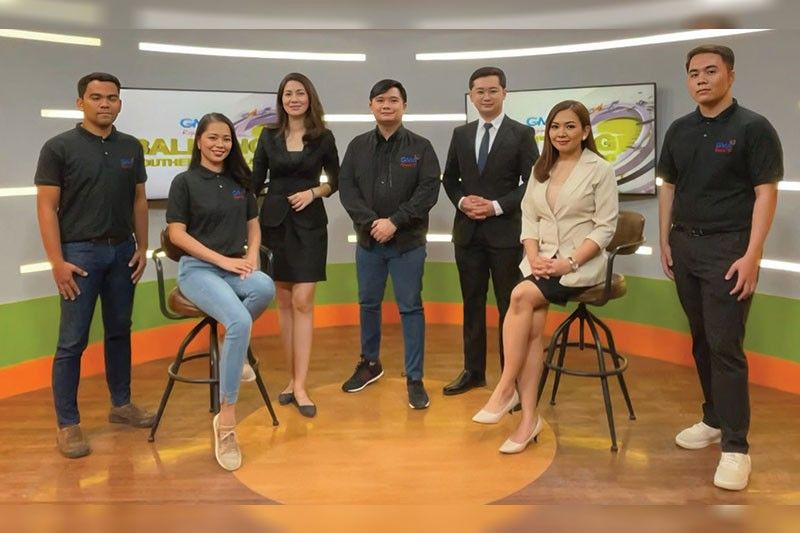 A new chapter in the local news programming of GMA Network begins in Southern Tagalog with the opening of GMA Batangas Station, through the effort of GMA Regional TV, the regional arm of the media giant.
The Kapuso network's 11th regional station extends its reach from Calabarzon or Region IV-A to Oriental Mindoro, Marinduque, Romblon and Palawan. GMA Batangas is the network's fourth regional station in Luzon after GMA Dagupan, GMA Ilocos and GMA Bicol.
During the virtual media conference held last Feb. 11, GMA Regional TV and Synergy first vice president and head Oliver Victor Amoroso said that even before the pandemic, the network was committed to expanding its scope of coverage nationwide.
"GMA regional TV is already present. We have several hubs already across the Philippines," began Oliver regarding the network's vision in launching a news station. "The opening of GMA regional TV here in Batangas completes the grid because if you look closely, we have already North Central Luzon, Bicol, Central, Eastern and Western Visayas, Northern and Southern Mindanao, South Central and Western Mindanao so ang kulang na lang talaga ay 'yung South Luzon or specifically, Southern Tagalog.
"With the opening of our news hub here, we are already completing 'yung sinasabi naming serbisyo publiko, which is through the newscast," added he.
Putting up another local news hub didn't come without challenges, especially since the regional TV team commenced planning and preparation for building GMA Batangas two years ago or during the height of the pandemic.
"Who would have thought na magagawa namin ito with all the limitations not only in mobilization (of equipment) and travel but as well as to making sure we can find a good location for our TV station. We're very hands-on with everything. So, we are very happy that this now comes our 11th regional TV station, the fourth in Luzon and for the newscast naman, this is our seventh regional newscast and 11th RTV-produced program in the Philippines."
Preparations for its local flagship newscast, Balitang Southern Tagalog, are equally rigorous. The regional TV team held a series of interviews "and we were very fortunate that after a year, we were able to find the right team members who are all excellent. They have diverse experiences at na-develop nila 'yung kanilang crafts through the years," shared Oli.
Serving as anchors of Balitang Southern Tagalog are Ivy Saunar-Gasang and Ace Medrano, while Andrew Bernardo, Ilonah Manalo and Lorenzo Ilagan are news producers.
GMA Batangas station manager Darlene Leviste-Mangubat said that the concept of the news program is a combination of hard and light news.
"We have already identified that the focus (of the newscast) will be everything about the community. There can be segments, where we can inject the most important news in the community and then the other segments naman s'yempre merong medyo nakakatuwa or parang gugustuhin mo na puntahan," stated Darlene.
"So, it's a combination of all sorts of things within our community. And, of course, 'yun ang mas aabangan ng ating viewers because their proximity to what we are going to feature will make them want to see and experience."
She added that it's very important for them to promote what's happening in the community and at the same time, help cover various sites and activities in surrounding areas, or even outside the region, through news segments.
Apart from delivering news from in and around the regions, GMA regional TV programs are also aiming to highlight and help the country's tourism through the promotion of local culture, activities and festivals to viewers.
Ace noted that there are still other communities in the country that are yet to be known and explored. "Marami pa rin sulok sa South Luzon na hindi pa nakikilala ng bansa at mundo."
Ivy, on the other hand, said Balitang Southern Tagalog will have in-depth stories. "Instead of the Manila reporters coming here, our reporters can go to the location as (the news) happens. Mas madali namin ma-re-report locally. It will also reach our international audience," she said.
Just like the other regional programs, GMA Batangas sends a clear message that local news matters.
"Our strategy is not to build or to produce newscasts in every city or province. Our strategy is to create hubs to service more viewers for newscasts," Oliver pointed out.
(GMA Regional TV Balitang Southern Tagalog airs weekdays at 5 p.m. via GMA TV-12 Batangas on free TV and GMA Affordabox.)