Miracle in Masbate: Kisses Delavin shows hometown beauty in Miss Universe Philippines 2021 video
September 29, 2021 | 3:27pm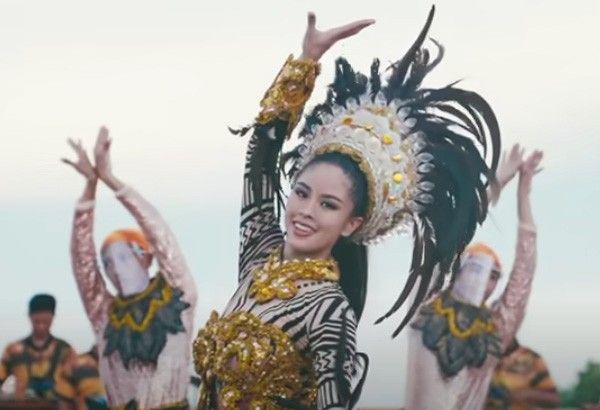 MANILA, Philippines — Kirsten Danielle Delavin, the 22-year-old proud daughter of Masbate, who won both as Miss Teen Masbate (2013) and Miss Masbate (2016), is very much immersed in the making of her Miss Universe Philippines 2021 tourism video.
Like a festival muse, Kisses not only dons a costume from the Lapay Bantigue Dance Festival but also performs street dancing moves with a troupe at the opening of her montage.
Held every last week of September, Lapay Bantigue is a local dance art festival that originated from the graceful movements of hovering birds known as seagulls, or the lapay, found abundant in the barangay of Bantigue.
Flocks of lapay seagulls create a marvelous scenery and, inspired by the old folks to come up with a local folk dance, that, has since then existed and became an important aspect of the local culture of the people of Brgy. Bantigue and the entire province of Masbate.
"Hello there, I present to you, Masbate! When you open the map of the Philippines, right at the heart of the archipelago is where you can find my hometown. I'm proud of this fact! Like a heart, in this place really does come so much joy and life to us Masbateños and Masbateñas every day. Of course, we have pristine beaches, with crystal clear waters, outstanding marine life, postcard-worthy views, and rodeo action."
Like a character from the cult classic "Ang Pinakamagandang Hayop sa Balat ng Lupa," Kisses is on horseback and rides the dunes of the neap tides with grace and confidence, as only a natural-born Masbateña can. After all, Masbate is the "rodeo capital of the Philippines."
It is difficult to be shot on a running horse. The late Anita Linda recalled how National Artist for Film Gerardo de Leon, who directed the 1952 award-winning movie "Sisa," required her to be on horseback for a particular scene. The veteran actress, who won FAMAS Best Actress for that role, confessed she fell from the horse during the first take but had to reshoot the scene for art's sake.
"Masbate would be regarded by tourists as a dream destination. But for me, Masbate is more than that. I have lived a full life here with these wonderful people. Almost every corner, every place has memories of people I know and love - where neighbors know and love each other. That's one of the best parts."
Kisses won the Lazada promotional video challenge, and will be awarded together with Leren Mae Bautista of Laguna and Steffi Rose Aberasturi of Cebu Province during the preliminaries.
In her Purple Chair interview with Boy Abunda, Kisses revealed that her daily school allowance was P1,000 but she gets to spend only Php 100 for an entire week. The reason is because she lives right across the campus. She walks to school and eats her meals at home, thus, saving most of her "baon."
Her saved allowance and measly weekly expenditure became trending topics on social media.
"In Masbate, there are almost a million of us there. But why does it feel like we all know each other? I have lived here for 15 years and its beauty still surprises me every day. I'm proud of my province. I am a proud Masbateña! And this is my home - Masbate!" —Video from Empire Philippines YouTube channel
WATCH: Kisses' full preliminary performance