Hyun Bin wants to experience Filipinos' love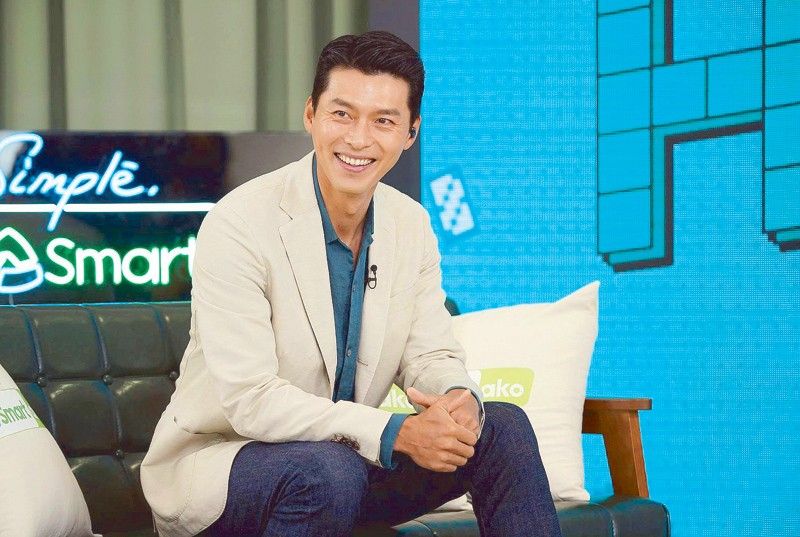 MANILA, Philippines — Crash Landing on You (CLOY) may be long over but fangirling over Hyun Bin is far from over.
Hyun Bin, who played a North Korean army Captain Ri Jeong Hyuk, revealed some trivia about himself and shared his life reflections during the second leg of the Smart Hallyu Hangouts held Saturday.
He was able to interact with Filipino fans virtually and answered some of their questions. Fans were blown away when the 38-year-old actor said "mahal ko kayo" and flashed a Korean finger heart sign on screen.
Asked about the first thing he wants to do in the Philippines when he comes for a visit, he replied, "It's to meet my fans. I'm curious. I'm more curious than excited. I would like to feel how much my fans in the Philippines support me and love me."
"It would have been nicer to meet you all in person, but thanks to Smart, I'm talking to you online today, and I'm so glad to meet you. I hope we have a great time together today. I suppose this is my first time meeting my fans this way," he said during the virtual gathering hosted by the telco giant while it still couldn't bring its Korean celebrity endorsers to the Philippines due to the pandemic.
After the hit drama romance CLOY, he filmed another movie Bargaining with Hwang Jung Min and finished shooting Confidential Assignment 2 within the first half of this year.
He lives a busy life as an actor and has to deal with pressure as to how to improve his craft. "I always have the pressure somewhere in my mind, so I can't take a complete rest. I play golf with my friends every now and then. Sometimes, after I get home from work, I take a shower and have a glass of wine or beer. Then I know I had a fulfilling day," he said.
"It's not easy to get away from the pressure. I'm an actor, and actors need to create something constantly. I always think about how I can improve myself," he added.
In the Yes or No portion of the interview, Hyun Bin talked more about his interests. A bit of trivia, when he was young, he wanted to be a detective, a golf player or businessman.
Ironic as it may seem but the South Korean superstar rarely gets emotional (only when he is acting) even though he makes the audience cry in his drama series and movies.
He also searches his name on portal websites once a day. "I do it because I want to know if there's something about me that I don't know of. For example, when there's an event like this, I never know when it'll be covered. So I search my name every now and then to see how it's covered."
Despite his popularity and acting awards, Hyun Bin stays modest. "I feel like I don't love myself very much. I push myself a lot, but I barely compliment myself. That's why I (said no just now). Living as an actor, I often feel like I'm forced to live as Hyun Bin, which makes it hard for me to care about my true self." Which is, according to him, one of the reasons why he doesn't use social media.
"I want to keep my work and personal life separate. I want to learn about myself on my own. I think it's something only I can deal with," he furthered.
Hyun Bin first gained recognition in the 2005 romantic comedy My Name is Kim Sam-soon and appeared in various successful dramas, including Secret Garden and Memories of the Alhambra, and in the 2017 action thriller film Confidential Assignment.
"Secret Garden felt like destiny to me. After My Lovely Sam Soon, I didn't really get to do romantic comedies. I also just had more chances to do other genres. Then the moment I thought I could do a romantic comedy, I had Secret Garden," said Hyun Bin.
Secret Garden was also the last drama he filmed before he entered the compulsory military service in 2011. He shot The Fatal Encounter and Hyde Jekyll, Me after he was discharged in 2012.
He used to play piano when he was young but had to relearn the skill for CLOY. "I haven't been playing for so long that I forgot everything. But because of that scene (in CLOY), I had to play that piano. So I practiced that piece. That scene was filmed in Switzerland. As you know, there aren't pianos in hotel rooms. We brought a piano all the way from Korea. We brought a digital piano all the way to Switzerland so I could practice in my room. Then we shot that scene."
During the question and answer (Q&A) segment of the interview, Hyun Bin shared more life's lessons and experiences. Here are some of his answers, translated in English, to the questions during the event:
Do you think you're closer to a happy life?
"I can't remember exactly when I said that, but my standards have changed a bit. I can't remember exactly what situation I was in or what thoughts I had when I said that. But I think I was talking about achieving something or finding something that satisfies me and makes me happy. I think it's hard to define the word happiness. It can be defined differently depending on how you see it. These days, I think happiness is about how much you experience happy and positive feelings throughout the day.
"On the days when I had those feelings, no matter how tough the day was, at the end of the day, I can tell myself I was happy that day. And on the days when I didn't experience those feelings, I can't help but think it was a tough day. So these days, I try to find the small things that make me feel happy in my everyday life."
What is the thing you think everyone should experience?
"Traveling. I suggest you travel somewhere where the culture and the environment are different. It gives you a new perspective. While traveling, you experience new emotions and discover the sides of you… you have never noticed. And I think that's a great experience for many reasons. I think touring all those islands (in the Philippines) would be a great experience."
What do you do when you use your phone?
"I like to read news. I read all sections. I think it's nice to know what's happening in the world I'm living in anyway. I'd like to at least have a rough idea of what's going on."
Could you tell us anything memorable from the Smart shoot?
"The Smart commercials include a lot of visual effects. Everything that surrounded me was computer graphics, so I had to act in an empty space. It's exciting to imagine what the result will be like, but at the same time, knowing if I was doing all right or even what I was doing made me feel a little awkward. But it's exciting as well."
Any message to your fans?
"I'm always grateful to my fans. All I can do for them to repay their love is to continue acting, hoping it would make their life a little better.
"Although it was for a short time, I got to talk with my fans and talk about my works for a short while. It was nice to communicate with my fans, even though I could only see them through a screen.
"Both Bargaining, the movie I filmed last year and Confidential Assignment 2, the movie I finished earlier this year, are almost ready to be released now. I cannot tell you for sure when they will be released because it will depend on the situation, but they will be the first movies you'll see. I'll make sure to find good dramas and movies and do my best. Please wait until then."
10 things to know about Hyun Bin
Here are 10 fun facts about Hyun Bin that were mentioned during Smart's Hallyu Hangouts quiz segment:
1. Hyun Bin graduated from Chung-Ang University and majored in Theater Studies.
2. His first TV role was in Bodyguard where he played a stalker.
3. His first leading role was in My Name is Kim Sam Soon and was partnered with Kim Sun Ah.
4. He was discharged from compulsory military service on Dec. 6, 2012.
5. His birth name is Kim Tae Pyung.
6. He starred in I Am Happy which was the closing film at the Busan International Film Festival in 2008.
7. His zodiac sign is Libra.
8. He is 184 centimeters tall.
9. His first project after returning from compulsory military service was The Fatal Encounter.
10. He starred in Memories of the Alhambra which was primarily set in Spain and also stars Park Shin-hye.