Alden thirsts for newness and diversity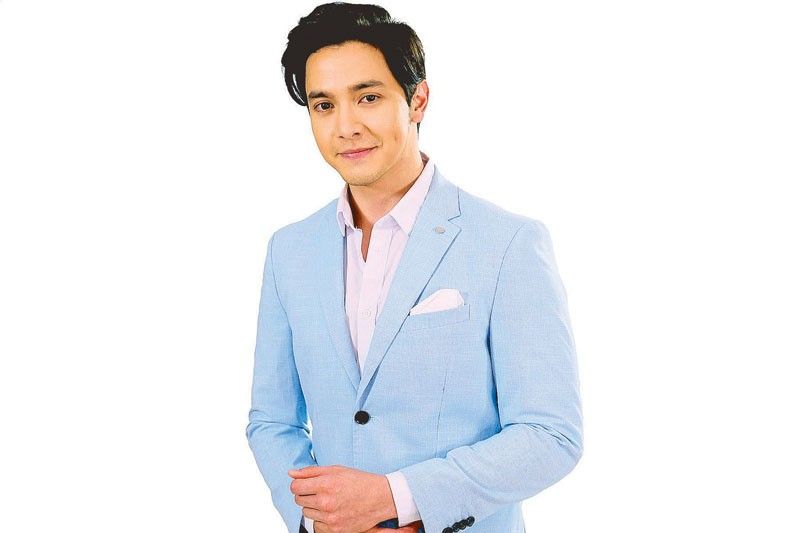 Alden Richards challenges himself by taking on a bida-kontrabida character in The World Between Us. His Louie Asuncion, an intelligent orphan, is a stark contrast to his dramatis personae in The Gift and I Can See You: Love on the Balcony.
Alden shows that newness and diversity, character- and project-wise, are healthy for any actor's craft. This is perhaps his way to test his acting mettle, commitment- and versatility-wise. By the way, the GMA primetime drama series premieres tonight and airs weeknights thereafter.
"(Acting is) a never-ending learning process. What I like about acting is, it doesn't have a dead end," said Alden of his craft and decision to give his nod of approval to the TV series in a virtual media call, "lagi at laging merong possibilities na pwedeng pasukan (it always offers many possibilities for you to explore). With this opportunity and role that is given to me, ito po ay yung isa sa mga nag-pa-excite sa akin talaga (this is one of those things that keep me excited these days). It's good that I was informed ahead of time (about it)."
According to Alden, he had to be prepared in laying out the early character arcs of Louie and in presenting them in a reasonable and realistic manner. The actor admitted that he was a bit apprehensive about his role after reading the script for the first time. He was looking for a different kind of project, "which is more on the acting piece side," as Alden put it.
With thorough reading and collective explanation from the creatives, Alden became more drawn to his character and appreciative of the story. Alden was sold on the idea. He is expected to deliver a nuanced and engaging take on Louie as the latter is three-dimensional.
Prior to the lock-in taping, Alden attended script-reading sessions and watched films and series to acquire knowledge in playing Louie.
"But it is really up to me to give my own flavor to (the interpretation of the character), especially when Louie switches (to a person who seeks) vengeance against people who have hurt him. That's what excites me."
"In every teleserye I've done, I usually play the good-boy character," added he, "laging napahirapan (the one who suffers and is), always forgiving, always on the good side of things. This time, I'll be playing a role na hindi lang puro good boy… That's what I'm looking forward to, medyo gray siya… I've never done anything like it on TV (before)."
When Alden learned about this twist in his Louie, he got more interested in becoming him on the small screen.
"I have so much to give, I have so much to learn from it," he said about the character, "Gusto kong maging malinis yung transition ng bawat stage ng buhay ni Louie and to be reasonable as well."
Alden implied that his role in The Road, in which he played 10 years ago, was, in some aspects, close to Louie. "It's a good opportunity for me to test my knowledge in acting," he said, "dun sa acquisition of my learnings for the past 10 years… kung paano ko (sila) magagamit (on how I will put them to good use in this project)."
Part of his preparations, said Alden, was to brush off any traces of previous characters, whom he remembers physically and mentally, from his system. Making a fresh start will spare him from such audience comments as "nakita ko na yan, napanood ko na yan (I've seen that performance before or it reminds me of his previous work)," shared Alden. "It's really a conscious effort on my part to develop certain differences in the roles that I play, na hindi ka lang nakakahon sa isang stereotype (an actor should not be boxed into a certain stereotype)."
The World Between Us also reminds fans and Alden himself that the latter's first love is truly acting.
"That's what I really wanted (to do)," said Alden, recalling his reasons for entering showbusiness. "Anything that goes and comes with it in the past years that I've been here is just a facet for exploration, for me to experience it and to feel what it's like to be in that atmosphere and platform. At the end of the day, I always tell myself, na kahit kumakanta ako, na kahit sumasayaw ako, na kahit nag-ho-host ako or doing other things in between, I'm still an actor."
Alden is grateful for having the opportunity to become a TV personality who can do acting, hosting and performing.
Described as a modern take on a classic and timeless story, The World Between Us was inspired by the literary classic Wuthering Heights. Viewers can only expect an epic love story, which also features Jasmine Curtis-Smith, Tom Rodriguez, Dina Bonnevie, Jaclyn Jose, Sid Lucero, Glydel Mercado, Kelley Day, Yana Asistio, Jericho Arceo and Donn Boco.
"The trailer doesn't do justice to the material," said director Dominic Zapata. "There is so much more to it." He added that the first time he read the script, he simply loved the twist.
Following his train of thought, The World Between Us has romance elements and the unpredictable turn of events that will hold the attention of audiences and keep the latter engaged. Direk Dominic shared that the narrative presents the varied levels of love. "It's not just about a romantic love," said he, "it's also (about) a love between a mom and her child, love between a child and his parent, love between siblings and love between friends." But one thing is for sure: The World Between Us will help everyone rediscover love.
Alden's Louie is also challenged to reflect on love despite impending sufferings in life and the intention to get back at those who have hurt him.
"There are certain events na talagang tinapakan siya nang sobra, na to the point na hindi na makatao (yung) pangapak na nagawa sa kanya," said the actor of how Louie's self-worth will be trampled on in the series. "He was betrayed, he was framed up."
This part of Louie's story is something that Alden would also like viewers to look into as they follow The World Between Us and see for themselves whether his character is a bida, kontabida or a combination of both, bida-kontabida.
(Kapuso viewers abroad can watch The World Between Us via GMA Pinoy TV. The drama series will also be available for streaming via iQiyi International or IQ.com for subscribers in the Philippines.)