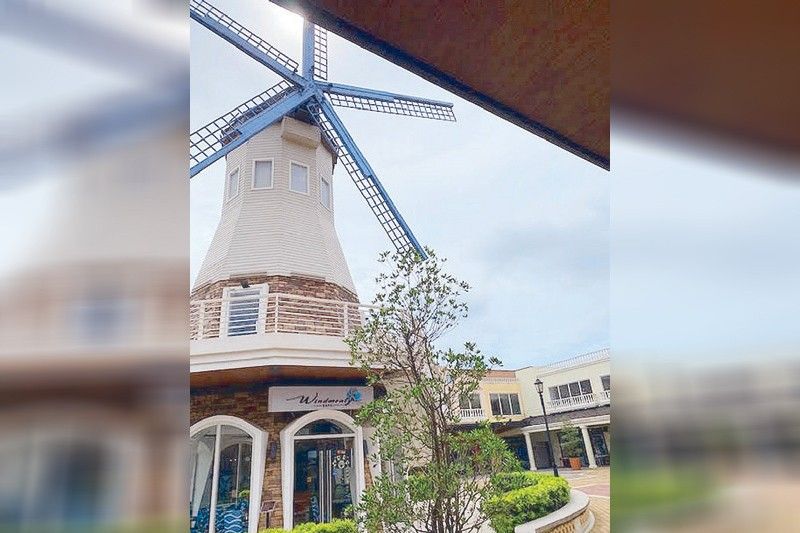 The windmill in Acienda Designer Outlet Mall stands out along Aguinaldo Highway in Silang, Cavite.
An enjoyable family weekend in Silang
RAZZLE-DAZA
-
Pat-P Daza
(The Philippine Star) - June 21, 2021 - 12:00am
June is a very special month for my family. We have five birthday celebrators: My daughter Gabbie on June 8, my mom Jullie on June 15, my niece Alli Tuviera on June 16, my brother Paul on June 17, and me on June 29. Because of the quarantine and its accompanying restrictions, we decided to have just one intimate celebration instead of five by spending the weekend of June 11 to 13 in Silang, Cavite, where my sister Penny's in-laws have a beautiful rest home. The weekend was most enjoyable, with the kids swimming while we adults played mahjong, our favorite pandemic pastime.
While waiting for my mom, nephew and brother to arrive last Friday, Penny and I decided to explore Silang and see what the town had to offer. Our first stop was Trattoria Mario Mio, an Italian restaurant owned by lawyer Mario Oreta (a friend for over three decades), which bears his name and that of his grandson Mio, and managed by his daughter Maureen Ferrer. MAO, as he is fondly called, considers himself to be an Italian in a former life. Italy is his favorite vacation place, and he loves renting a car and driving around its provinces to discover the small restaurants run by families and to sample their dishes and wines. And so, when he built the 10-hectare housing development Monteluce along Aguinaldo highway, it was a no-brainer for him to open Trattoria Mario Mio in the complex nearly four years ago.
I've been wanting to try this restaurant whenever I was in Silang, but never got around to doing so. But when I finally did, I wondered why it took me so long when it's less than 10 minutes away from where we stay, or 1.5 hours away from Makati via the new CALAX. The food was absolutely divine and the service was excellent. We came during lunch time and opted to dine al fresco since the weather was cool and outdoor dining is safer.
For starters, we had Stefano's Panizza, a flatted focaccia bread topped with sun-dried tomatoes, shrimps and cheese, and served with arugula leaves. It was followed by an order of crunchy and flavorful calamares. I also had a cup of Brodetto di Pesce, a light seafood soup with a hint of basil. By this time, I was almost full. So, when my main course arrived — four pieces of juicy, tender lamb chops — I was happy to split it with my son Paolo, whose main course was the Mario Mio Pizza.
My daughter Gabbie, on the other hand, raved about her duck ravioli. My brother in-law, Mike Tuviera, enjoyed his osso bucco while Penny and daughter Maya split the Angus beef rib-eye and the porcini mushroom risotto. Like most Filipino families, we sampled one another's food, and I must say that all dishes were seasoned to perfection. My sister and I agreed to take our mom there, while my brother-in-law vowed to take his parents the next time they're in Silang.
With no more room for dessert and to digest what we ate, we decided to go to Acienda Designer Outlet Mall, which is a stone's throw away from Trattoria Mario Mio. To my surprise, the architecture and layout are very similar to the outlet malls in the U.S., though the brands are similar to the ones you see in Metro Manila malls. The complex has two levels, with most of the shops being located in the top level. The lower level is where the restaurants and a few more shops are located.
My son was very happy with his purchases since the stores offered additional discounts on top of their already discounted prices because it was Independence Day weekend. I simply enjoyed window-shopping and strolling in the cool weather. Be warned, though, that you will have to queue in line for several minutes before you can enter certain stores because they only allow a limited number of shoppers inside at a time. There were two sports shops that we had to stand in line for about 10 to 15 minutes before we were let in. Overall, the experience was very pleasant, even though it made quite a dent in my wallet.
If eating and shopping are your thing, try taking a trip to Silang, Cavite via Aguinaldo Highway the next chance you get. And do visit Trattoria Mario Mio and Acienda Designer Outlet Mall to help revitalize our economy, all while enjoying unique dining and shopping experiences.