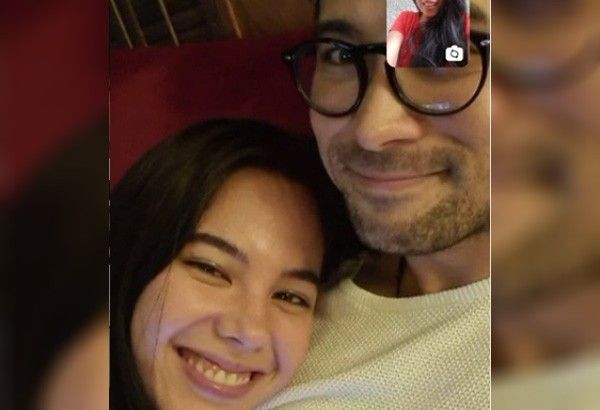 Rare photo of Catriona Gray and Sam Milby together last New Year, taken and posted by Sam's personal assistant, Nene Limosnero.
Nene Limosnero via Instagram, screenshot
Catriona Gray 'so in love' with birthday getaway with Sam Milby
MANILA, Philippines — Miss Universe 2018 Catriona Gray revealed how she and boyfriend Sam Milby celebrated her 27th birthday last January 6.
In her Instagram account, the Filipino-Australian beauty queen posted a video showing that they stayed in a rustic cabin as they prepared a homemade birthday pizza.
"No birthday cake, only homemade birthday pizza," Catriona wrote.
"So in love with this rustic cabin in the woods (parang horror movie haha) that @samuelmilby got for my birthday getaway," she added.
Catriona also said that she will having a birthday fundraiser to be announced soon.
"Also, stay tuned...this year I'll be having another birthday fundraiser! Details coming soon!" she said.
Recently, Sam made a surprise virtual appearance on TV5's variety show "Sunday Noontime Live" to greet Catriona.
Catriona was celebrating her birthday on the noontime show when Sam appeared via a recorded video greeting, becoming the highlight of the birthday presentation.
"I'm proud of you. You have a heart full of compassion and everything. You're such a big blessing to a lot of other people, but you're also such a big blessing in my life, so thank you for who you are and I really hope that God grants all the desires of your heart and be His servant," Sam told Miss Universe 2018.
"I love you, Koala. Happy birthday," he enthused.
RELATED: 'I love you, Koala': Sam Milby surprises Catriona Gray on birthday