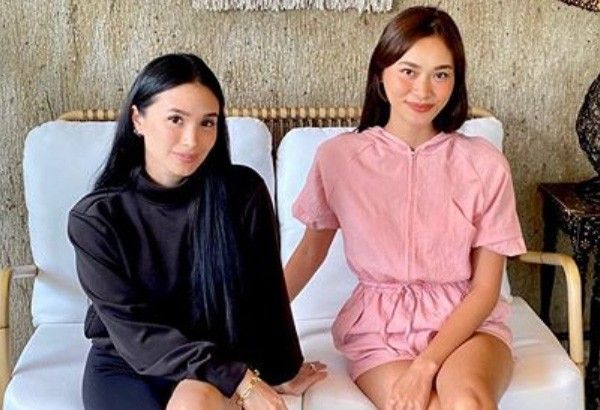 Heart Evangelista and Miss Universe Philippines (MUP) 2020 candidate Maria Isabela Galeria from Sorsogon.
Heart Evangelista via Instagram, screenshot
Heart Evangelista's bet quits Miss Universe Philippines due to COVID-19, candidates tour Benguet
LA TRINIDAD — Twenty Filipina beauties toured the Strawberry Farms in La Trinidad, Benguet last Thursday.
The first batch of the first ever Miss Universe Philippines (MUP) pageant arrived in Benguet at 7 a.m., passing through the Badiwan tunnel in Sitio Badiwan, Barangay Poblacion, Tuba town.
Benguet Governor Melchor Diclas, who officially welcomed the beauties at the provincial capitol, hoped the beauties visit props up Benguet tourism further.
Benguet caretaker congressman Eric Go Yap, who initiated the visit of the Miss Universe bets, apart from him wishing "to bring Benguet to the nation's tourism map" said that candidates also chose to visit the highland province.
The second batch is expected today.
The 48 bets will stay here for two days for promotional video shoots featuring Benguet tourism sites.
Coronation night is on October 25 at the Baguio Country Club.
The candidates, however, will no longer include Maria Isabela Galeria from Sorsogon, the contestant supported by actress Heart Evangelista.
In an Instagram post yesterday, Galeria declared: "With a heavy heart, I believe now is not the right time to join the pageant. I still feel tired, and I don't think my body will allow me to participate in the activities of Miss Universe Philippines."
Galeria said that although the Department of Health declared her and her dad as "COVID survivors" last October 11 and "even with a strong will to fight" for the crown, her "body is not well conditioned yet."
"I started to develop signs and symptoms on September 27, 2020, starting with nasal congestion and loss of sense of taste/smell. I occasionally felt like there was something heavy on my chest. Fortunately, it was bearable and didn't progress to a more severe level of DOB (Difficulty of Breathing). I then started to manifest rashes accompanied by extreme itchiness and dry skin. I woke up last October 3 with red, itchy, and teary eyes. I was under a handful of medications for more than two weeks to manage my symptoms," Galeria recalled.
"Following the 14-day quarantine, I was supposed to be released on October 8. As per protocol, I needed to be asymptomatic for three days before discharge. Unfortunately, I was still manifesting some symptoms."
Galeria thanked everyone who helped her in both her MUP and COVID-19 journey.

"To Gov. Chiz and Miss Heart, who saw my potential & gave me full support on this journey, Salamatunon tabi. Kamo po an nag pakusog san ako buot. I love you @iamhearte," Galeria wrote in another post.
The search for the country's next representative to the most prestigious beauty pageant in the world and worthy successor to Gazini Ganados culminates in the coming Miss Universe Philippines preliminary and coronation nights on October 23 and 25, respectively.
Pageant fans worldwide can watch the whole journey of the aspiring beauty queens with the commercial-free live stream of the two events on KTX.PH, the newest digital events platform that offers exciting online experiences.
Watch 48 candidates strut down the Miss Universe PH stage in their swimsuit and evening gown during the preliminary night this October 23 (Friday). Come October 25 (Friday), fans can catch the crowning of the country's next representative to the Miss Universe 2020 pageant.
Fans can buy their tickets for only P99 to watch each of the two separate events with no interruptions. Access to the livestream also comes with a chat feature, which allows viewers to interact with each other and voice their opinions about their bets as the pageant unfolds.
These special offerings follow the successful previous offerings - Jed Madela's "New Normal," JaMill's "Tayo Hanggang Dulo," K Brosas' "20k20," "Hello Stranger: Finale Fancon," "Apollo: A Daniel Padilla Digital Experience," and other special exclusive events. Watch out for more exciting experiences on KTX.PH. — Reports from Deni Rose M. Afinidad-Bernardo
RELATED: Heart Evangelista's Miss Universe Philippines candidate tests positive for COVID-19