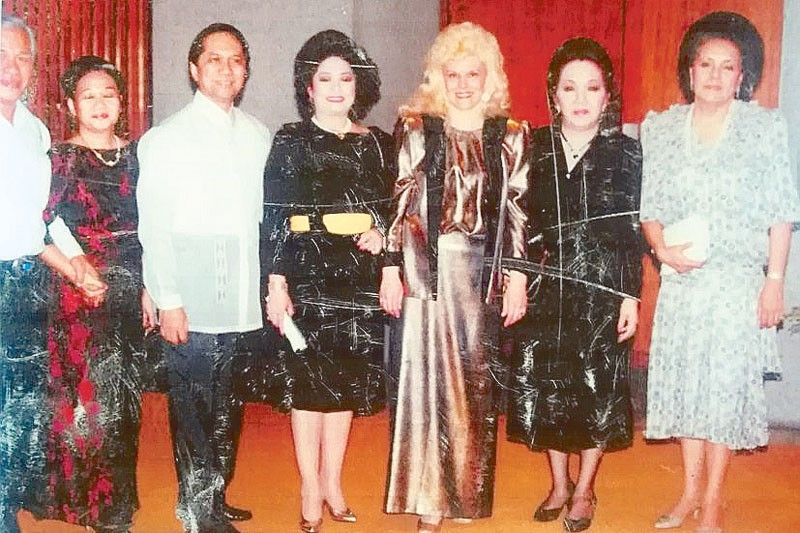 From left: Manny Gregorio, Lourdes Gregorio, Danny, Fe Dolor Serrano, Eleonora, Helen Nubla and Irma Potenciano
Eleonora Enachescu sang for Conching Rosal Foundation
Eleonora Enachescu, famed Romanian soprano, came to Manila to sing for the initial presentation of the Conching Rosal Music Foundation in 1987 at Tanghalang Aurelio Tolentino of the Cultural Center of the Philippines. The foundation was set up shortly after Rosal's death to grant scholarships to music students, among other projects.
The foundation trustees and members: Danny Dolor, Marie Lopez, Kathy Sternberg, Ernani Cuenco, Rogie Cabreza, Sylvia La Torre and Reynaldo Torres.
As a 1976 graduate of the Ciprian Porumbescu Conserva-toire in Bucharest, Enachescu is a resident soloist of the Romanian Opera since 1982, evolving over higher among the leading young opera singers of her generations.
Her debut came in 1977 at the Hungarian Opera in Cluj-Napoca, playing most successfully the part of Violeta in Verdi's La Traviata. She improved her vocal qualities and the level of her interpretation by the careful assistance of such well-known Romanian opera singers as Magda Lanculescu and Eugenia Moldoveanu.
With a view to widen her musical instruction and repertoire, Enachescu gradually included several vocal-symphonic works and lieder on her active agenda, which brought her quite a few collaborations with the Symphony Orchestras of the Romanian R.T.V., and of the Philharmonics in Arad and Satu-Mare, enjoying also studio recordings with the R.T.V.
She enriched quite rapidly her opera repertoire with ever more difficult parts and her interpretations induce the specialty critics to write excellent comments about the beauty of her tone and phrasing, all rendered with refinement and remarkable style.
She has so far successfully toured in the Soviet Union, Spain and Germany. — RKC