Napakasakit, Kuya Eddie!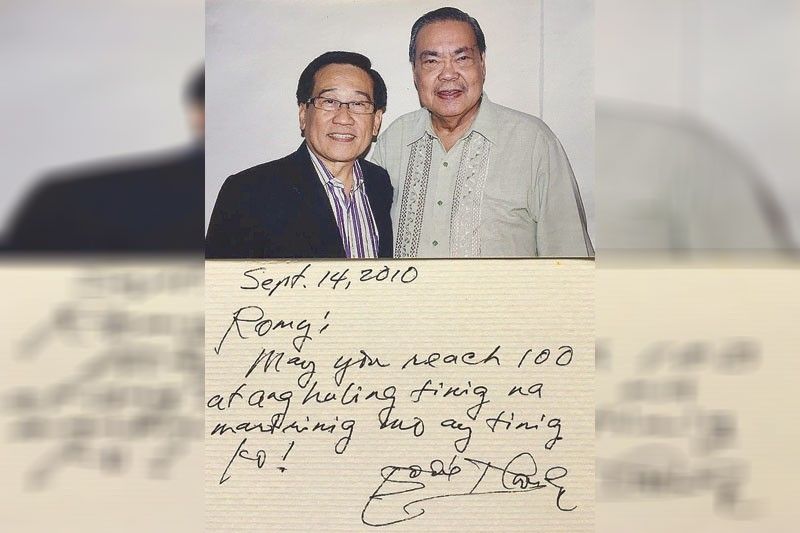 Knock, knock, knock! May I come in?
For decades until recently early Saturday afternoons on GMA, the owner of that classic line was let into the homes of millions and for one hour followers of the program Kahapon Lamang were glued to the radio tearing up over the sob stories of other people who are, at the program's end, somehow soothed by the comforting words of the host.
There won't be any "knock, knock, knock'' from now on. The man behind that voice, Eddie Ilarde, passed away at 84 last Tuesday night. His departure was so sudden and so unexpected that people at first didn't believe it, hoping (against hope) it was fake news.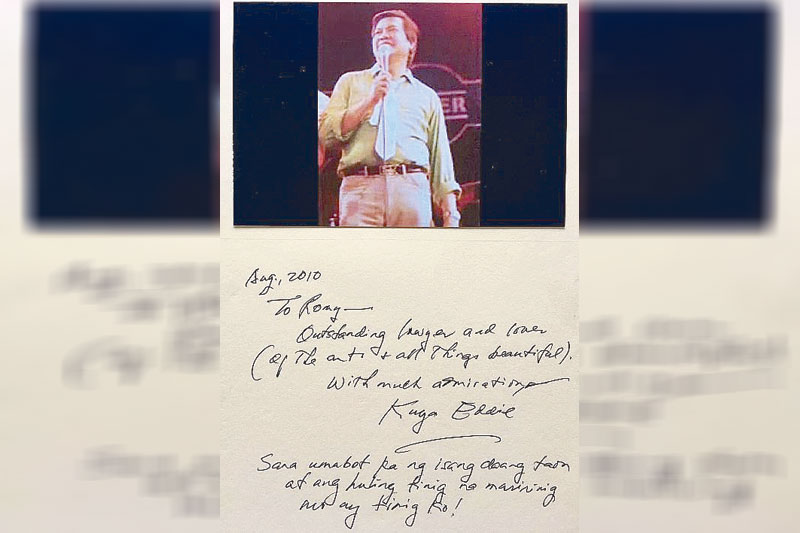 He was Kuya Eddie to everybody, the "lodi" (idol) who successfully navigated the rocky road from radio to television to the Pasay City Council to the House of Representatives to the Senate, undaunted by the 1972 bombing during the Liberal Party miting de avance at Plaza Miranda that left him among the badly wounded, some mortally.
Until his dying day (although it wasn't known if he was ever sick because he was forever believed to be in the pink of health), Eddie (the other Eddie, Garcia, also a Bicolano, was known as Manoy Eddie) loved to write and didn't stop contributing articles about current issues and anything under the sun, including to the Entertainment section of The STAR.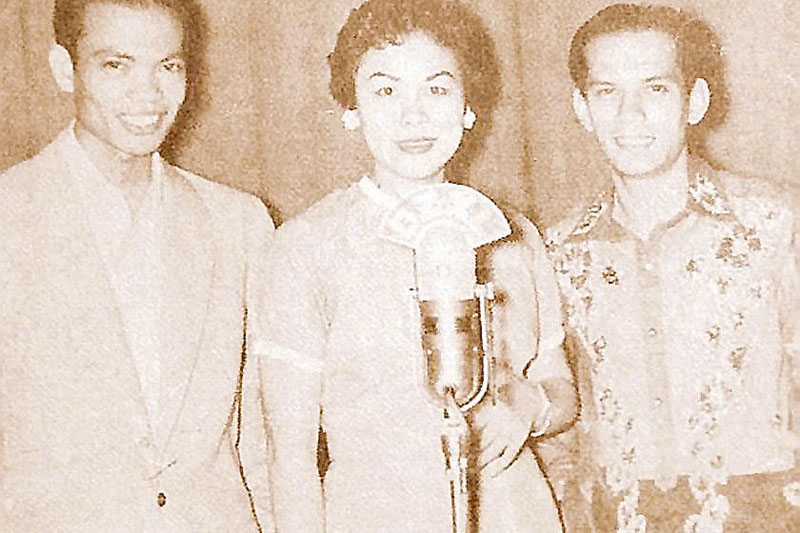 Last April when Leila Benitez, his co-host in the noontime show Student Canteen, died in New York, Eddie obliged this corner with a one-paragraph tribute and said he would write a lengthier story about Leila soon he never did. I'm sure he would have submitted that story, as was his wont, with a bowlful of Laing Bicol which he himself cooked, spiced up with gata (coconut milk) and burning-hot sili.
Aside from his signature Laing Bicol, like his fans I will remember Eddie for his iconic shows, especially Kahapon Lamang in which his heart-stabbing line "Napakasakit, Kuya Eddie" (supposed to be spoken by his distressed letter-writers) is deemed to have inspired a 1984 hit song and a 1986 tearjerker film.
Election lawyer Romy Macalintal has his own fond memories about Eddie.
"Parang Kahapon Lamang," Romy began his tribute to his dear departed friend. "These lines we started to hear in 1955 suddenly ended Tuesday night, Aug. 4, when the Lord opened the pearly gates of heaven and all the angels and the saints welcomed Eddie Ilarde when he said, 'Lord, may I come in?'"
Romy added that the memories of his unforgettable experience with Eddie, his idol in the broadcast field, will never end.
"I never thought I would meet him personally. Our meeting happened on Sept. 14, 2010, when he guested in my former radio program, The Law of the Heart is Love, over DWBR, where he read three love poems."
In his short interview with Eddie, Romy recalled that he could feel Eddie's passion and love for radio.
He said, "Romy, I'm proud of the fact na hanggang ngayon ay marami pang nakaala-ala sa palatuntunan namin na Kahapon Lamang, which started in 1955. Kaya lagi kong sinasabi na 'Kahapon Lamang' on its second 50 years kahit na iba na yata ang panahon ngayon, kakaunti na lamang ang may radio sa mga bahay, karamihan TV. Kaya meron akong kampanya, Romy, na muling bumili ng transistor radio na sa pamamagitan ng baterya ng flashlight meron na kayong music, kung walang electricity. Meron na kayong information, meron na kayong news."
For people who would like to be in radio or TV, Eddie gave this advice, "Well, I will inspire them more by telling them that this is a noble profession. Kaming mga nauna nang mga announcer, bago kami mag-on the air, kung may script, sinisiguro namin na tama ang pagbigkas or pronunciation ng mga kataga lalong-lalo na ang mga proper names, names of persons and places. Ang advice sa amin nung aking discoverer na si Rey Oliver, the best announcer ever, 'read anything and read aloud. Know how to modulate and do not eat your words.' Huwag daw kakainin (hahaha!) ang mga kataga. Ang ibig sabihin nyan, do not eat your words. You project the words nang sa gayon ikaw ay maunawaan ng mga taga-pakinig."
The interview ended with his familiar extro, "Si Eddie Ilarde po ito na nagsasabing – sana umabot kayo ng isang daang taon at ang huling tinig na maririnig ninyo ay tinig ko. Mabalos."
Thereafter, Eddie and Romy had been texting with each other. "We would have coffee in our favorite coffee shop along Macapagal Avenue, Pasay City, and he would recall memories of his life as a politician, a broadcast icon and an advocate for the rights of senior citizens," added Romy.
"He always reminded everybody to call old people nakakatanda and not matatanda."
Romy's last contact with Eddie via text messages was last April 10 when Leila passed away.
"I could not recall then Leila's favorite song and Eddie reminded me it was I Don't Know Why with his additional message, 'She had a lingering illness even before the pandemic. She was 89 and lived a full life and sure happier where she is now. Hope you are okay Romy. Be well and be safe, GOD BLESS YOU MY FRIEND.'"
And to the haunting melody of Roses, the song he opened and closed his program with, we bid Eddie farewell. From Up There, as he would to end his program, he must be saying, "Give my regards to the family. Mabalos!"
(E-mail reactions at [email protected]. For more updates, photos and videos, visit www.philstar.com/funfare or follow me on Instagram @therealrickylo.)