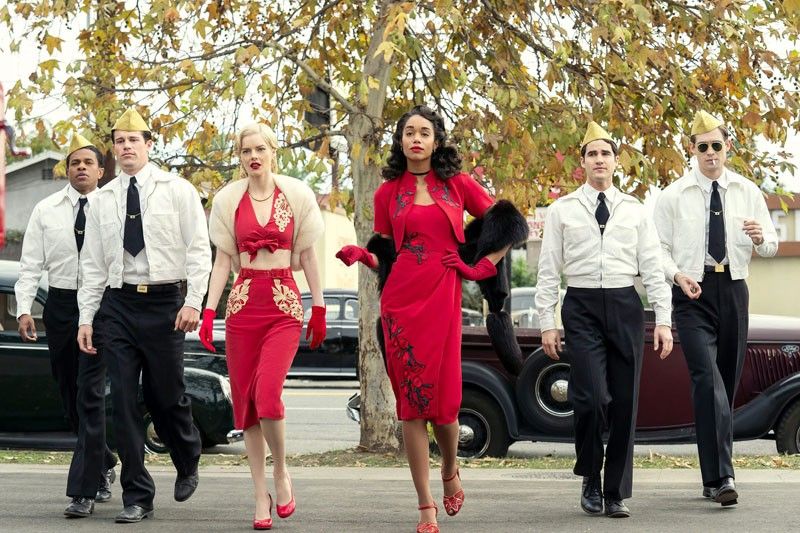 The new Netflix series, produced by Ryan Murphy with Ian Brennan, is billed as an alternate history of the Golden Age of the Motion Picture industry in an aspirational tale about surmounting biases about gender, race and sexuality. The show stars, among others, David Corenswet, Laura Harrier, Jake Pickering, Jeremy Pope, Holland Taylor, Samantha Weaving and the Fil-Am Darren Criss (second from right).
Hollywood: A story of dreams and what-ifs
I stopped counting and trying to identify when I got to 50. I mean those old songs served up in the soundtrack of the new Netflix series Hollywood. There might be more but it will need another seating to fully check out and to once more enjoy this sumptuous feast of sight, sounds and strange emotions.
Now, the use of old songs in films is nothing new. It is a very effective way of providing just the right ambience, moving the story and for enhancing performances. But Hollywood does it differently. The scenes play out through the songs. Maybe this is because the songs are the only things real in the show.
Set during the period right after World War II, the series offers a look at what is believed to be the Golden Age of the motion picture industry. Because of the perceived glamor and easy money that come with jobs in the movie business, there were a lot of young people, talented or not, who decided to try their luck in the fabled place where dreams come true. And they will do anything to succeed.
The pitch is nothing new but note that this Hollywood is produced by Ryan Murphy partnered this time around with Ian Brennan. There is just no way that it can be anything but edgy, extraordinary. Murphy is one of today's hottest producers. We loved his musical sitcom Glee. He cast Lady Gaga in American Horror Story and turned her into an award-winning actress. And we were riveted in front of the screen watching Billie Porter in Pose.
Hollywood is a story of dreams and what-ifs. It is billed as an alternate history where fiction blends with real-life in an aspirational tale about surmounting biases about gender, race and sexuality. It says this is what might have happened if only…
Watch and be prepared to go "Huh!" or "What?" or wonder, did that really happen? You will surely end up wondering but also oh-so-content about the hours you spent with this Hollywood.
Murphy's characteristic daring is manifested throughout all seven episodes. Lots of juicy bits. Did Ernie West pimp Rock Hudson? His flair for out-of-the-box but eventually spot-on casting in great evidence. Who would have thought of Jim Parsons of The Big Bang Theory as the unscrupulous talent agent Harry Wilson. This is the best performance of the batch.
Darren Criss, David Corenswet, Laura Harrier, Dylan McDermott, Jake Pickering, Jeremy Pope, Patti Lupone, Joe Mantello, Holland Taylor and Samantha Weaving lead the stellar cast. Gorgeous sets abound. Costumes are so chic and timeless. And every piece of music played harks back to that time of Hollywood as Dreamland.
Hollywood takes a lot of liberties with history but this is not so with the music. While most shows would opt to use new versions of old songs, this one picked out some of the best and the rarest of the era and used them to excellent effect.
Ella Fitzgerald and the Inkspots open with I'm Beginning to See the Light. Frank Sinatra's As Time Goes By plays for a lonely night. Artie Shaw's clarinet plays Begin the Beguine for Dreamland. The Pied Pipers background a striptease with Embraceable You. What about Herbert Von Karajan's Salome's Dance of the Seven Veils for a burlesque number.
Sometimes I'm Happy by Jo Stafford for a Rock Hudson seduction. Glenn Miller and his Orchestra introduce America's First Lady Eleanor Roosevelt with the King Porter Stomp. And when Hollywood celebrated back then they played There's No Business Like Showbusiness by Ethel Merman.
There are also a lovely You'd be So Nice to Come Home To by Dinah Shore; It's a Good Day by Peggy Lee; Sing, Sing, Sing by Benny Goodman and his Orchestra; Paper Doll by the Mills Brothers; Just Imagine by Doris Day; Friendship by Judy Garland; plus many others including Catch a Falling Star by Perry Como which was actually recorded in the late '50s but says so much about the lead character Jack's showbiz career.