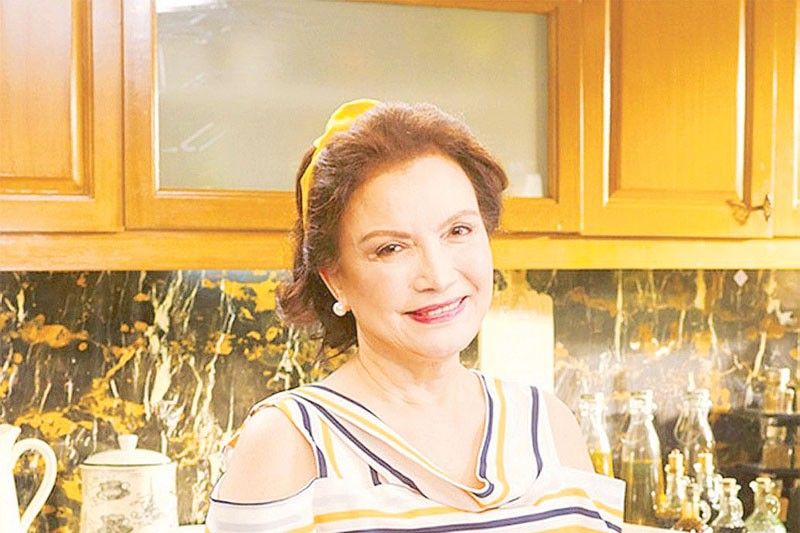 Helen Gamboa's nieces have traveled the world as fl ight attendants and are now behind a new way of creating pasta
Candy & Kring: From flying to cooking
FUNFARE
-
Ricky Lo
(The Philippine Star) - June 27, 2020 - 12:00am
Helen Gamboa was upbeat.
"You should taste Pasta Pockets," she said on the phone. "You will love it!"
In this pandemic when your usual fare are toppings delivered to your home, Helen's suggestion was very much welcome.
"Sure," I told her. "Why not?"
Five boxes were promptly delivered by Grab, each containing a different flavor (pictured with this story).
"Did you like them?" Helen was back on the line.
"Yes, I did!" And so did those at home and my friend Nestor Cuartero to whom I gave one box for his birthday last Thursday. "Ang sarap!" he exclaimed. "Saan galing? Sinong gumawa?"
Pasta Pockets were created by Helen's nieces Katherine "Kring" Roxas and Candice "Candy" Molina. The "pockets" look like chicken pies and empanadas with pasta as fillings. They come in many flavors: Meatball Spaghetti, Mac n' Cheese, Chicken Pesto, Spicy Longganisa and Creamy Carbonara. (The non-pasta flavors called Premium Cravings Fried Taco, Fried Pizza, Chicken Mushroom and Tuna Pimiento.).
Like their Aunt Helen, Kring and Candy (daughters of Helen's sisters Evelyn and Edna, respectively) are wizzes in the kitchen (they are Kapampangan and you know how Kapampangans are famous for gustatory delights, burp!!!). They grew up together in the Gamboa family, more like sisters than cousins (Helen and Senate Pres. Tito Sotto's daughter Ciara is close to her cousins).
After college, the cousins worked as flight attendants — Candy (Respiratory Therapist from Manila Doctors Hospital) with Philippine Airlines (PAL) and Kring (Hotel & Restaurant Management/HRM from St. Paul's College Quezon City) with Air Philippines before she transferred to ZLOK (an African airline) and quit to manage Oasis Hotel in West Africa.
"We both loved to travel and experience the wonders of the world," said Kring who has retired after flying and hotel-managing for 24 years. "Candy got married and became a widow after her husband died in a plane crash in the Philippine Air Force two weeks prior to the birth of their daughter Chloe. After many years, Candy eventually married her long-time love John, an airline pilot and they lived happily ever after. Later Candy said she wanted to retire and actually be home for her newborn son Kiel. She felt torn to leave her company of 24 years and to raise her son since she was very busy over the years being away from her daughter due to the great sacrifices of her work."
Kring encouraged Candy to find a food business where she could create a product that would be innovative and unique. Along with Kring, Candy's husband John encouraged her to retire as well and start her small kiosk business.
Candy and Kring are passionate with food. They both love to cook and eat. The Gamboa clan would hold family fellowships and partake of Kapampangan goodies they themselves prepared.
Said Kring, "We admire Tita Helen because of her skills and her passion for good food. This tradition of the Gamboa family was really ingrained in our lives from the day we were born. It was Candy who came up with her old creation she originally called Pasta Pie. That was in 2002."
When Candy retired, she and Kring along with Candy's mom Edna worked for months on flavors and bread textures. After trial and error, the pasta pocket concept became reality.
On Dec. 20 last year, the first store opened at Robinsons Mall in Ortigas Extension. But due to the pandemic, they decided to sell Pasta Pockets online.
"Since the start of the COVID-19 crisis," said Kring, "we have decided to waive the franchise fee temporarily to give people an opportunity to sell our products, frozen or cooked, so we can help people make extra money."
(For inquiries, call 632-8983-3893 or 0933-073-2190.)
(E-mail reactions at rickylophilstar@gmail.com. For more updates, photos and videos, visit www.philstar.com/funfare or follow me on Instagram @therealrickylo.)