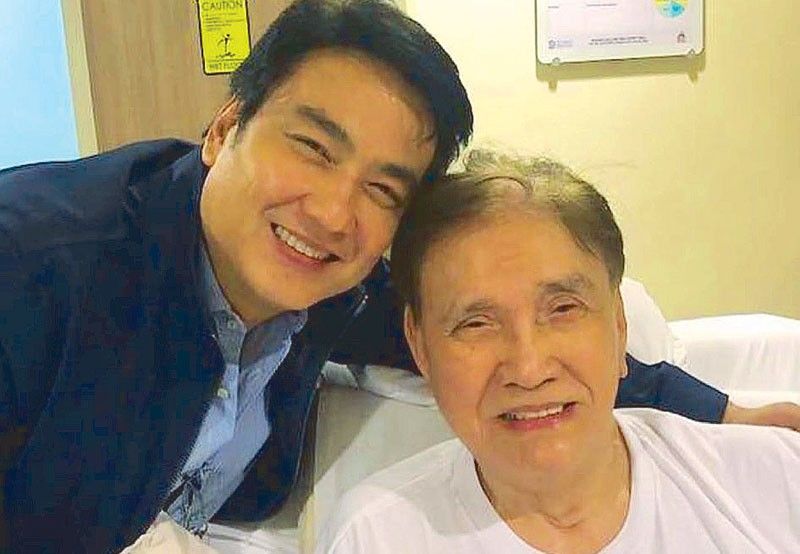 Sen. Bong Revilla with his dad, former Sen. Ramon Revilla Sr. (who recently celebrated his 93rd birthday)
Sen. Bong in self-quarantine
FUNFARE
-
Ricky Lo
(The Philippine Star) - March 17, 2020 - 12:00am
The COVID-19 pandemic has redefined social graces. Instead of the usual beso-beso, hugs and kisses, and shaking hands, the new mode of greeting is, according to Joey de Leon who has popularized it, elbow bump. I saw Chris Cuomo do it with a lady guest on his CNN show Cuomo Prime Time. People are reminded to observe social distancing (six feet away or farther from each other).
The virus has also affected social life. Birthday parties, weddings and the like have either been postponed or cancelled, and so are concerts and similar entertainment events (including the first Metro Manila Summer Film Festival/MMSFF set for April 11 to 21).
And TV shows, too. The drastic step of disallowing "live" audience during the airing of shows for the meantime, initiated by Eat, Bulaga!, has been taken by other local shows and even by such US shows as The View and those of Jimmy Fallon, James Corden, etc.
Funfare asked some celebrities how they are coping/dealing with the situation.
• Sen. Bong Revilla
Alright, all things considering. Mas nakakabahala ang lumalaking agam-agam ng ating mga kababayan because let's face it, this is something totally new we're going through.
I would be lying kung sasabihin kong hindi ako nag-aalala, but I'm taking precautionary measures naman and making sure we're part of the solution and not of the problem.
I decided to put myself under voluntary quarantine after possible exposure dun sa resource person sa Senate as a precaution so as not to expose others to unnecessary risk. At magandang iparating din sa lahat na kung sa tingin nila ay nagkaroon sila ng possible exposure, mabuti na mag-practice sila ng social distancing and if necessary, to do self-quarantine din, not for themselves kundi para sa kapwa.
I'm okay naman at walang symptoms at all. Pero for the sake of others, mag-isa ako sa kwarto away from Lani and our children, and I pass my time reading, keeping myself updated, and working out. So ironic really, na dahil sa paggampan natin ng tungkulin sa Senado, parang nasa Crame ako ulit. Hahaha!!!
As a result, postponed muna taping for Agimat ng Agila which will be coming out in May, and postponed din ang production nitong movie I'm making which I'm supposed to shoot this recess.
• Sen. Migz Zubiri
We should treat this virus very seriously as it seems that the death rate here in the Philippines is very high at the moment. So I've instructed everyone in my family to be on voluntary quarantine and not to leave our homes unless absolutely necessary. No malling, no shopping, no hanging out with friends or playdates until this nightmare is over. That goes for our staff as well so there will be no weak link in our defense against the virus. We must make these personal sacrifices to defeat this invisible enemy that is killing our people. It's convincing others to do the same is the most difficult part. Hopefully, our people will follow.
• Kiefer Ravena
Just staying at home with my family, but still working out also at home to stay in shape. I'm also making up for family time since everybody is at home enjoying each other's company. Hoping for the best and wishing everybody safety and good health.
This, too, will pass. Mahalaga lang we look out for each other and we follow the protocols and precautions. We keep calm, practice social distancing, no unnecessary travel and contact, and self-awareness.
• Dr. Vicki Belo
The Belo Medical Group (BMG) announced a temporary suspension of all its Metro Manila clinic operations from March 14 to 22.
Aside from this, the management has encouraged employees stationed at its head office to lessen social contact and if possible, just continue working from home. BMG is putting in place all the tools to equip its employees of a work from home setup until threats of the COVID-19 significantly decreases.
In an Instagram story, Dr. Vicki Belo addressed those asking her if she already took the COVID-19 test, after a Vietnamese influencer who attended the Milan Fashion Week tested positive for COVID-19. Vicki was at the event but did not attend the shows the Vietnamese influencer attended.
"It's been two and a half weeks since I arrived and I have zero symptoms of anything. I feel so healthy and amazing. But of course, I did test and all were negative. You have to remember that I have a little daughter. Scarlet is only five. I have a daughter, Cristalle, who's pregnant. I would never do anything to endanger their lives. So right now I feel really healthy. No cough, no fever, no nothing. But thank you for praying for me, I really appreciate your concern."
• Sorsogon Gov. Chiz Escudero
I'm not "coping," I am "governing" to try to protect Sorsoganons from this pandemic and save as many lives as possible.
• Pia Guanio
Limiting our trips out of the house. Going out just to do the groceries. Always with anti-bacterial wipes and alcohol. Keeping healthy by working out, getting enough rest. Taking the kids outdoors for play. Helping the kids with school work from home.
• Papa Ahwel Paz
Keeping all our family members updated is very crucial in this time of COVID-19 so I set up a family group chat with all my siblings and their kids reminding everyone to strictly inform all our whereabouts especially the last place we've been to before reaching home. We constantly share news updates from credible and legit news platforms. We all take 500mg of Vitamin C daily (everyone gets supply from me as Christmas present).
Since we are all observing self-quarantine at home (except for essential employees), we take turns in sharing meals or cooking healthy food with malunggay as main ingredient. We also observe all DOH and WHO prescribed guidelines for COVID-19 especially social distancing.
As for my daily noontime reports for DZMM, I observe a flexible work schedule by reporting live from home using Viber video call to avoid social contacts.
• Fr. Joey Faller
It is very hard for me to observe social distancing from people since my ministry is to be with people and to pray for them. What I do is strengthen my immune system by eating nutritious food, having good sleep, by doing regular exercise and a lot of prayers. I don't forget also to wash my hands properly and sanitize myself with alcohol and try to minimize my travel at the moment. God is stronger and bigger than all kinds of viruses. If he can turn day into night, He can totally eliminate the COVID-19 pandemic from the face of the earth.
• Mike Enriquez
By staying home as much as possible. By washing my hands often. By following doctor's orders. And most of all, by praying.