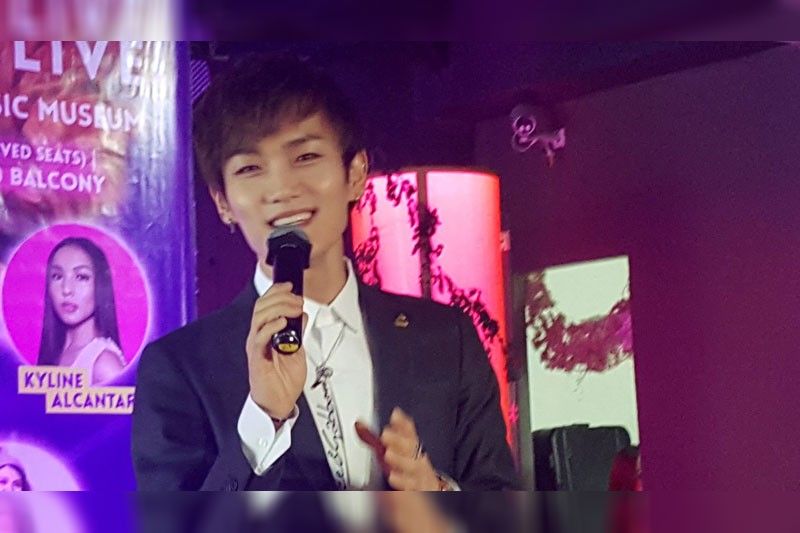 Jang Hogyo will have his first show in the Philippines on Feb. 20 at Music Museum
This K-pop artist can sing Buwan like a Pinoy
(The Philippine Star) - February 16, 2020 - 12:00am
MANILA, Philippines — Jang Hogyo is everything K-pop should be. The 33-year-old singer-dancer-composer's music video of 2Nite, his original composition, turned viral. The upbeat video sees the Japan-based performer singing and dancing with a female dancer and their male back-ups.
His star began to rise after he performed at KCON, Japan's largest K-Pop event. He sang and danced his way to a contract with Shiga Biwa Broadcasting, Japan, where he performs regularly.
Thus did Jang win the Rookie Award for Korean Culture in 2018 and get the go signal to model for Japanese designer Katsura Yumi's fashion show.
You'd think a stage veteran like him would talk non-stop when asked. Not Jang. When he faced the Philippine press for the first time at Polari Music Hub in Quezon City, Jang's limited English made him seem shy at first. The guy understood the English questions thrown at him, but his replies were confined to a sentence or two.
His translator, however, proved that Jang is far from shy. He has many things to share, and is excited to talk about them as well. It's his fourth visit to the Philippines, so he's no stranger to the Pinoy audience, whose love for music he finds endearing.
Morrisette Amon's YouTube music videos floored him so much, he wants to sing the romantic You Are the Reason with her. Jang wants to blend with Filipinos so much, he'll jump at the chance to perform in local variety shows, and land a teleserye role perhaps.
But he knows rule No. 1: Learn Filipino first. So far, he knows how to say salamat (thank you), mabuhay (long live) and paro-paro (butterfly), all peppered with the respectful po.
He drew warm applause from media by singing the chorus of JK Labajo's hit song Buwan as if he's been performing it all his life. He sang sans any accent, you'd think a Filipino was performing it if you only close your eyes and ignore the Korean singer's chinky eyes.
It's his talent for putting his heart and soul into singing and performing that made Andrew de Real produce and direct the show Jang Hogyo Live on Thursday, Feb. 20 at Music Museum, Greenhills, San Juan. Andrew knows a crowd drawer when he sees one. So he put Jang to the test at first. He asked the Korean singer-dancer to perform in his (de Real's) bar.
"He made the audience, especially those addicted to K-pop, happy," Andrew reports.
The show will also feature Japanese singer-dancer Yoowi Nakamura and Shakaina Valdehueza. Kapuso artists Kyline Alcantara and Ruru Madrid, along with the Sexbomb Dancers and the Outkast Dancers, are the guest performers.
Jang admits feeling nervous about his first show in the Philippines. But he wants to be "part of the Philippine musical arts" so badly, he promised to do his best, even if it means learning more Pinoy songs to win his audience over.
Perhaps we should give him a chance. Shall we then give it up for Jang?