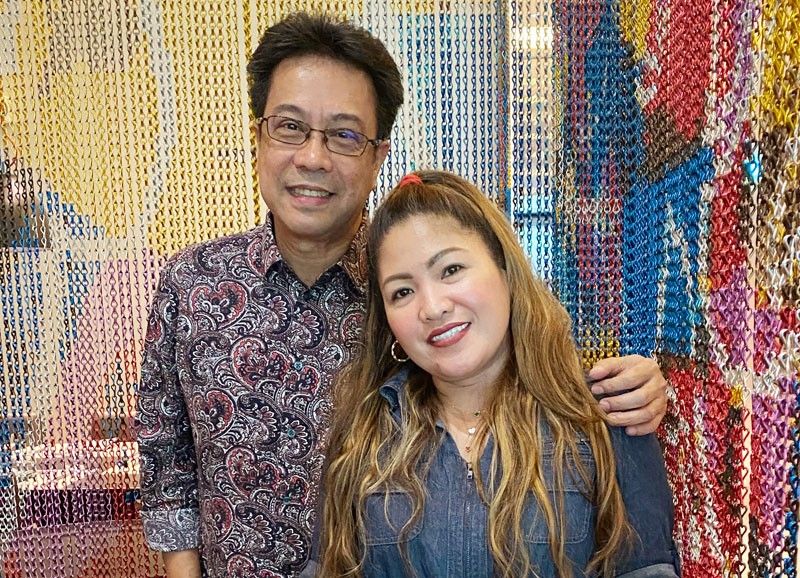 Powerhouse Valentine set for Friday, Feb. 14, at the Monet Ballroom of Novotel Manila in Araneta City (Quezon City).
Hajji: Your voice is like sex…
FUNFARE
-
Ricky Lo
(The Philippine Star) - February 11, 2020 - 12:00am
If it's a well-rounded/experienced guy like Hajji Alejandro who tells you that, yes, "your voice is like sex, if you don't use it, you lose it," you have no choice but to believe him. After all, it's the voice of experience you are hearing, and isn't experience said to be the best teacher?
Known in his younger years as the Kilabot ng Mga Kolehiyala (loosely translated "Monster of College Girls"), Hajji at 65 doesn't mind being tagged as Kilabot ng Mga Matrona, followed presumably by yesteryear's college girls who have become today's matrons who continue to enjoy Hajji's songs.
Hajji mentioned that voice-sex comparison when asked how he preserved his voice in his 46 years in the business (starting in 1974), aside from getting enough sleep, avoiding smoking and drinking (alcohol) only occasionally.
Dessa, who has been in the business for 28 years (since 1992), agreed.
"If I don't get enough sleep," she admitted, "medyo mahirap kumanta."
Together with the Philippine Madrigal Singers (or simply The Madz, the first choir in the world to win the European Grand Prix for Choral Singing, twice, first in 1997 and then in 2007), Hajji and Dessa are the headliners of Powerhouse Valentine set for Friday, Feb. 14, at the Monet Ballroom of Novotel Manila in Araneta City (Quezon City). Part of the show's proceeds will be donated to its official beneficiary, the Philippine Cancer Society. (For tickets, call Ticketworld at 8891-9999 or Ticketnet at 8891-5555.)
It promises to be a "powerhouse" show.
Hajji is a legendary artist who is one of the major proponents of OPM and who popularized such hits as Kay Ganda ng Ating Musika, Nakapagtataka, May Minamahal, Tag-Araw and Panakip Butas, etc.
Dessa is a sensational live performer "with a vocal range and electrifying stage persona"…small but terrible!..."who never fails to enthrall audiences." Her claim to fame includes a Best Singer award in the 1993 Voice of Asia, the 1998 SAGA Yoshinogari Festa award in Japan, Best Interpreter award in the 1999 Asia Song Festival in Malaysia and memorable (read: powerful) renditions of Bring Back The Times, Saan Ka Man Naroroon and Lipad ng Pangarap.
For almost 60 years, The Madz has been performing around the world, bringing prestige to the country when named Artists For Peace by UNESCO having been the first Filipino choir to perform at the iconic Teatro Colon in Argentina and the first choir in the world to receive the Brand Laureate Premier Award as the world's Best Ensemble Choral from the Asia Pacific Brands Foundation.
All three will have several "spot numbers," while Hajji and Dessa will do a duet of four songs considered "anthems" of four decades ­— the '70s, '80s, '90s and the new millennium. Remember Tonight I Celebrate My Love For You and With You I'm Born Again? They are two of those songs, plus Perfect which was sung as a duet by Beyoncé and Ed Sheeran.
Although with a two-decade age gap, Hajji and Dessa are "seasoned" in love, survivors of a few relationships.
Married twice (first to the mother of Rachel and the so-called "sexy chef" Barney, and to the late Rio Diaz with whom he has a son, singer Ali), Hajji confessed that he has had "in-between" romances, one of which bore him a girl.
"But they were not short relationships," clarified Hajji "They would last for years, one of them for 15 years. At the very first, I would make it clear to them that I wouldn't want to marry again at okey naman sa kanila, until their friends started getting married and they wanted to do the same. Pero pinangangatawanan ko ang aking pangako na hindi na ako mag-aasawa."
Today, Hajji has a much younger girlfriend. The May-December romance is working, thank you!
Dessa is on her third relationship, after the first that produced a girl (now 23) and a second (with a son, now 15).
"I was a battered wife sa una kong husband, a Filipino," Dessa, who is based in Las Vegas but who comes home for gigs, candidly revealed. "The second one was a Filipino-Japanese who got me pregnant when I was in L.A. where I was just vacationing. Nagpaka-luka-luka ako dun. I told Tito Boy (Abunda, her manager at that time) that I wasn't coming home anymore kasi nga nabuntis ako. He was shocked but he let me go. The relationship lasted for 11 years. The third one, my current, is an Italian na medyo younger than me. Mabait siya, hindi nananakit. His name is Peter Joseph Accurso."
Like Dessa, Hajji also stayed in the States (in L.A.) for five years (1987-1992) with Rio. They owned and managed a fine-dining restaurant with a music lounge in the Melrose area, and that was when Hajji felt burned out.
Recalled Hajji (who graduated with a degree in Management from Ateneo), "Rio was managing the place during daytime at ako naman, nighttime because we had bands playing. We were so busy that we hardly had time for each other. Our marriage suffered. That's when I realized that you can't be running a business and singing at the same time."
Singing is what keeps Hajji going.
"You don't work music," he explained, "you play it. I've been playing it all this time. There are lean times but they don't make me give up. I can't imagine myself doing anything else. My attitude is, tuloy ang musika, tuloy ang laro!"
(E-mail reactions at rickylophilstar@gmail.com. For more updates, photos and videos, visit www.philstar.com/funfare or follow me on Instagram @therealrickylo.)