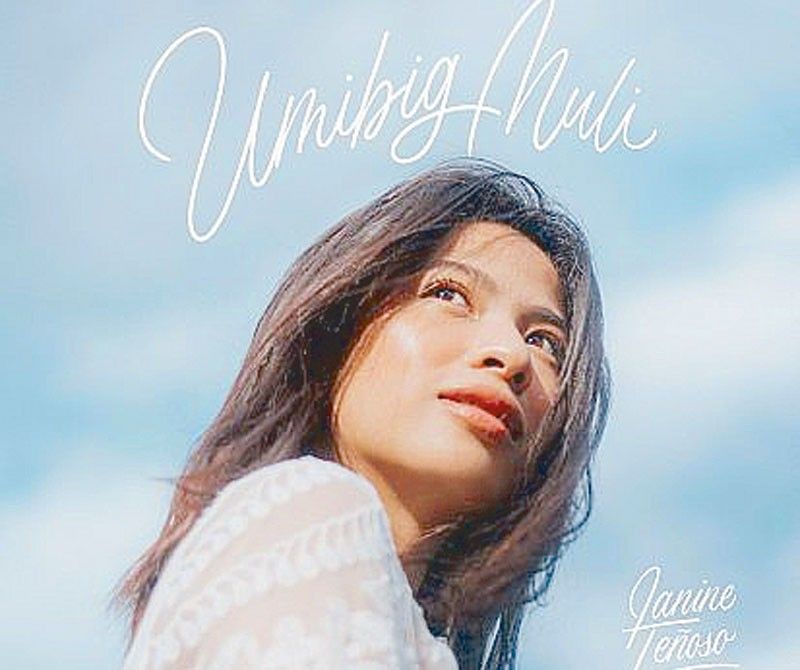 Is Janine Teñoso nursing a broken heart? It sounds like she is, if you listen to her new single Umibig Muli. Soft and mellow, just right for quiet, musing times in the dark, she conveys so much pain to the listener with every line in her performance.
"Nangangamba/ yakap ang bawat sandal/ wala ka na sa 'king tabi/ 'di ko maiwasang manlamig."
Add the fact that Janine is also the songwriter of Umibig Muli along with her friend Pauline Lauron and it is not hard to think that she drew out the sadness from her personal experience.
"Nagtataka/ Kay bilis lumipas ng dati/ Noon may ganang umibig/ Ngayon hindi ka na sa akin nakatingin/ Iniisip na lang/ na lahat ng sakit ay may dahilan."
No, she did not really find inspiration for those lines from the usual broken-hearted situation. It is actually how she feels about personal battles that she experienced these past few years. One of those was risking her career when she made the switch to her natural sexy, husky tones from the locally popular birit style of singing.
She won that fight and proof is in the success of the covers of old songs she did that came one after another and which sent her career skyrocketing to the top. Coincidentally, the songs found effective use in the soundtracks of popular motion pictures that Janine came to be dubbed the Queen of Soundtracks.
She sang 241 from 100 Tula Para Kay Stella, Di Na Muli in Sid & Aya: Not a Love Story, which won the Awit for Best Pop Recording, the Awit Record of the Year winner, Ang Awit Natin from Para Sa Broken-hearted and Ulan from Ulan, among others.
Umibig Muli though is different. "Ohhh Minamasdan kita habang hagkan-hagkan mo siya/ ohhhhh ako ay mag-isa/ at masaya ka sa iba." For one, Janine is not usually associated with deep hugot lines. She is known for bright lilting tunes that inspire. Remember how bright the screen suddenly was when her voice came in singing Wency Cornejo's Tag-araw in Miracle in Cell No. 7?
Another thing is the song does not come from a movie soundtrack. It has to generate fuel for its trip up the hit charts on its own. However, it has lines like "Ngunit kahit 'di lahat ng lumaban ay nagwagi/ hindi rin lahat ng talunan ay nalugi/ At kahit ngayon ang puso ko ay nasawi/ balang araw ako ay matututo ring/ umibig muli."
And admit it, moviegoers do enjoy wallowing in heartbreak while watching a tearjerking flick with a matching sad song in the soundtrack. So, do not be surprised to hear Janine's Umibig Muli playing from the screen during your next trip to the movies.
Umibig Muli also marks Janine's return to songwriting. She was discovered as a 16-year-old contestant in the defunct talent show Born to be a Star more than three years ago. She sang birit songs for the competition where she reached the finals but did not win.
But Viva Records signed her up just the same and her very first single was her own composition titled Fall. But the songwriting stopped after it was found out that her voice sells a lot when in a movie soundtrack and vice-versa, that her singing helps the movie make a lot of money at the box-office.
That was a great ride but Janine is now making a detour by recording her own song again. "Bakit kaya/ lahat ng ito'y nangyayari/ 'di mapigilang humikbi/ gaano katagal magtitiis/ sagot sa bakit, kubli."
Umibig Muli is now available in all digital formats. The record was produced by the famed Jay Durias, the award-winning composer, singer, producer and arranger of the band South Border, who made his name because of soulful love songs like Kahit Kailan and Rainbow.
Jay chose to frame Umibig Muli in a guitar-dominant acoustic setting that makes Janine's deeply felt sadness more affecting.
"Tumitingala/ kahit gulong-gulo ang isip/ 'di maiwasang pumikit/ at isuko ang sakit sa langit/ Ohhh iniisip na lang/ na lahat ng bakit ay may kasagutan.
"Ngingiti na lang/ lahat ng sakit ay may dahilan."