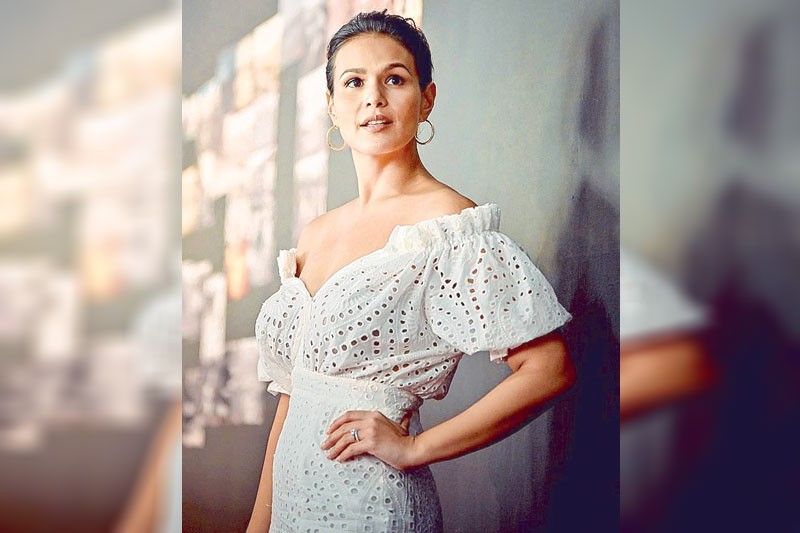 Iza Calzado expressed her willingness to having a baby but she's still mentally and emotionally preparing for it.
Iza feels no pressure to become a mom
Sure, people shouldn't pry into someone's reproductive health. However, showbiz-watchers couldn't help asking, especially when their favorite stars are involved. They want to hear news about celebrities expecting a visit from the stork without even thinking that their "eagerness" and "concern" may cause pressure, or worse, pain to their idols.
Iza Calzado knows exactly the amount of pressure put on women to enter into motherhood just several months after marriage. The actress swapped "I do's" with longtime boyfriend Ben Wintle in December 2018. During her Dressing Room Exclusive interview in Tonight with Boy Abunda (TWBA), Iza expressed her willingness to having a baby but she's still mentally and emotionally preparing for it, and stressed, "this is my body, these are my choices, and you have to respect it."
"But sometimes, people just, of course, they come from a place of 'concern,' ma-pre-pressure at ma-pre-pressure pa rin, especially, if you are that kind of person. Me, I do not feel the pressure because to be honest, like I said, I'm working through a lot pa so I'm actually not even mentally and emotionally ready. Physically, I'm ready but just a few more things but I think, I'm getting there," she added, hoping to be ready by end of this year.
Iza, 37, likewise confirmed that she had her embryos frozen "because I'm not that young anymore. It's because of age and it's a security 'thing' for me."
Iza and Ben recently marked their first wedding anniversary. Last Dec. 19, Iza took to Instagram her happiness of becoming Mrs. Iza Calzado-Wintle.
"To be honest, not much has changed," was her response to the query about her life as a married woman and went on to tell that they have not really gone on a honeymoon.
"Of course, 'yung iba sasabihin pwedeng every day is honeymoon but my idea of a honeymoon is to go to a place we've never been to. (And) the two places I want to go — Italy and Africa, that African Safari."
Since both of them are busy, Iza said they have to really arrange their timetable. Ben is the CEO and founder of Booky, while Iza has her hands full with acting projects. But they always make sure to squeeze in their schedule some quality time whenever possible.
Meanwhile, Iza was visibly amused in such Fast Talk questions as, "Gaano kahaba ang, pasensya ni Ben?" and "Gaano kalaki ang paa ni Ben?" In the first question, she replied, "Napakahaba, ako ang asawa n'ya eh (laughs)." And then she quipped, "'Di gaanong kalaki, sakto lang," referring to her husband's shoe size.
And everyone will certainly agree to her answer that love is better than sex.