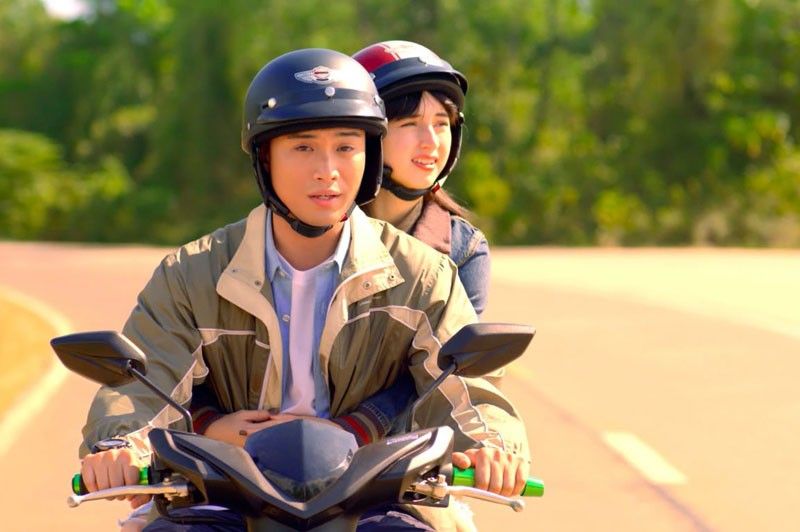 EA Guzman and Coleen Garcia in a scene from the movie
EA, Coleen share amusing moments in Mia
Bot Glorioso
(The Philippine Star) - January 9, 2020 - 12:00am
MANILA, Philippines — It is not much of a big deal for Edgar Allan "EA" Guzman and Coleen Garcia to build rapport as first-time screen partners in the romantic-comedy Mia. Reason: The former is a friend of Coleen's husband, Billy Crawford. Therefore, the two stars are already familiar with each other and that helped them feel comfortable in whatever their respective roles as lovers had required them to do.
EA and Coleen play lead characters in the movie directed by Veronica Velasco and produced by Chris Cahilig of Insight 360 in partnership with Viva Films. EA is nerdy forester Jay Policarpio who transforms mined-out land into rainforests while Coleen is Mia Salazar, a doctor who becomes a self-destructive alcoholic after losing her fiancé from a tragic death. The two cross paths when Mia joins the Doctor to the Barrios program to heal from her condition. Jay and Mia often argue but their clashes soon turn into a romantic affair.
"I am certain there's nothing I need to ask permission for from Billy (while shooting the movie). But as a friend, I have respect for him and he's my idol," responded EA in the vernacular when asked if he ever felt awkward working with his friend's wife, especially during romantic scenes.
He continued, "Every project that I do with a leading lady, I would always tell the boyfriend or husband that this is just work…even noon kay Rayver (Cruz) when I was with Janine (Gutierrez, for Dragon Lady). It's a matter of respect lang, ipapakita ko sa kanya na hindi siya dapat mag-isip kasi harmless naman ako. And Billy, he's not immature not to understand that it's for work. Perhaps, some people on the set thought I was conscious whenever Billy's around because I would just stay on one side. Of course, I know that it's their moment together kaya sa gilid lang ako."
Coleen, on the other hand, said that she knows the actor is a gentleman and there was nothing but good times while they were on the set. In fact, the two shared hilarious moments while shooting the movie in Rio Tuba located in the southernmost part of Palawan.
"Una, matalino po ako dito," quipped EA and recalled how challenging it was for him to string together his lengthy English lines.
Direk Veronica agreed and shared that amusing moment while reminding EA about pronunciation of words, "He had totally forgotten the next part of his dialogue (laughs) but I admire him for giving his best in this project. He's excellent."
Apart from that, EA was required to ride a motorcycle. "If you noticed in the trailer, I was reciting my lines in English habang nagmo-motor. First time na ginawa ko ito sa buong buhay ko sa showbiz tapos nasa likod ko pa si Coleen, na kapag may nangyari sa kanya, patay ako kay Billy," he giggled.
What made EA and Coleen burst into infectious laughter was "the under the influence" scene of the latter's character.
"It was real and I wasn't expecting that she would vomit and I felt something really went straight here (pointing to his mouth), may pumasok talaga," he laughed.
Coleen, who revealed that it's her first titular role, added, "Mia, actually, is a very complicated character. You should see her from the opening scene until the last (one) kasi kumbaga there's a lot of puzzle pieces to put together to really figure out who Mia is."
Asked what similarities does she share with Mia, the actress replied, "May part sa akin na inilabas ko sa movie to bring Mia to life but of course, a lot of her ways ay hindi na from me. Si Mia, may spunk but she's very hostile when it comes to other people. Hindi s'ya basta nagwe-welcome ng tao sa buhay niya and there lies our difference because I love having people in my life."
Meanwhile, Coleen assured that she's at the happiest stage of her life contrary to rumors that she is an "unhappy" wife of Billy. She was clueless why one netizen commented on her and Billy's Instagram photo that she looked unhappy with her married life.
"Maybe because they don't see me often anymore? So, they can only guess," she wondered aloud and went on to add that she has not been active on social media these days.
"I just felt I needed this time of silence also for myself, and I really needed to take a step back and reassess everything in my life. But it doesn't mean I'm not happy. Actually, I really feel that I'm at my happiest right now and Billy is helping me with that."
(Mia, opening on Jan. 15 in theaters, also stars Yayo Aguila, William Martinez, Star Orjaliza, Jeremy Domingo, Sunshine Teodoro, Pau Benitez and Xenia Barrameda. On Jan. 13, Mia will hold a National Mia Day at the Cinema 1 of SM Megamall where lucky women named Mia will be given free tickets to attend the special screening.)