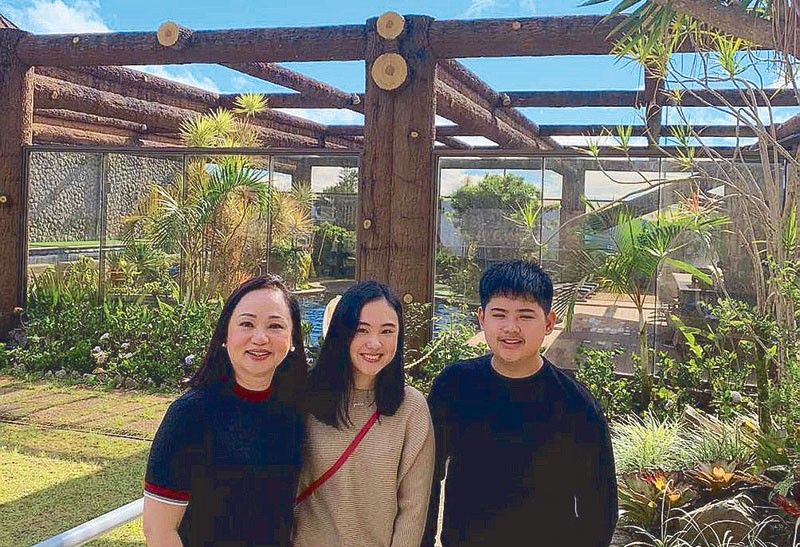 With my children Gabbie and Paolo.
RAZZLE-DAZA
-
Pat-P Daza
(The Philippine Star) - January 6, 2020 - 12:00am
Coming from the holiday break, I am sure a lot of people went out of town. Favorite holiday destinations of Pinoys these days are Tokyo, Osaka, Seoul, Singapore, Bangkok and the USA. Unfortunately, Hong Kong dropped out of the list because of the violent protests that lasted almost eight months that brought them to near recession. Hopefully, things will normalize now that the elections are over with the landslide victory of the pro-democracy camp.
However, my all-time favorite holiday destination is still Baguio. Every year, I make it a point to go up to the City of Pines whether in the summer or the Christmas holidays. Baguio has a quaint charm of its own.
Getting there alone is already an adventure. All it takes now is roughly three hours from the Balintawak toll plaza if you use the NLEX, SCTEX and TPLEX. Be forewarned though because using these expressways can set you back almost P700 one way, but worth it considering the time you save and the fully paved roads. And whether you choose to go via Marcos highway or Kennon with the zigzag road, and iconic lion's head to welcome your entry to the summer capital of the Philippines.
I hold so many happy memories in Baguio City. As a child, I went up there every summer with my cousins. A trip there meant horseback riding in Wright Park (to save, we would only ride 15 minutes each instead of an hour), a boat ride at Burnham Park (we would rent two boats: one for the girls and one for the boys), walking along Session Road and going to the palengke (to buy fresh strawberries, assorted vegetables, walis, fresh flowers and souvenirs). I remember tagging along with my Tita Tessie Baltazar going to her suki Dipasupil's for their famous longganisa and Tantamco's for their ube jam. I also prefer Romana's peanut brittle but we would go to Good Shepherd convent to buy their strawberry jam and Sizzling Plate for their lengua de gato. After all, what else is there to do in Baguio but eat and sleep?
In the evenings, we would curl up in front of the fireplace with a cup of hot chocolate while roasting marshmallows and exchanging ghost stories, green jokes or love stories. If the night was young and we were in the mood to put on our dancing shoes, we would get dressed and go to Crystal Caves, the popular disco at the former Hyatt Terraces hotel or to Spirits disco bar near Burnham Park and dance the night away.
Oh how I loved those days when I was young and carefree… But now that I am a single mom of two teenagers, a trip to Baguio means getting some R&R even just for a couple of days. I start my day with a full buffet breakfast at the Baguio Country Club (BBC), walking around Camp John Hay for some exercise, going to the palengke with my mom to buy walis, kitchen towels, floor mats and vegetables. In the afternoon, I'm by the verandah of BCC having hot chocolate or bowling with my kids and nephews and nieces. Lunch or dinner is usually at any of these restaurants: Hamada, Hill Station, Mario's and Lemon and Olives Greek restaurant. By 10 p.m., I'm back in my room, under my warm blanket and off to dreamland.
But no matter how polluted and populated Baguio is now and traffic as horrendous as Manila, the quaint, rustic charm of Baguio keeps luring me back. It will always be my happy place with happier memories.