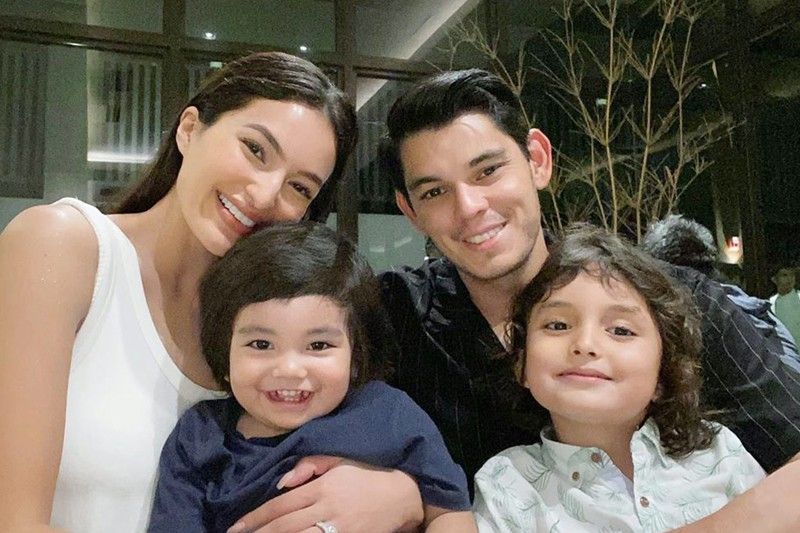 Richard Gutierrez (with Sarah Lahbati and their kids Kai and Zion): The more your family surpass those challenges, the closer you'll become.
Sarah Lahbati's Instagram
Richard describes his family as 'unbreakable'
As part of the fourth anniversary celebration of Tonight with Boy Abunda (TWBA), Richard Gutierrez bared his truth regarding personal life in the Kapamilya late-night talk show's special 12-minute 4Real Dressing Room Exclusive interview.
Unbreakable, also the title of the Star Cinema movie that he starred in with Bea Alonzo and Angelica Panganiban, was how Richard aptly described his family for being able to remain strong despite having gone through rough patches in life many times over.
"Growing up, my family has always been in the limelight. Parang hindi naman masyadong normal 'yung situation namin. There were so many struggles when my dad decided to go to the States. He tried to live a normal life there and my mom was left behind here. That was tough and then my mom followed. Eventually, we started living in the States for a while and it was there where our family became whole again. I think throughout the years, you'll get to realize that the more your family surpass those challenges, the closer you'll become," he declared.
His mom Annabelle Rama and sister Ruffa are very much involved in the preparations of his and fiancée Sarah Lahbati's wedding next year. The actor shared some details and explained why it took them seven years before finally deciding to swap I dos. He also admitted having a hard time choosing his Best Man "because I have so many friends, hahaha!"
Richard and Sarah previously announced that they are tying the knot in March 2020.
Excerpts:
Who is the biggest star in the family?
"I don't think I am the biggest star in the family because if it wasn't for my dad, and also, my mom, my sister, (they) paved the way for me to be where I am today. I mean, we are very supportive to each other."
I have sensed that you never made any of the family members feel like, "I am the star in the family." Walang ganun?
"Walang ganun."
Do you admit favorite ka ng Tita Annabelle?
"Press release na lang 'yun, hahaha!"
What is the truth?
"It depends on her mood. But I think it's not really me who is her favorite."
Why do you say so?
"Feeling ko si Elvis. I don't know if Elvis would admit it also. But it really depends on my mom's mood kasi feeling ko minsan 'yung Ate ko 'yung favorite n'ya (laughs)."
Publicly, Ruffa has had differences with your mom, even Mond (short for Raymond, his twin brother). Have you had public spats with your mom?
"We had in the past but I don't think it's as public as my sister. Mas tahimik kami ng mom ko. If ever we have a misunderstanding, ang bilis din naming nare-resolve. I always try to understand her side and wala s'yang tinatago."
You and Sarah are getting married next year. You are together for like seven years. Of course, the logical question is, bakit ngayon lang kayo nag-desisyong magpakasal?
"Matagal na naming gustong magpakasal but initially when Zion came into our lives, we didn't want to just get married for the sake of, you know, kasi may anak na kami, the traditional way of thinking na ah dapat magpakasal na kayo kaagad. We just wanted to take our time. We wanted to get married in a perfect time."
Just tell me what you can tell us. Where the wedding is gonna be?
"Here. Initially, we wanted in a different country but then it seems difficult to gather the whole family and then travel with everyone. We have such a big family. Sarah has a big family also so we decided to make it in Manila so everybody can join us in our celebration."
How about the theme?
"We don't really have a theme. We just want a beautiful wedding; a beautiful celebration. You know, Sarah has done a lot of research at kung ano 'yung gusto n'ya, gusto ko rin."
If you just can mention to us some members of the entourage, meron na?
"We're still finalizing the list. We're finalizing everything."
Including the Best Man?
"It's kinda hard to choose."
What are your considerations in the process of choosing?
"It's hard because I have a lot of friends."
And the wedding gown?
"She went to Paris last month. The gown is bawal daw makita but it's here now."
How involved is Tita Annabelle?
"My mom is very involved actually but she lets us decide. She gives her inputs which are very helpful and also my sister. Hands-on sila sa pagtulong so we appreciate their help."
You have a movie and you have a serye, how grateful are you?
"Very grateful. I can't ask for more. All the blessings are given to me that's why I'm so thankful and also I'm grateful that my family is there, they're very supportive."
But three or four years ago was a different story. Nasaan si Richard? Was there a point in your life when you wanted to walk way?
"Yeah. I was about to live in a different country. Nag-plano na ko to start a new life like, you know, my dad did that. My dad walked away and started a different life, and I asked myself maybe I could do the same."
What stopped you?
"My real destiny is to be here and when opportunities came, I grabbed them and sunod-sunod na."