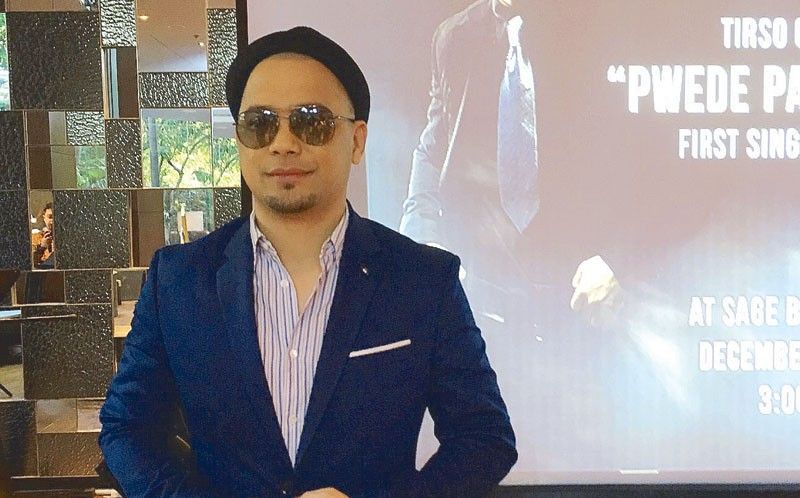 Tirso Cruz IV returns to the local music scene with the release of the single titled Pwede Pa Naman, his initial offering to music aficionados constantly looking for new OPM ditties
Meet the other Tirso Cruz
Bot Glorioso
(The Philippine Star) - December 23, 2019 - 12:00am
MANILA, Philippines — Tirso Cruz IV makes a brand-new start in the local music scene with the release of Pwede Pa Naman under Prodigy Music. The single is his initial offering to music aficionados who are constantly looking for new OPM ditties.
Nicknamed Pong, Tirso IV had a promising career in showbiz before he decided to live and work abroad some 18 years ago. For those not familiar, Pong is Pip's nephew and the great grandson of well-respected musician Tirso Cruz Sr. And here's a little trivia: It was Tirso Sr. who made Cruz one of the most popular clans in showbiz. He was said to be the highest-paid orchestra leader in the '30s and his composition Mabuhay, My Philippines became the country's unofficial presidential marching hymn since it was first played at the Manila Hotel in 1931. To this day, Pong feels proud every time he hears his lolo's musical piece being played in important gatherings like in welcoming foreign dignitaries to the country.
Pong is back for good after over a decade of performing in various Asian countries, including Hong Kong and Korea, and raising his family in Japan. According to him, his showbiz career started in the '80s when most millennials were still busy playing with their toys and reading fairy-tale books, or maybe, some of them weren't born yet.
He remembered acting alongside the late Rudy Fernandez in Idol. He, too, became part of TV soaps, including Super Lolo, Zarda and Kapitan Kidlat topbilled by Ricky Davao, after placing second runner-up in Pretty Boy, one of the popular talent searches of Eat, Bulaga.
"I spent 18 years in Hong Kong where I continued my passion for singing and then I went straight to Japan to be with my wife Glenda who was managing our travel agency," he began. "I stopped singing for six years at dahil siguro nasa dugo na rin, hinanap ko ulit talaga kumanta. So, me and my wife talked about it pero ang tagal bago s'ya pumayag. It was only last year when she allowed me to go back to singing."
Thus, he wasted no time and returned to Manila with his wife and two kids. Good thing, their travel agency in Japan is doing well that they decided to put up another one here.
"I truly missed singing. I was in high school when I began performing in gigs after my classes," he recalled.
It was in 1996 when Pong was supposed to release his debut album but fate had other plans. His dad told him to stop because he wanted him to concentrate on his studies. "So, I studied and went abroad where I also ended up singing (laughs)."
But he stressed that all his wonderful experiences abroad made his life more meaningful. His vocal power is still in top shape. In fact, Pong and his bandmates in TAC4 now regularly perform in five-star hotels in the Metro. They are at the centerstage of Conrad Hotel every Wednesday; Winford Hotel, Thursdays; Resorts World Manila, Fridays; and Makati Shangri-La, Saturdays.
Pong has never denied that his name truly makes an impact. "We would submit proposals to hotels for singing engagements and probably they would get curious who is this Tirso Cruz IV? Merong impression na ang mga Cruz sa showbiz, bukod sa hinahangaan na artista, magaling sa pagkanta at pagsasayaw.
"Everywhere I go, my name is recognized. It was our great, great grandmother who gave the name Tirso to our family. So, when she died, naputol 'yung Tirso."
During the single launch at the Sage Bar of Makati Shangri-La, Tirso Cruz III showed his support and agreed to what Pong narrated. He said, "When you carry the name of our Lolo, you try to put your best foot forward. You may not be as good as him, but we try. Napakataas ng pag-tingin sa lolo namin. He's a great musician and so talented that's why it's really hard to follow."
Pong is thankful that he is blessed with a golden voice. His sound leans towards alternative rock and contemporary pop. "P'wede Pa Naman is all about love but it has an upbeat vibe," he concluded.