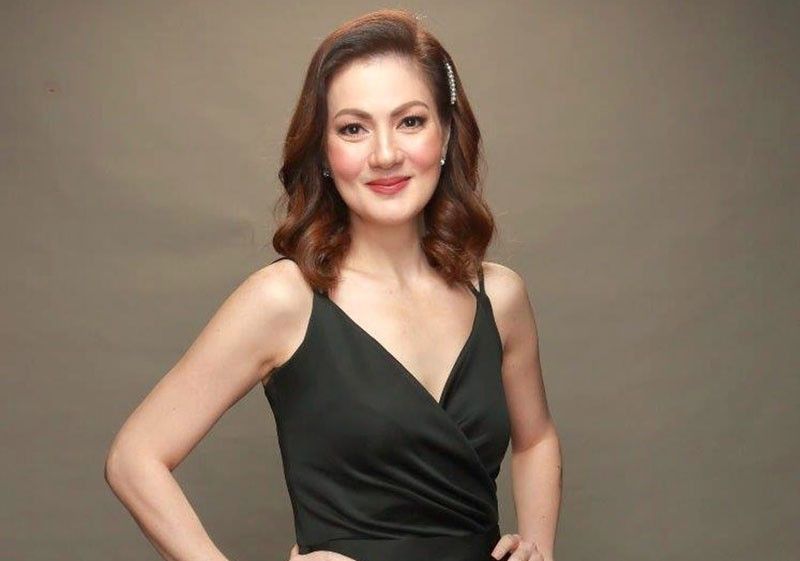 Carmina Villarroel plays a problematic call center agent who has a sick daughter in the Ten17P and Globe Studios film
What Carmina Villarroel finds intriguing about Sunod
Jerry Donato
(The Philippine Star) - December 10, 2019 - 12:00am
MANILA, Philippines — "For one, she is problematic because she has a sick daughter. Second, the time we (the characters) work at a call center is very vulnerable," said Carmina Villarroel of the premise why her character Olivia in Sunod is vulnerable and sensitive to the manifestations of an entity in a recent media call. "Another factor maybe is because she is a mom, kaya (siya) nilapitan... kasi humihingi ng tulong (the reason it manifests itself to her is because it's seeking for help). She is problematic. That's why she's very open, sobrang pagod (weary), sobrang puyat." Mina might also find all this intriguing.
That's enough to titillate one's imagination in making a guess where the film narrative goes; there's more the TEN17P and Globe Studios-produced film will explore and offer.
Sunod, an official entry to this year's Metro Manila Film Festival (MMFF) and touted as the next generation horror film, is different from the previous movies of the same genre that Carmina has done.
"Some of them (were) horror-comedy, (others were) straight horror," shared the actress-TV host who has done Shake, Rattle & Roll II: Kulam, Shake, Rattle & Roll XII, Regal Shocker and Tiyanak.
Becoming the loving, selfless Olivia on the big screen is close to Carmina, a mom of twins off-screen. The challenges of playing the single parent character lie in the world she has chosen to live. Olivia has to take on the high-paying yet demanding job of a call center agent to pay for her child's medical expenses and to remain resilient amidst this plight. Also shaking her sense of instability are the spooky events that unfold right before her eyes. Carmina, the actress had to tap her vulnerable side to show Olivia's core and character during shooting days.
"This is horror-drama," said Carmina. "If you see the trailer, you will find our movie quiet, wala pa kayong nakikita, matatakot na kayo (You haven't seen anything scary yet but you get scared already). (Parang) kinikilabutan na kayo, wala pa kayong nakikita, the feeling is eerie, wala naman kayong nakitang mumu, wala naman kayong nakitang zombie, wala naman kayong nakitang vampire and yet you feel the vibe na nakakatakot (ito)." The movie feel implies that bad things are about to happen or something is lurking around.
While she was filming Sunod, Carmina couldn't easily shrug off the eerie feeling evoked by the story and the set. "Natatakot ako (I was getting scared)," she said. "Dati naman alam ko na nag-sho-shooting (lang) ako, (at) OK lang. This time, it (was) so eerie and I can't explain it. You need to watch it to understand what I'm saying. So it's really different." Carmina added that even if she already read the script and was privy to the scenes, she was still frightened.
From the looks of it, Sunod is a tale about a mother-and-daughter relationship. But it is also a revisit to the story of possession. You know something resides in or inhabits someone else's body.
"What I tried my best to do (during) the shoot was to set a tone," said director Carlo Ledesma (who co-wrote the MMFF entry Saving Sally and helmed the Cannes Film Festival Mini Movie Channel Award for Best Short Film The Haircut). It was a result of his collaboration with the cinematographer. Moviegoers need to watch out for the smoke or fog effect, which is present in almost all of the scenes, shared Carlo, "it almost became a look that we followed, very subtle lang, a sense of fog throughout the movie." This, plus the yarn, will have symbolic functions to perhaps help the movie-going public decode the connection between and among personal narratives in Sunod. The director avoided doing jump scare as a technique, "every five minutes, may nakakagulat na hindi naman pala part ng story," he shared.
Carlo added that the title is used to allude (suggest) that someone is following another character.
"They e-mailed it to me, I liked the script right away," recalled Carmina. "I wanted to do something different and ang tagal ko nang 'di gumagawa ng horror movies (it's been awhile since I have done one), ito na yung pagkakataon (the opportunity presented itself). I said yes to it right away… It's a different and memorable experience for me, hindi ako nagsisi sa pagtanggap ko sa proyektong ito (I don't regret doing this project)." Carmina is simply grateful to be part of the film.
(Sunod also stars Freddie Webb, Susan Africa, Mylene Dizon, JC Santos, Kate Alejandrino, Krystal Brimner and Rhed Bustamante. It opens in theaters nationwide on Dec. 25.)