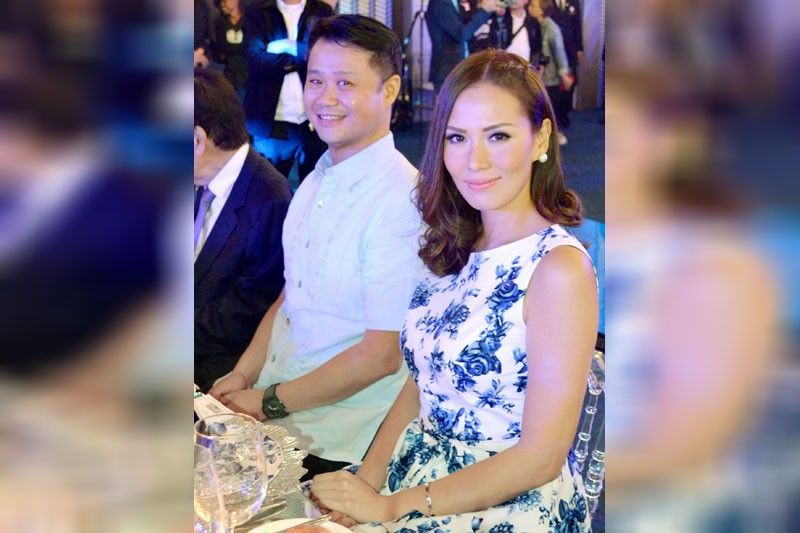 Bianca Manalo and boyfriend Sen. Sherwin Gatchalian were guests at last Friday's 60th wedding anniversary dinner for former Pres./Mayor Joseph Estrada and wife former Sen. Loi Ejercito in Manila Hotel.
Bianca & Sherwin's 'secret' revealed
FUNFARE
-
Ricky Lo
(The Philippine Star) - December 9, 2019 - 12:00am
Until last Friday night (Dec. 6) when they showed up together at the Manila Hotel for former Pres./Mayor Joseph "Earp" Estrada and wife former Sen. Loi Ejercito's 60th
wedding anniversary celebration, Bianca Manalo and Sen. Sherwin Gatchalian managed to keep their relationship a "secret" (or so she thought).
"One year na kami noong Nov. 18," Bianca revealed to Funfare. "We really decided to keep everything a secret and it's only now that I am admitting it to you."
It's not the first time for Sherwin to be romantically linked to an actress. He was reported to be the boyfriend of Pauleen Luna who is now happily married to Vic Sotto by whom she has a daughter.
More "secrets" revealed:
Even before Sherwin met Pauleen, he was already attracted to Bianca.
Recalled Bianca, "He told me that he saw me in Juanita Banana and he had been asking daw kung sino ang nakakakilala sa akin because he wanted to meet me. Remember that ABS-CBN TV show where I played a character selling bananas that I carried in a bilao?"
That was in 2010, two years after Bianca won Bb. Pilipinas-Universe and represented the Philippines in that year's Miss Universe pageant.
Fast-forward to 2012.
"We finally met; we had dinner. He got my number and he kept on texting me, asking me out. But I wasn't free at that time, so I would beg off. Then, finally last year, I was single naman and Babe (her and Sherwin's term of endearment) pursued me pa rin; he was determined talaga. I told myself, 'Mukhang mabait,' so 'yon na nga."
After dating for three months ("dinner-dinner lang," as Bianca put it), "he told me na gusto niyang maging kami that after all daw he had been single for nine years already and he had been pursuing me for a long time. He courted me with flowers. So naging kami na."
Sherwin is Bianca's fourth boyfriend, coming after a non-showbiz guy (they were "on" for seven years), John Prats and Brapanese model-actor Fabio Ide.
"Babe patiently pursued me for many years, starting when he was a mayor (of Valenzuela City), then congressman and then senator. He was congressman when he met my dad before my dad passed away. 'It was divine intervention that I met your dad before he died,' he told me. My dad found Babe mabait, so he approved of him."
Bianca clarified that a town mayor linked to her was not her boyfriend.
"Nanligaw lang. We got involved in an accident kaya kumalat 'yung balita." (Note: The boat they were riding was hit by huge waves and capsized. One of their companions died. Bianca's experience as a PAL flight stewardess saved her.) "He didn't meet my family so I didn't consider him a boyfriend."
It's good that they understand each other's profession.
"Babe is not seloso. From the start, he knew about my work."
They share many things — love for documentaries and books, and having coffee while shooting the breeze.
"Or nagha-Happy Hour kami together," added Bianca (at 5'10 only two inches shorter than Sherwin).
Any marriage plans?
"Not in the near future," claimed Bianca.
Rejoinder to news about Matt Damon's visit
Because it was not publicized and kept virtually secret, Matt Damon's recent visit spawned all sorts of speculations…that he was here for a guesting stint in Ang Probinsyano or for a confidential meeting with unidentified businessmen. Both wrong.
The photo published in last Saturday's Funfare surfaced on social media, showing Damon at Tagaytay Highlands with TH president Jerry Tiu and three unidentified ladies (Tagaytay Highlands is owned by the SM Group and Willy Ocier Group.) It wasn't clear if Jerry Tiu had anything to do with Damon's visit. Damon was billeted at TH during his brief visit.
Thanks to a rejoinder from (reader) Felicity Richmond who wrote Funfare that Damon's visit was not a secret at all and cited social-media posts that said Damon visited ASA Philippines micro-finance clients "who accessed water and sanitation (toilet) program in Amadeo, Cavite, and Tanauan, Batangas." (Per research: ASA Philippines is a non-profit, non-stock corporation specializing in micro-finance…as a form of financial services composed of uncollateralized small loans.)
That reminded me of my interview with Damon in Seoul during the July 2016 junket for his movie Jason Bourne. Asked about his advocacy, Damon mentioned water.org which he and Gary White (an engineer from Kansas City who gained an international reputation as a water and sanitation expert) created by merging H2O Africa and Water Partners International.
A magazine interview noted that Damon had a global perspective "that reached beyond the red carpet" and that as a kid he traveled with his mom outside of the USA that exposed him to poverty in developing countries.
"I quickly realized that the world was bigger than my hometown," Damon was quoted as saying, adding, "you cannot solve poverty without solving water and sanitation." In 2006, he founded H2O Africa to raise awareness about safe water initiatives, committed to helping solve the global water crisis.
(E-mail reactions at rickylophilstar@gmail.com. For more updates, photos and videos, visit www.philstar.com/funfare or follow me on Instagram @therealrickylo.)