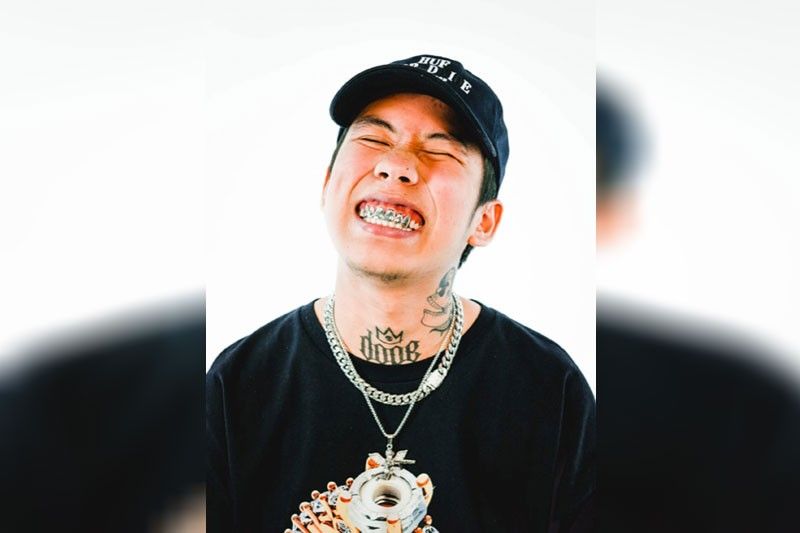 Shanti Dope charges Amatz controversy to experience
Shanti Dope recently renewed his contract with Universal Records, solidifying his relationship with the music label that took a chance in the potential of the then 16-year-old rapper in 2017.
Shanti went on to become a breakout artist in 2018 starting with the viral hit Nadarang. Now, the young hip-hop phenom is 18 and obviously, a lot has happened since.
To date, he has over 120M streams on Spotify and 100M views on YouTube, with his songs like Shantidope (feat. Gloc-9), Amatz, Materyal and Mau and collaborations with both local and international artists such as Chito Miranda, KZ Tandingan, IV of Spades, Disney alum Sabrina Carpenter, Fil-Hawaiian singer MiMi The Artist and Krayzie of Bone Thugz-n-Harmony.
This year, Shanti also had his share of controversy through Amatz, which put him in the crosshairs of the Philippine Drug Enforcement Agency (PDEA). The government agency sought to prevent the airing of the song because its lyrics allegedly ran counter to the administration's intense campaign against illegal drugs.
During Shanti's contract-signing last Dec. 4, Shanti maintained that it was never his intention to court controversy through his music. The issue didn't affect him either as he looked at it as part of his journey as an artist.
"Di naman (ako affected). OK lang, masaya yun. Naging isang parte ng biyahe ko. Makukwento ko sa anak ko pagtanda ko (laughs) na naging controversial ako minsan."
As for the bashing and negative comments, he handled them by focusing on the good things happening in his life. He said that if he allows himself to be affected by the negative things being said about him, he'll end up as the "loser".
Nevertheless, Shanti doesn't think he will delve into the same topic again.
"Ginawa ko lang kasi yun kasi masaya sa ako makagawa ng kanta. Pag nakatapos ako ng kanta, dun ko nahahanap ang saya ng gusto ko. Wala akong intention mangyaring ganun. Pero masaya ako kasi naging parte siya ng career ko."
Asked whether he felt scared for himself at the height of the controversy, he said, "Wala naman. Pinag-iingat lang ako ng mga magulang ko. Pa enjoy-enjoy lang sa bahay, computer, 'wag muna lumabas, yun lang."
It was a learning experience. "Nagiging conscious lang ako kasi lakas din maka impluwensya ang kanta. (I learned) to be more conscious in a way."
According to his business managers Thea Pollisco and Lester Vano (a.k.a. DJ Klumcee), they're going to be a little more careful in the next music releases out of consideration for Shanti's young and growing fanbase.
Lester said, "Actually, now, we're more cautious because his fanbase is growing bigger. Sobrang marami na ang naapektuhan sa mga sinasabi niya, or maraming sumusunod sa kanya ngayon, his fans and followers. So, I guess he should be more careful with his words because he's able to influence more young people."
He added, "Ngayon hindi na kami kagaya ng last time na wala lang, sige gawin natin 'to, out of our own creativity. Now, we're adding a little care and consideration for his listeners."
This doesn't mean that they regretted making the Amatz song. "It wasn't a wrong song at all. We're just doing what we're doing. What happened was, di naman alam kung saan pupunta ang kantang yun. Di talaga namin expected na magiging sobrang iba-iba ang reaction ng mga tao and we don't regret making that song."
Universal Records EVP Ramon Chuaying said that the song is available in digital platforms because "you cannot ban the people from downloading the song or buy the CD per se" adding that there are no laws or government agencies in the Philippines mandated to control or censor music.
It is KBP, the self-regulatory non-profit organization of broadcast media, that can keep a song from airing. "But music ever since, there's really no guidelines or prohibitions, but of course, composers and singers are expressing their thoughts of making the song, not to create controversy but to entertain by singing, dancing and by letting people like the melody and lyrics. Kaya minsan, yung kanta, may konting kiliti na sort of gimmick, let the audience judge by itself. Sometimes, the lyrics will depend on the interpretation of the listener. If the song has controversy, I think, it's a matter of interpretation."
Chuaying added, "It's part of showbiz. Of course, we want to maintain that the writer has freedom and no censorship," expressing appreciation to lawmakers for not coming up with such a law.
Meanwhile, Shanti debuted a "new look" at the contract-renewal with his "teeth grillz." He said he decided to get one because he's 18 and has secured the approval of his mom.
As for his new music, he said it's definitely going to be about his new experiences in life. "I just want to surprise them all."
Fame has its price but it appears he has no regrets.
According to Shanti, he makes it a point that he has a life outside music to de-stress, from going to a regular school (he's Grade 11 at Mint and pays for his tuition though he enjoys a half-scholarship) to skateboarding with friends. "Parang ang difference lang naman ay nagkaroon ako ng pambili ng mga bagay na gusto ko at pambigay sa magulang ko. Di naman ako bread winner, but of course, I try to help in any way I can. Family is my motivation. So di ko naman ikinalungkot kung napalitan ng fame kung ano man yung mga nangyari dati."