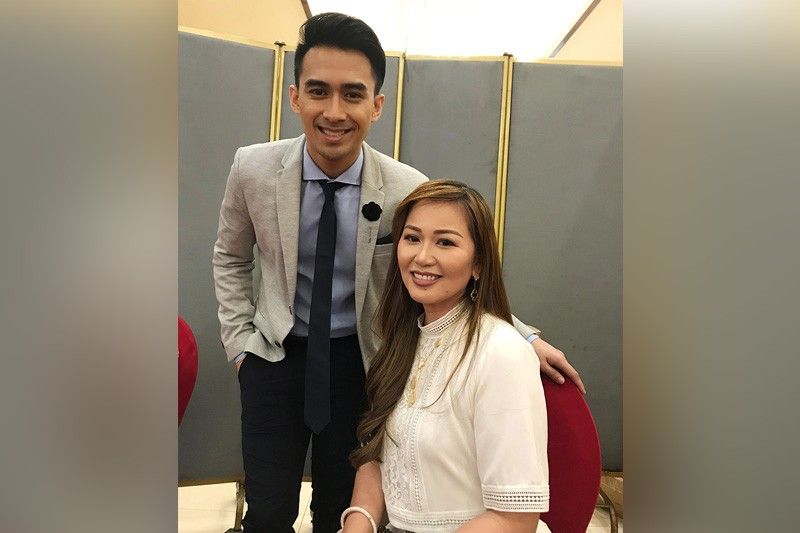 Young JV with executive/'mompreneur' Aileen Choi Go of Megasoft, maker of Fasclean Extra Power Detergent Powder which JV is endorsing
Photo by Ricky Lo
Why Young JV named his own label 'Not So Famous'
FUNFARE
-
Ricky Lo
(The Philippine Star) - October 24, 2019 - 12:00am
Is it a sign of humility that Young JV (full name: Eduardo JV Arancillo Kapunan III) decided to name his own music label Not So Famous and not, like the Hollywood movie, Almost Famous?
"Not really," explained Young JV during his recent launch as endorser of Fasclean Extra Power Detergent Powder, made by Megasoft Hygienic Products, Inc. "I know that everybody in the industry wants to be famous. There are artists who are goal-driven and truly talented, and they downplay themselves by saying, 'Oh, we're not so famous.' It's a cool bagets expression."
Now 29 (July 23, 1990), he put up his own company after being a Star Records contract artist for almost a decade.
"I plan to organize a movement that would create a bridge among artists not only from the Philippines but those from other countries in Asia including, among others such as Vietnam, Korea, Indonesia and Myanmar." (Young JV's father, retired Col. Eduardo "Red" Kapunan Jr., is the current Philippine Ambassador to Myanmar.) "My label will be producing hip-hop, R&B and electronic dance music not only for the local scene but also for the international market."
That exactly is the kind of music Young JV has been performing during his tour around the country promoting Megasoft products.
"It's an honor to represent Fasclean and entertain students of Megasoft's School is Cool advocacy," said Young JV who was tapped as endorser not only for his world-class talent in music, but also because he values education.
"He is a classy gentleman," observed Megasoft executive/"mompreneur" Aileen Choi-Go, "very polite and thoughtful. He is also independent, confident and comfortable doing chores, particularly washing clothes."
It's because Young JV was raised the "military way" as the youngest son of Ambassador Kapunan and his wife, the former Elsa Arancillo. Young JV started high school at the Cambridge University in London and finished it at St. Joseph School in Iloilo. He took up Comm Arts at Entrepreneurship School of Asian (ESA). He is an active civic leader who helps soldier's families through his Lahing Bayani Foundation, Inc. which was set up with the main objective of supporting children of soldiers who die in the line of duty.
"Growing up, I resented my dad because I didn't understand why he had to be strict," admitted Young JV. "My mom is more malambing and she provided the balance. At home, it was as if I was in a boot camp. I had to observe strict hours. Para talaga akong nasa military. But now, I appreciate the values that my dad instilled in me." (He shared that he has seven half-siblings, two from his dad's side and five from his mom's side.)
In the same way, Young JV is encouraged by the fact that his dad has learned to appreciate his kind of music.
"Before, hindi niya maintindihan ang mga songs ko. But now, he knows my songs and he not only listens to them but also gives his comments."
For a while, Young JV "disappeared" from the music scene and hied off to Los Angeles to "re-evaluate" his life. He has just released his latest single, Malandi Ka, from Not So Famous (under Star Music). He is also preparing for the action movie titled Death Card in which he plays the main villain.
Of the more than 15 songs he has composed, Young JV considers Ghost as his favorite for a sentimental reason. He wrote it months before the "ghosting" became a byword when the Bea-Gerald-Julia brouhaha broke out.
"It happened to me," confessed Young JV (who has had six serious relationships). "I was 'ghosted' by someone. It was a painful experience and writing the song was my therapy."
(E-mail reactions at rickylophilstar@gmail.com. For more updates, photos and videos, visit www.philstar.com/funfare or follow me on Instagram @therealrickylo.)