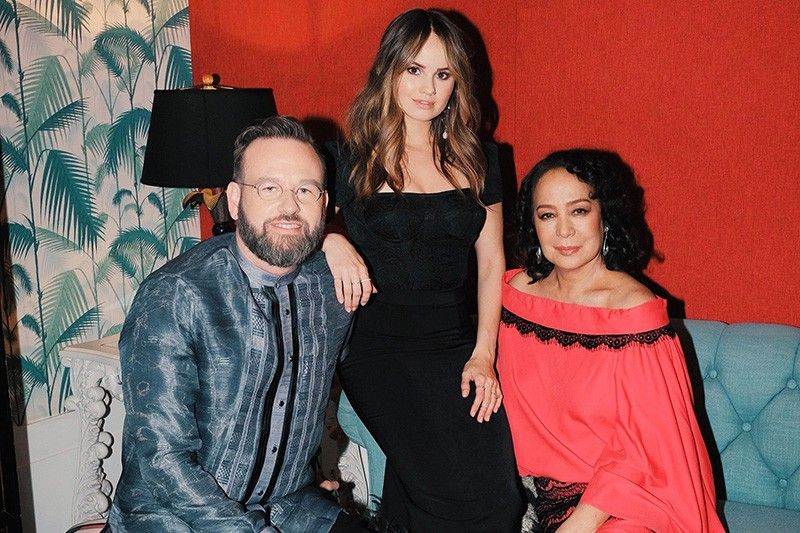 Gloria Diaz with Debby Ryan and Dallas Roberts during the junket in Manila last Tuesday for the Netflix Original series Insatiable in which Gloria plays an adviser to Debby's character who turns the table on her bashers and body-'shamers' by joining a beauty contest, with Dallas as a disgraced lawyer who roots for Debby's character right on.
Photo Netflix/Magic Liwanag
Gloria feeling 'insatiably' glorious!
FUNFARE
-
Ricky Lo
(The Philippine Star) - October 10, 2019 - 12:00am
The teaser is an absolute tease.
Shot on the set of Insatiable Season 2, now streaming on Netflix, it shows an elegant lady coming in, prompting two apparently gay staff to gasp in astonishment, "Who is she?" The lady introduces herself, "I am Gloria Reyes. Miss Philippines…Miss Universe!"
With that, Gloria Diaz as Gloria Reyes cements her "special participation" in the Netflix Original dark comedy about a girl named Patty (played by Debby Ryan) who's bullied because she's overweight, ignored and underestimated by people around her…until she shaped up and, in a sweet revenge, competes in a beauty pageant, thanks to the encouragement of a disgraced lawyer (played by Dallas Roberts).
Appearing in not more than two episodes (which could be extended, who knows?), Gloria plays almost herself in "The Queen Takes Control" portion.
"I play not a judge but something like an adviser to Debby's character," Gloria told The STAR the other day during the promo for Insatiable graced by Debby and Dallas who came purposely for that. "My advice to Patty: No matter what your past is, no matter how you do it and where you come from, as long as you win, people will forget your past. Ganoon naman talaga sa mga pageant, di ba?"
How much did Gloria draw from her Miss U experience in fleshing out her role?
"Not that much, really," she said, adding, "but I felt like a neophyte. Good thing Belle (her daughter Isabelle Daza-Semblat) was there coaching me, 'Mom, you can do it; you've been doing it 100 times.' I said, 'Belle, I don't know why but I am nervous. I might make a mistake.' Belle said, 'Don't worry, don't worry!' So unlike here. When you work in your own turf, it feels different. Parang okey lang, happy-happy na."
Debby and Dallas, and all those involved in the project, made Gloria feel at home.
"You will be surprised but Debby and Dallas look normal, they are not intense. They are very, very good. Still, you are working in a strange place, out of your comfort zone. All of a sudden, you are around people who don't know you from Eve and whom you don't know from Adam. The more they tried to make me feel at home, the more pressured I was."
Happily, there was no, well, "breaking the ice." Gloria noted that everybody was so professional and so welcoming.
"But you really have to be on your own, you just have to hold your own. You can pray all you want but at the end of the day, you're just the one facing the camera. There was no room to make a mistake."
Gloria went to Georgia (USA) to shoot initially for two days and went back to shoot more scenes.
She was busy with the ABS-CBN soap Los Bastardos when the offer came. Why her and not the Philippines' three other Miss U titlists?
"I have no idea," said Gloria who was 18 when she won in 1969. "They Vibered the offer to me. I guess they just have to get a beauty queen who has been around and, of course, who has experience with showbiz. My first reaction was, 'Oh my God, I hope ABS-CBN will allow me.' You know naman how strict ABS-CBN is. They won't allow you to be absent. But they were okay and I was very happy."
Monday night, Belle hosted a bienvenida dinner for Debby and Dallas at Manila House with Belle and Gloria's special friends as other guests. Debby wore a gorgeous outfit designed by Patty Ang and Dallas, a charcoal gray piña barong by Randy Ortiz.
Asked to sum up her Insatiable experience, Gloria said, "Hmmm, very nice. I'm happy that I have so much experience locally and that helped. The bottom line is, it was all about lakasan ng loob, kapalan ng mukha." And then she laughed.
Incidentally, the 2019 Miss Universe pageant is just around the corner (although no venue has been announced yet), so is a back-to-back win (between reigning Miss U Catriona Gray and the country's bet Gazini Ganados) probable, a feat pulled so far by only one country (Venezuela, Dayana Mendoza/2008 and Stefania Fernandez/2009)?
"Let me think," said Gloria who was a judge at the Bb. Pilipinas pageant topped by Gazini. "I will have to look hard at our candidate because, you know, nagbabago sila at nag-i-improve after the pageant. Yes, Gazini was my choice. I really like her. But you know, we are too ambitious. After Pia (Wurtzbach) and Catriona, we want more, we want something else."
So what does she think is Gazini's chance?
"50/50. Beauty contests are a rat race. Either you win or you lose. So, 50/50."
And her (unsolicited) advice to Gazini?
"Like me in Netflix, lakasan ng loob at pakapalan ng mukha. Feel that you are a winner and make sure nobody gets in front of you…and make lots of friends."
(E-mail reactions at rickylophilstar@gmail.com. For more updates, photos and videos, visit www.philstar.com/funfare or follow me on Instagram @therealrickylo.)