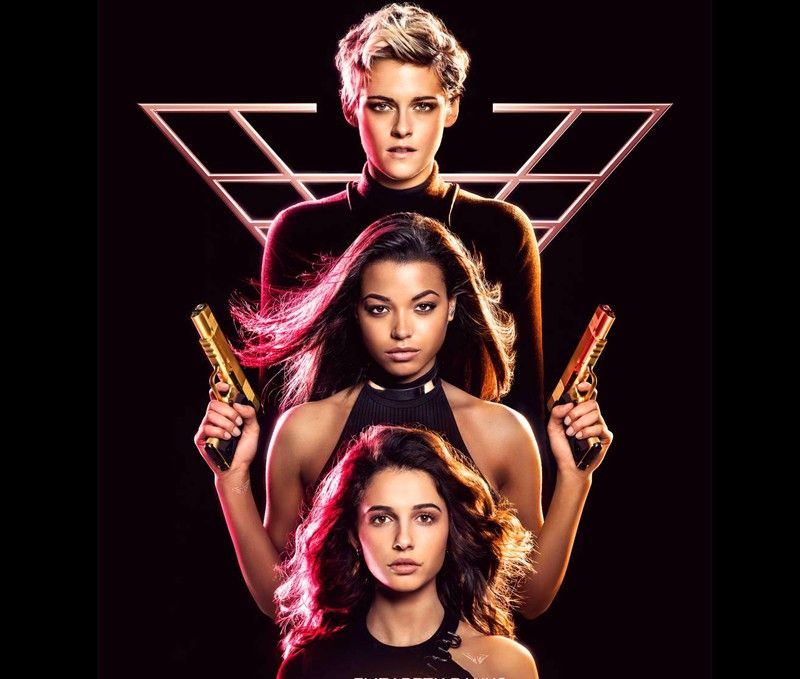 Kristen Stewart, Naomi Scott and Ella Balinska star in the latest big screen incarnation of the franchise
The sound of Charlie's Angels
How does an angel sound? Maybe the heavenly being approaches with the swish of silken robes and the flutter of soft-feathered wings. If it is a special moment, it can be accompanied by music. Maybe by Mozart's Clarinet concerto or with singing that sounds like the sweet, trilling tenor of Pavarotti or the soulfully expressive declarations of Aretha Franklin.
Not Charlie's Angels though. When the TV series debuted as a crime drama in 1976, it had an instrumental theme by Jack Elliot and Allyn Ferguson that was just serviceable. However, it has since grown in popularity along with the huge cult following of the series which starred Kate Jackson, Farrah Fawcett and Jaclyn Smith as the Angels and John Forsythe as the voice of Charlie. That voice was the head of the agency who sends the angels off to various assignments.
The first time that a female-driven theme song invaded the Charlie franchise was in 2000 for the blockbuster big screen adaptation starring Cameron Diaz, Drew Barrymore and Lucy Liu as the Angels. The theme was Independent Woman by Destiny's Child. Part two titled Charlie's Angels: Full Throttle came three years later with Demi Moore as a fallen angel and had another pop star singing the theme, Feel Good Time by Pink.
The latest big screen incarnation of Charlie's Angels is set to hit the screens in November starring Kristen Stewart of Twilight, Naomi Scott of Aladdin and newcomer Ella Balinska and directed for the first time by a woman, Elizabeth Banks, who also megged Pitch Perfect 2. The Angels still work for a mysterious boss named Charles Townsend. The security firm has now gone global and Charlie is played by director Banks who is also an actress. This means that there are now lots of Charlie's Angels everywhere who are as smart, as brave and as beautiful as tradition says they are.
And this new generation of Angels has a theme song that carries on the Charlie's Angels legacy of female-focused collaboration. Kicking major ass with the tune, Don't Call Me Angel (Charlie's Angels), is the powerhouse group of Ariana Grande, Miley Cyrus and Lana Del Rey. I say this trio of singers is even more famous and more stellar than the stars of the latest remake.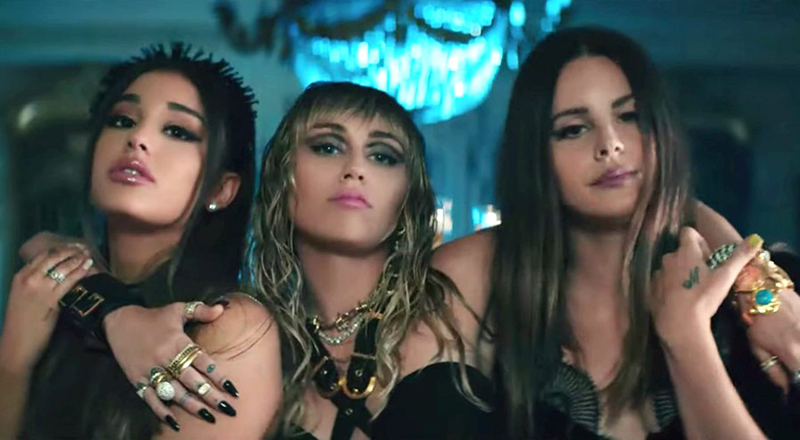 From left: Ariana Grande, Miley Cyrus and Lana Del Rey, the powerhouse group behind the tune Don't Call Me Angel (Charlie's Angels)
Their fees might prove to be more expensive but what a fantastic Charlie's Angels picture Ariana, Miley and Lana will surely make. Still, these girls should consider it an honor that they are providing a fantastic theme for the legendary series. Incidentally, these singing angels wear leather outfits and sport black wings. Really quite interesting.
Of course, listening to a Charlie's Angels theme song brings back fond memories of non-binge TV viewing from long ago. You know, the time when you keep a magazine with a schedule of TV shows around the house and you look forward to the time and date when your favorites will be screening. Then you sit down before the set, preferably with the whole family to watch together for an hour. And then the theme song comes in…
Hawaii 5.0, a big instrumental hit by the Ventures that Hawaii itself has adopted as its unofficial state song. Mission Impossible, also a great instrumental by Lalo Schfrin that is so timeless, Tom Cruise used it in the big screen versions of the series. They also used Falling, the eerie theme from the original Twin Peaks by Angel Badalamente and David Lynch in the recently-aired sequel. What about the affecting Suicide is Painless from M*A*S*H. Of course, also Game of Thrones which has given birth to several albums and concert performances by Ramin Djawadi of the famous theme.
And then, there are I'll Be There For You by The Rembrandts from Friends; Yo Home To Bel Air by DJ Jazzy Jeff & the Fresh Prince who happened to be a very young Will Smith; Thank You For Being A Friend from Golden Girls; Sesame Street by Joe Raposo; The Love Boat by Jack Jones; Believe It Or Not by Joey Scarbury from The Greatest American Hero; Happy Days by Jimmy Haas from Happy Days; and I am sure a lot of kids from long ago recall tip-toeing around the house with the theme from Adams Family playing in their heads. Or maybe it was Batman….Batman…