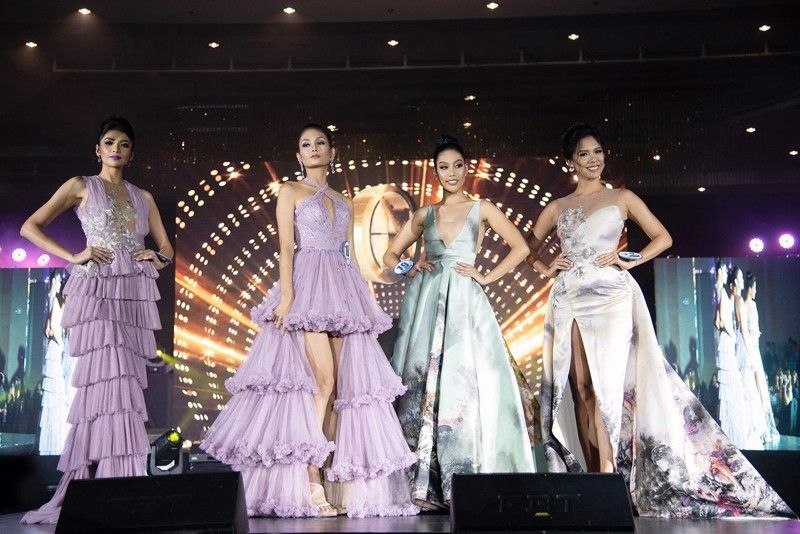 The Cherry Veric creations
From the Big Dome to the World
MANILA, Philippines — True to its form as the mecca of sports and entertainment, the Smart Araneta Coliseum quickly transforms from a basketball venue housing 13,000 cheering fans in a hotly contested Ateneo-La Salle UAAP game into a mood-infused setting for Moira dela Torre's first major concert in a span of days. Two days later, tonight, the Big Dome — as it is fondly called — will be the focal point of pageant fanatics as it hosts the Miss World Philippines 2019 pageant.
Already known as the home of the Binibining Pilipinas since its inception in 1964, the Coliseum had recently opened its doors to the Mr. World international pageant in August, the first time it was held here in the country. The Miss World Philippines (MWP), whose franchise used to be under Binibining Pilipinas, follows its footsteps in just two weeks, turning the iconic and historic venue into a gathering place of beautiful people from all over.
During a gala dinner with a fashion show held at the Novotel Manila Araneta Center last Wednesday, Miss World Philippines national pageant director Arnold Vegafria praised the 40 ladies that are part of this year's local competition. Aside from thanking all their sponsors, the emphasis is on the MWP organization's main beneficiary, the Miss World Scholarship Fund. "It is a new advocacy meant to benefit talented but underprivileged high school students," Vegafria said. "We believe that education is every child's right, empowering them with knowledge gives them better chances in finding their life's purpose."
The gala dinner was highlighted not just by the sumptuous food that was served — including slow roasted Australian beef tenderloin with prawn fillet and crispy bacon, and amazing wine — but also a breathtaking fashion show. The candidates modeled beautiful gowns created by designers like Nat Manilag, Cherry Veric, Mark Baumgarner, Albert Andrada and Rhett Eala, among others; each of the collection was highlighted by a piece worn by the designer's muse, including Miss World Philippines 2018 Katarina Rodriguez and Reina Hispanoamericana 2017 Teresita Ssen Marquez.
But what pageant fans and audiences have to look forward to is how exciting the selection of the finalists would be. The gala night was also the setting for the Talent Fast Track — the talent showcase whose would automatically be part of the finalists.
"All in all, there are a total of eight Fast Track awards," Vegafria explained. "All of these will be announced in our coronation night on Sunday." That really heats up the competition that will unfold at the Smart Araneta Coliseum.
There were seven candidates that participated in the Talent segment, including former child star Isabelle de Leon, who came out with her electric guitar and took a turn at the drums; Jacqueline Diamzon Hammoude, who performed a Tahitian number; and this awesome singer Erica Rose Madlangsakay.
Aside from talent, the other Fast Track awards are Top Model, Charity (which would yield two names), Multimedia and BWAP (Beauty with a Purpose). "For this last award, I wanted it to be something organic… an advocacy that (the candidates) initiated on their own," he said. "That makes it more meaningful and purpose-driven, which is very much aligned with the Miss World motto."
Seen at the glitzy gala dinner were Annabella Rama, actor-blogger Victor Basa, Kris Lawrence, host RJ Ledesma, and others. For sure, fans will have more chances to do celebrity sightings at the Big Dome during the coronation night. Indeed, these beautiful Filipinas will once again shine for all the world to see. Tickets are available at www.ticketnet.com.ph.