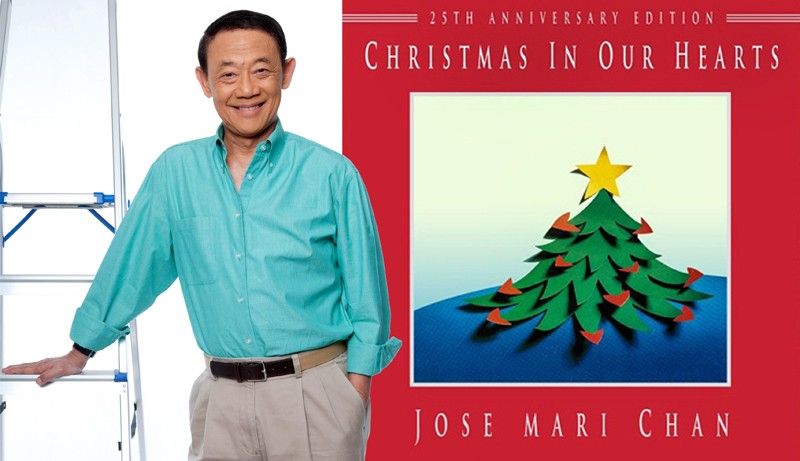 The 'ber' months are ushered in with Christmas in Our Hearts (right, album cover), the heart-warming song written by Jose Mari Chan who is now known as 'Harbinger of Christmas'
The story behind Joe Mari's Christmas in Our Hearts
FUNFARE
-
Ricky Lo
(The Philippine Star) - September 12, 2019 - 12:00am
All together now:
Whenever I see girls and boys
Selling lanterns on the street
I remember the child
In the manger as he sleeps
Wherever there are people
Giving gifts exchanging cards
I believe that Christmas
Is truly in their hearts
Let's light our Christmas Trees
For a bright tomorrow
Where nations are at peace
And all are one in God
Let's sing Merry Christmas and a happy holiday
This season may we never forget
The love we have for Jesus
Let him be the one to guide us
As another New Year starts
And may the spirit of Christmas
Be always in our hearts
Of course, we all know Joe Mari Chan's song Christmas in Our Hearts which has become the anthem of the world's longest yuletide season since it was released by Universal Records in 1990 and has by now sold millions of copies, making it the all-time best-selling Christmas album with its follow-up, Going Home to Christmas, trailing not far behind.
As I've been saying, that song gives us a much-needed respite from all the grim and gloomy news about killings and bombings and calamities (natural and/or man-made) from every nook and cranny of the world.
And like that song that plays and replays during the happiest season on earth, it doesn't hurt if Funfare "replays" a 2002 piece about the interesting story behind Christmas in Our Hearts.
Let's hear it (again!) from Joe Mari himself:
"The Holy Spirit works in magnificent ways. The song Christmas in Our Hearts began as a Filipino poem entitled Ang Tubig ay Buhay, written by Chari Cruz Zarate whose high school class was celebrating their Silver Jubilee. Their class asked me to set this poem to music. The meter was so lilting that it only took me half a day to come up with the melody. In 1990, when my first Christmas album started production, I thought of giving the melody a new personality by turning it into a Christmas carol.
"Around that time, I was coming out from a Sunday Mass when a young lady approached me and tapped on my windshield, introduced herself as a young songwriter interested in collaborating with me. Her name was Rina Cañiza and after a few back and forth, Christmas in Our Hearts was born.
"We all thought that Lea Salonga and I would make the perfect pair for the song. Unfortunately, her studio contract would not permit her to record for another label and with only two weeks to go before our scheduled release, someone suggested that I ask my (then) 19-year-old daughter Liza instead. Liza had to learn the song quickly and go into recording the next day. It could not have been better the way the Holy Spirit worked it out: father and daughter singing a melody that's a blend of East and West, delivering the real message of Christmas."
Another Joe Mari Christmas song played not as often as Christmas in Our Hearts but just as beautiful/nostalgic is Christmas Past, included in Joe Mari's album Thank You, Love. There's also an interesting story behind that song whose melody was written by Louie Ocampo.
"With the passing away of my dad (Tony Chan) in 1994, my lyrics naturally took on a very intimately personal character.
"As high school boarders at Iloilo's St. Clement's in the early '60s, we would wake up at dawn to the beautiful sound of St. Clement's church bells playing Christmas hymns heralding the daily Misa de Gallo. Listening to those bells while looking out the window towards the western skyscape, a solitary star hanging in the dark blue clouds brought me such a warm magical kind of feeling in those cool December mornings, an image forever etched in my mind which I tried to paint in the song."
Christmas in Our Hearts and Christmas Past are only two of the hundreds of songs (two-thirds of them recorded) Joe Mari has written (not "composed," Joe Mari clarified) so far, making him, as Universal Records' late lady boss Bella Tan aptly put it, "a living legend on the Philippine music scene."
So why does Joe Mari refuse to be called a "composer"? and he tells us why.
He explained in that 2002 Funfare story,
"I am a mere songwriter. In the strict sense of the word, a composer is trained and schooled. A songwriter does not have to be. In medieval times, they were called minstrels. Many of them did not even know how to play a musical instrument. They combined words and music to relate stories or express everyday feelings of ordinary folks.
"Today, a songwriter has an added advantage if he is a composer for if not he would need a musician to put his songs on paper for others to read, an arranger to write the notes for musicians to play his songs, musicians to perform the music. All that I am is a songwriter who knows how to play one or two instruments, who knows enough about arrangements and how my songs should sound that I can help my arrangers in bringing the production into fruition. These are some of the qualities that one needs to succeed as a songwriter."
(E-mail reactions at rickylophilstar@gmail.com. For more updates, photos and videos, visit www.philstar.com/funfare or follow me on Instagram @therealrickylo.)