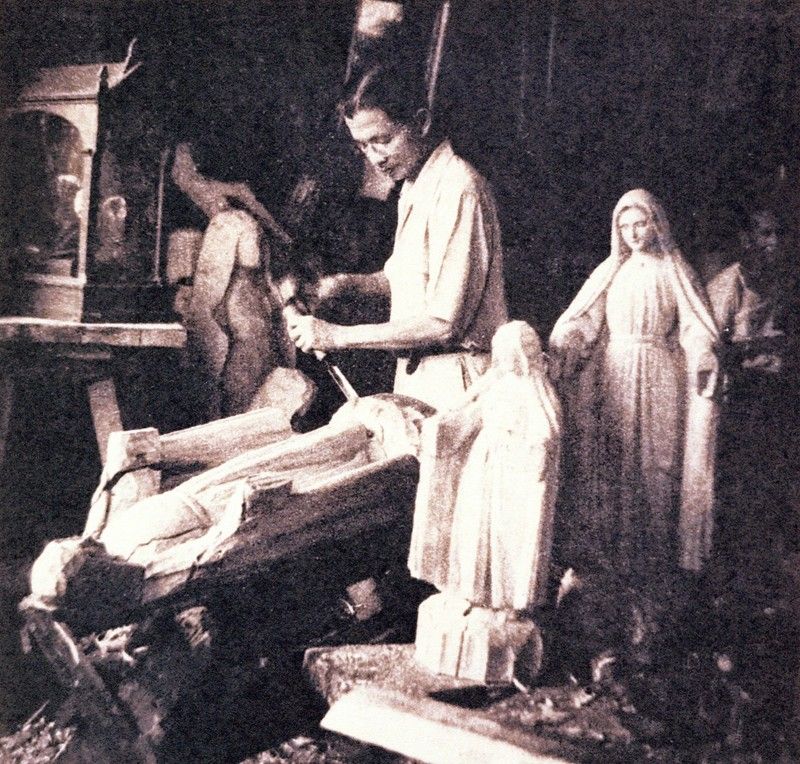 Cristobal was unknown 'til he carved the image of Our Lady Mediatrix
Irineo M. Cristobal: He carved Our Lady Mediatrix
REMEMBER WHEN?
-
Danny Dolor
(The Philippine Star) - September 8, 2019 - 12:00am
While leafing through the files of my late father, Don Leon Dolor, I came across the July 24, 1949 issue of the Sunday Times Magazine. Curious why he kept the magazine, I scanned it and realized why. It has an article on sculptor Irineo M. Cristobal who carved the original image of Our Lady Mediatrix, to date still at the Carmelite church in Lipa, Batangas.
Cristobal carved the second Our Lady Mediatrix statue for the Dolor family, which to date has a prominent place in our ancestral home in Makati. He made other statues of saints for our family which are on display — in a manner of speaking — at the Dolors' homes in Makati and Lipa.
When the other works of Cristobal were auctioned off by Rustan's, I bought some more to add to my collection.
Remember When? has the honor and pleasure to reprint the Sunday Times Magazine article on Irineo, titled He Carved Our Lady Mediatrix and written by Domingo Baisas.
It reads:
In a little makeshift workshop on Evangelista street, not far from Quiapo church, is a quiet bemoustached man engaged all day carving wooden images of saints for punctilious Catholics from all walks of life. Church dignitaries and laymen alike have come to this workshop to solicit the services of this practically unknown man. Prominent among the recent visitors who graced the dilapidated workhouse were the Most Reverend Alfredo Obviar, auxiliary bishop of Lipa who was in the company of three sisters from the Carmelite Nunnery and of Sister Teresita of Carmel herself who has attracted millions of Catholics all over the Philippines, by claiming communion with Our Lady of Mediatrix of All Graces. This mission, in fact, was to obtain a faithful reproduction of the vision, a task which required delicate craftsmanship, extraordinary skill, and what was of highest importance — inspiration. The job fell on Irineo M. Cristobal, the quiet bemoustached man on Evangelista street.
Born in a nipa house in a remote town in Capiz, Cristobal had to learn to use his hands early in life to support himself and his aging parents. He had to work so hard for a living that his education was almost completely neglected. He engaged in farming, and all sorts of manual occupation but he soon found out art was his main love. With a pocket knife he learned to whittle and carve images out of wood. Encouraged by neighbors, he left for the city.
It did not take him long to find a job. The late Cayetano Castillo, then Manila's best-known sculptor, took him under his wing. He worked with Castillo for 10 years. Frugal living enabled him to save enough to build a workshop of his own. He did so — and soon made new friends, among them renowned sculptors whose influence in his life was soon to show in his work.
The latter part of 1927 found him putting finishing touches to what he thought was his masterpiece — a life-size image of St. Therese. He had to risk his life to save this piece during the liberation. He also undertook the job of creating vast images of the Virgen de Candelaria and the Cristo Rey in Jaro, Iloilo; the Milagrosa in Bacolod; the Santo Cristo in La Paz and Pototan, Iloilo; the San Judas Tadeo in Biñan, Laguna; the Sagrado Corazon de Jesus in Sta. Cruz, Laguna; the imposing image of San Miguel de Archangel in the Pro-Cathedral of San Miguel; and a great number of other images in various localities in the Philippines and in Hong Kong, Spain and Canada.
Noteworthy is the exemplary life of this man. I have known him since childhood, and I know that in his association with people he has never made enemies. A pious Catholic, he is one of those who believe in hard work and take no pains to conceal distaste for idlers. He believes that a man must put his heart into his work. To stress this point, he has posted a placard on a wall which reads: 'Pitong beses isipin bago gawin' (Think seven times before doing it.). — RKC