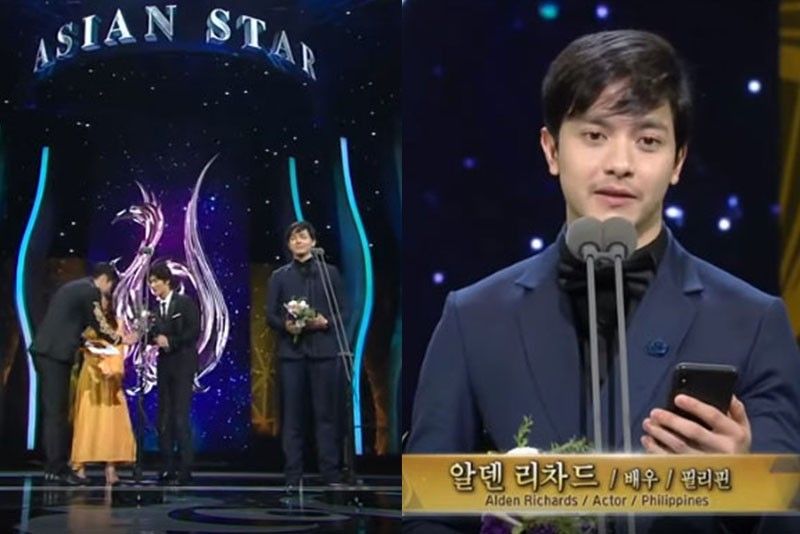 Alden Richards accepting his Asian Star Prize from Seoul International Drama Awards
YouTube/SBS, screenshots
'My heart is full': Alden Richards on accepting Seoul Drama Award
MANILA, Philippines — "Annyeonghaseyo! It's an honor receiving this recognition. My heart is full. Kamsahamnida!" Kapuso star Alden Richards said on Instagram upon receiving his Asian Star Prize award from the Seoul International Drama Awards on Wednesday.
A non-competition category at the Seoul International Drama Awards, the Asian Star Prize is bestowed upon those who exhibit excellence in television drama.
During his acceptance speech, Alden said, "It's such an honor to receive this award."
"Being a Filipino, I am humbled and grateful to be recognized in the international scene, along with so many amazing and talented artists," noted Richards, who is the third Filipino to bag the same award, following actors Gabby Concepcion and Dennis Trillo.
Besides Alden, Japanese singer-actor was also bestowed the Asian Star Prize this year.
According to Alden, what makes the award extra special is that this year marks the 70th friendship anniversary between the Philippines and South Korea.
The award is Richards' second international recognition. Last 2017, he bagged a silver medal in the docudrama category from the New York Festivals television and film awards for playing the lead role, as real-life activist Bonifacio Ilagan, in the GMA-produced drama, "Alaala: A Martial Law Special."