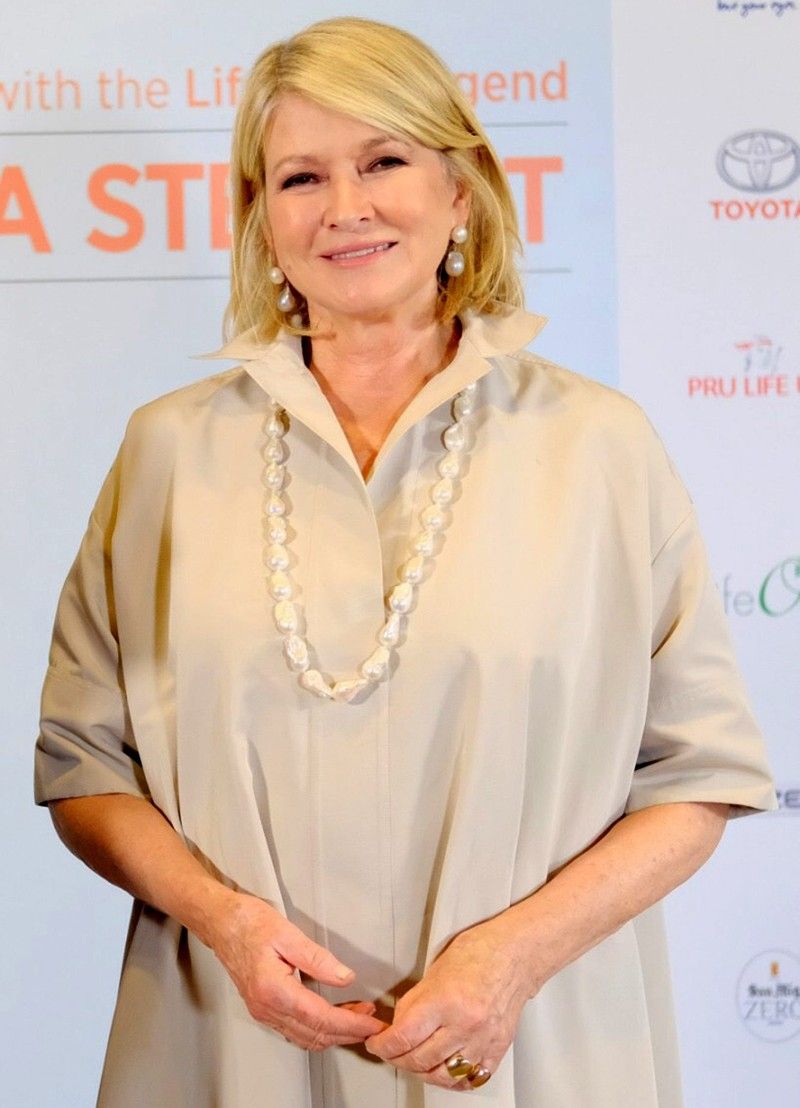 The lifestyle expert, media mogul and celebrity entrepreneur is the latest guest of the ANC Leadership Series, which previously featured billionaire investor Kevin O'Leary, Virgin Group founder Richard Branson, former US Secretary of State Madeleine Albright, among other high-profile names
Martha Stewart: Lessons on life, leadership & success
MANILA, Philippines — American lifestyle and media mogul Martha Stewart imparted a handful of lessons on success, leadership and life during the latest leg of the ANC, the ABS-CBN News Channel's Leadership Series.
Proud to call herself a "neat freak" and a "perfectionist," Martha built an empire out of her love for all things home and living — from cooking, entertaining, gardening, to decorating, organizing and crafting. After starting her career as a stockbroker, she had a flourishing home-based catering venture, before eventually going into publishing with bestsellers like Entertaining, Martha Stewart's Baking Handbook, Martha Stewart's Homemaking Handbook, and the magazine Martha Stewart Living, which spawned her own TV show.
Martha went on to establish the media and merchandising company Martha Stewart Living Omnimedia, Inc. and when it went public in 1999, she became "America's first self-made female billionaire."
Nowadays, the 78-year-old domestic goddess continues to expand her brand via shows such as Martha & Snoop's Potluck Dinner Party with rapper Snoop Dog and the Food Network cooking competition Chopped as guest judge.
"Perseverance is very important and believing in what you are creating and what you are making," she told the audience of business executives, entrepreneurs and students at the ANC Leadership Series forum held at Sofitel Philippine Plaza last Tuesday.
In the course of achieving her success, Martha was asked by the moderator, news anchor Karen Davila, about the sacrifices she had to make.
"I got divorced in the middle of planning to start my own company and ultimately go public. I think, my marriage suffered terribly as a result. But I think, I also had a creepy husband," shared Martha, drawing laughter from the attendees.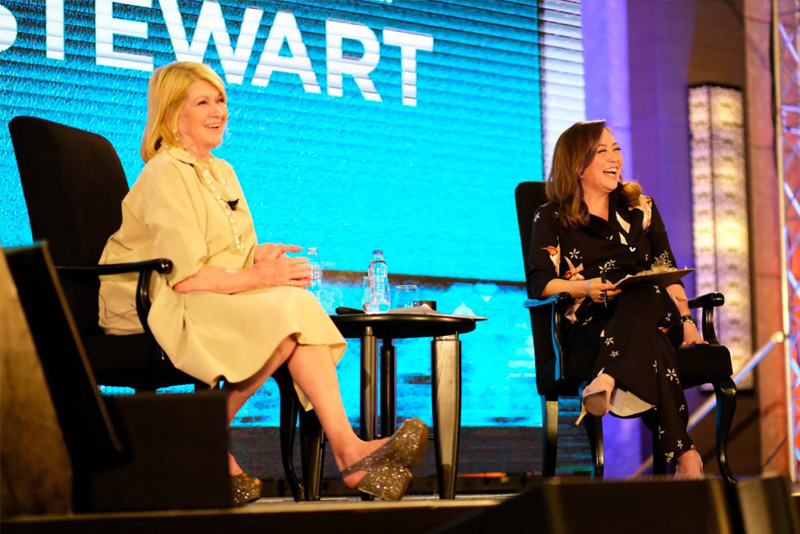 Martha shares a laugh with forum moderator Karen Davila.
She, nevertheless, clarified that marriage isn't a hindrance to any form of accomplishment. "I am one of the few divorced, unmarried women in my group. Most of my friends have long marriages. And I'm jealous. Because it makes it easier. I mean, if somebody could take out the trash and buy you wine (laughs). I'm just kidding!"
Turning serious this time, Martha continued, "But it's all about balance and balance is hard to attain. And when people say oh, do you have balance? No, you don't have balance. Nobody is balanced. It's a crazy, upside-down world. To find that balance is really difficult. So, you have to make a good life and in whichever way it ends up, consider it a good life."
"I believe in marriage. I believe in having children. I think it is terribly important for women to have children. I get upset when my friends don't have children. Because they're joy and and grandchildren are even more joy," said Martha, who has no plans yet of retiring or slowing down, but mused that her grandaughter could be the "heiress" to her throne.
Here are some of the noteworthy lessons on life, leadership and success that the audience learned from Martha during the forum:
Don't get sloppy. When asked how she's able to still look good, fashionable and be this dynamo at 78, Martha said: "As an entrepreneur, you just can't get too sloppy. You always have to have that appearance, no matter what you have. Always make sure you look good. So, I eat well, I exercise well. I dress well. I try. You can't (let go of yourself). Don't wear your dirty apron to the grocery."
Find an idea that appeals to a broad audience. She said, "Plenty of people have lots of ideas, but is that an idea that appeals to a very broad audience?"
Martha considered herself lucky because when she started lifestyle, it was just an emerging industry and was not "promoted in any way." She shared, "I'm good at promotion and good at public relations. So, I thought this is a limitless and vast subject, and to find a subject that's kind of limitless, specialist and very appealing, and I needed it. And I thought, so does all my friends and all the people I know and meet.
"And that's why it was successful because it was a big enough idea. It's much tinier than Steve Jobs and Apple, although it's as far-reaching and you have to have a lifestyle in order to get that iPhone or that Apple Computer. But it's all related in a way."
Fill a void. "Another thing an entrepreneur must do is fill the void," Martha advised. "What doesn't exist that you love that you have in your mind that can fill that void that everybody wants? Need and want and void — those three words are very important."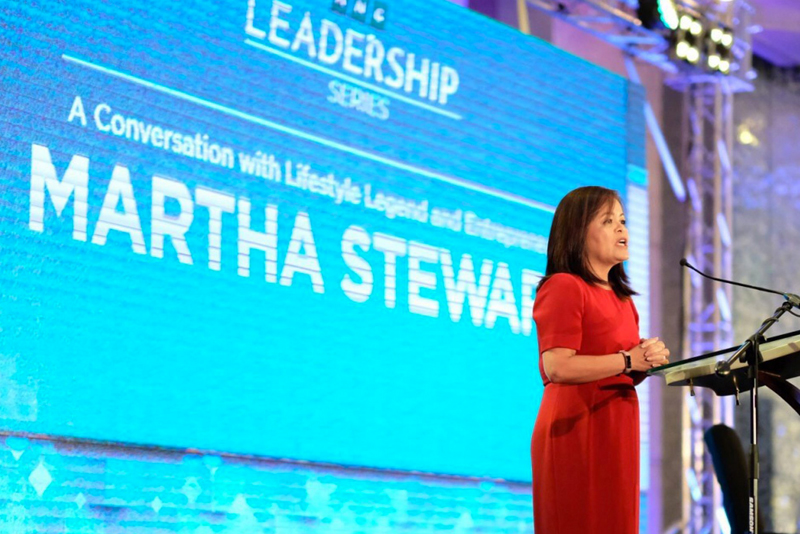 ABS-CBN Integrated News and Current Affairs head Regina Reyes addresses the attendees.
She further said, "It's finding the niche that's big enough and more important enough to fill that void. I think it is very important to withstand the ravages of day in and day out market, the market climate, interest rates, the trade tariffs… It's really hard to be in business, and to survive all the influx of problems that can occur. But that strong brand will generally survive.
"We make nice things. We make things for the kitchen, we make things for the bed and the bathroom. Today, we make Christmas decorations, we make practical tools. Those will always be in demand. And we will always continue to make them in the best possible way, the highest quality, and then more appealing in appearance. Because if you start making things that are ugly, people don't want to have them. They don't want that stuff in their houses. And you don't want them to have it."
She cited one instance when they were designing teacups. She was aghast to learn that one of the works a designer came up with, she couldn't put her finger in its handle. So, it was sent back to the drawing board so that he could make a handle that was useful. "So, useful utility is very important as the price. And I've always gone mid-range. Mid-range is more important for me so that more people can have it. I buy my own stuff and I can afford the very high-end. But I don't have to do that because I can find Martha and at a very much better price."
Lead by example. "I'm a tough boss. As I get older, (I've been) realizing that there's balance in the workplace," she said. "But I think that if I push myself harder, the people will know that I'm doing it, they also will."
Embrace all opportunities. Martha said that when she first started, opportunities to promote her brand were the newspaper, television, talk shows and radio. "Now, look what we have! We have Pinterest, we have Instagram, we have Instagram TV, we have Facebook Live, we have YouTube, we have so many other ways. And I embrace all of them. I have channels on pretty much everything with our videos… and that's the way you have to do it. You have to embrace technology, keep ahead of the curve. Try to build a name and all those other areas."
She noted that it does take time and effort. "Sometimes, you think, oh god I'm banging my head on a stone wall. Why am I doing this?" She said she might not gain as much Instagram followers like Kim Kardashian, but she's happy with her "2.5 million or so because they are very targeted towards the Martha Stewart brand."
She believes this is why companies tap her for their commercials like Uber Black (premium cars), "after bashing Uber on Instagram because I got into a dirty Uber car, on my first drive, I photographed all the leaves in the car, all the dirty work and stuff. And they asked me to do their commercials. Because they knew that Martha would, you know, be a valid proponent of Uber. I love Uber but I don't like dirty cars. So, that's the kind of stuff we have to really embrace — all the opportunities that are out there in order to promote your brand."
Know your worth. Referring to certain events (including a conviction related to a stock trading case) in 2004, Martha reflected, "Not everybody survives the debacle like I had to go through. But I was in the wrong place at the wrong time. It was a terrible time. That's when people were being sent to jail for infractions that were not really, you know, infractions if you want to put it that way. But it was a very, very tough time."
How did she survive and bounce back? "First of all, I had the most fabulous company. And I had a very serious sense of self-worth. Being sure of yourself and being and believing in what you do and what you are really helps."
Plus, Martha stressed, she had her family to lean on for support and encouragement. "Our company did not really suffer. Advertisers had to pull out. At the end of it, they were right back because we had the best products. It was a tough time. But again, I don't think about that time very much. It was horrible. It wasn't pleasant. I didn't die. You know, I didn't have coffee. I didn't have luxuries. But it wasn't life-threatening, and I have my health and then a good family."