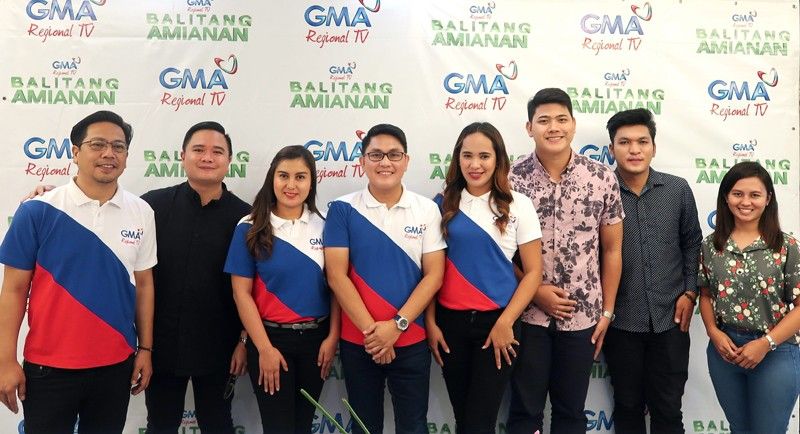 From left: GMA North Central Luzon station manager Jonathan Balingit, GMA Regional TV VP and head Oliver Amoroso, Balitang Amianan anchors Joanne Ponsoy, CJ Torida and Jasmin Gabriel-Galban, and reporters King Guevarra, Russel Simorio and Ivy Hernando at the relaunch of the top regional news broadcast in North Central Luzon
A homey and relaxed setting for Balitang Amianan
Bot Glorioso
(The Philippine Star) - August 15, 2019 - 12:00am
DAGUPAN CITY, Philippines — GMA 7's Balitang Amianan, the top regional news broadcast in North Central Luzon, recently unveiled an on-air set overhaul that completely changed the ambience of a news program studio — from looking stiff and too formal to one that feels more relaxed and closer to home.
The change in the broadcast set design of the said news program aims to give televiewers a homey feel while anchors CJ Torida, Joanne Ponsoy and Jasmin Gabriel-Galban present the news gathered by Kapuso news teams and the network of stringers across the north central part of Luzon.
"It's like an extension of your living room," was how CJ aptly described the brand-new studio set-up. That's why, no more anchor desk in sight. CJ, Joanne and Jasmin now sit on couches with a center table that complement the texture and vibrant colors of the wall backdrop.
The 45-minute newscast, which airs weekdays at 5 p.m., also intensifies news content and continues to bring more interesting stories that veer from what is "normally" seen in news coverages of other stations.
In fact, Balitang Amianan has been consistently lording over the competition. It is simultaneously being broadcast in Pangasinan, Ilocos Norte, Ilocos Sur, Abra, Benguet, La Union, Nueva Ecija, Tarlac and Pampanga through GMA Network's local channels GMA TV10 Dagupan, GMA TV5 Ilocos Norte, GMA TV 48 Ilocos Sur and GMA TV7 Abra.
Oliver Amoroso, VP and head for GMA Regional TV, said in a speech during the announcement of the new set design, "I'm happy to announce that the GMA Regional Newscast in North Central Luzon Balitang Amianan has sustained its wins since 2016. We at GMA Regional TV continue to find ways to further improve the way we deliver news to our Kapuso all over the regions.
Joanne and Jasmin, on the other hand, also gather news stories themselves and discuss them with CJ to determine if there are issues that require follow-up reports.
With Balitang Amianan, residents of the provinces in the North get to know whatever is happening in their communities directly and immediately. CJ, Joanne and Jasmin agree that their Facebook Live is also beneficial for them to better discuss the news.
What's more, the Kapuso news reporters can now send the news immediately to the station through the digital news gathering technology.
Oliver shared that they also gave trainings to the camera men. "They are now called as video journalists kasi ngayon pwede na sila humiwalay sa correspondent to go to like at the other end of the city, and whatever is there, they can all send at the same time to (the station) enhance news gathering."
Apart from winning the ratings game, Balitang Amianan has received many recognitions from various institutions, including the Anak TV Seal award in 2018. It also won the Most Development-Oriented News Program award at the Gandingan 2018: The 12th UPLB Isko't Iska's Multimedia Awards.