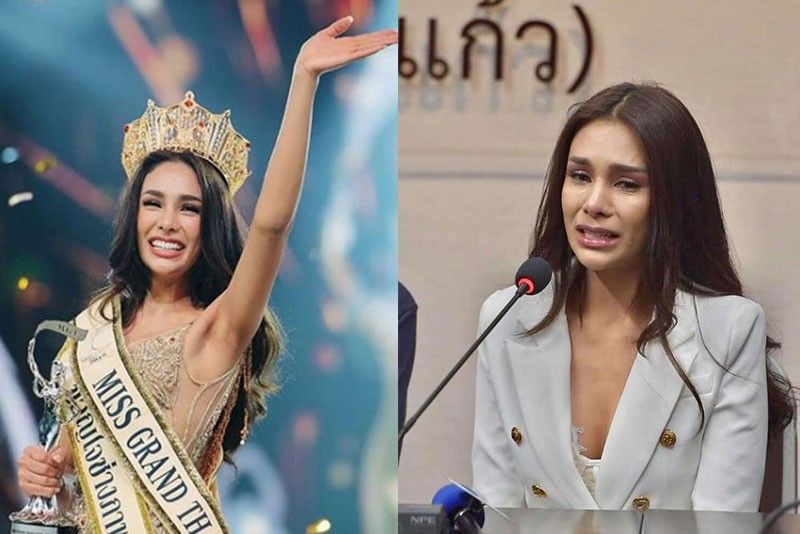 Coco Arayha Suparurk when she was crowned Miss Grand Thailand 2019 (left); the beauty queen in tears while relaying her cyberbullying experience
Instagram/Coco Arayha Suparurk; Facebook/Missosology
Thai beauty queen who called Catriona Gray 'fat' files cyberbullying raps
MANILA, Philippines — Miss Grand Thailand 2019 Coco Arayha Suparurk recently filed cyberbullying charges against three Internet users following her trending comment describing Miss Universe 2018 Catriona Gray as "fat."
During the recent press conference presenting two of the three suspects to the media, Coco broke down and admitted that she had a "feeling of suffering for a long time" due to social media bashers.
The three unnamed Internet users reportedly said comments that are "blasphemous, so rude that it can't be published."
Before the press conference ended, the two suspects asked for forgiveness from the beauty queen.
According to a report by Thai news site Thairath, the suspects were allowed to post their apology on Facebook instead of paying for damages. The other Internet user is still at large.
The press conference happened in Bangkaew Police Station in the province of Samut Prakan, Thailand. The forum was broadcast in a live video posted on Miss Grand International 2019's Facebook page. Coco was joined by Miss Grand International President Nawat Itsaragrisil.
It can be recalled that early last month, Coco posted a photo of Catriona next to Miss Grand International 2018 Clara Sosa in her Instagram story. She put a text on the photo of Clara as "fit" while "fat" on Catriona.
RELATED: Thai beauty queen slammed for calling Catriona Gray 'fat'
Days after being bashed for her comment, Coco won as Miss Grand Thailand 2019. During her TV appearance on the talk show "Orange Mama," she was asked about her comment, to which she said in Thai: "If Cat will message me directly, I will apologize."
In a question and answer with fans in her Twitter account while experiencing black out in New York, Catriona gamely answered her fans' questions regarding different matters.
"What is your stand about online bullying and body shaming?" a fan asked Catriona.
"Obviously, I stand firmly against any form of bullying and bashing - online and off. It is never, ever okay to put someone down for the sake of 'expressing your opinion.' With words come power and we should be using those words to build someone up and not pull them down," Catriona replied.
The beauty queen from Bicol also gave an advice to everyone who has also been called "fat."
"You are so much more than your body! You are your mind and your unique talents and your character and your life experiences and your personality! You are so, so much more than the exterior! And people will always remember how you made them feel and not how you looked," Catriona said.
RELATED: Pia Wurtzbach, Catriona Gray share self-love tips
Coco is set to compete with the Philippines' Samantha Ashley Lo at the Miss Grand International pageant to be held in Venezuela on October 25.