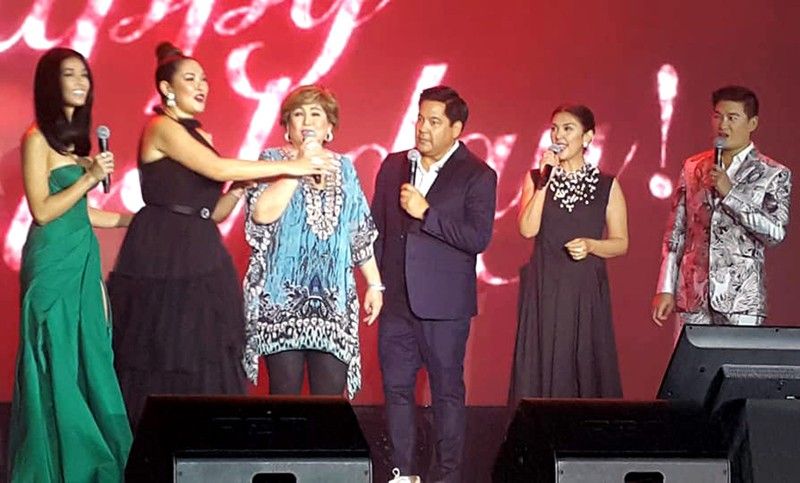 Annabelle Rama (third from left) with Ruffa Gutierrez, Martin Nievera, Pops Fernandez and other guests in a concert called The Best Night Ever.
Concert potpourri ala-Annabelle
MANILA, Philippines — In her mid-60s, Annabelle Rama has remained radiant and yes, quite beauteous as one got to be introduced to her in this concert production called Best Night Ever.
On this night, the mother of six and wife of '60s matinee idol Eddie Gutierrez was a concert producer always in near panic over sponsors' seats and audience attendance up to the last minute.
Her voice rose to a stringent pitch looking for her guests' VIP tickets. Joining Ruffa on stage, the talent manager and mom surmised her beauty queen daughter would be very nervous with her presence. Who wouldn't?
The night's line-up was quite formidable with the presence of Martin Nievera and Pops Fernandez (the night's surprise number), Zsa Zsa Padilla, Pilita Corrales and the TV singing sensation, Mitoy.
But the concert looked like a family affair from the very start. It opened with a mother-and-son duet of Sarah Lahbati and Zion Gutierrez (A Whole New World) and before the main highlights, the birthday of Ruffa Gutierrez was announced.
Pilita belted out her signature songs (Sapagkat Kami'y Tao Lamang, Kapantay Ay Langit, etc.) and the voice was still there and the body and the trademark Pilita Corrales gyration.
One suddenly realized the event was a concert when the surprise number of Martin and Pops delivered an Aiza Seguerra favorite, Pagdating Ng Panahon. How beautifully the former couple blended as a singing duo.
Zsa Zsa remained a dynamic performer and that beauteous face shone even more brightly with her sonorous soprano.
Hosted by Binibining Pilipinas personality Cindy Miranda, Tim Yap and Ruffa, the Annabelle Rama production was off to a dolorous highlight with more production numbers (Nanette Inventor and her Filipino anecdotes and Maja Salvador and her prancing ensemble and Mitoy and his winning voice). It threatened to make it a four-hour affair.
Past 11, one had to make a French leave fearful of heavy rain and midnight traffic.
The '70s star (The Private Lives of Adam and Eve with script by the Estrella Alfon) and the post-millennium revelation (Monster Mom) has somehow evolved into an enterprising concert producer.
One refuses to say more as the proceeds of the concert will go to the Asilo Medalla Milagrosa Orphanage in Cebu, Annabelle's hometown.
But to quote someone, everything must work in concert. It cannot just be a parade of singers and stand-up comedy. Other things must blend from content to colors and song categories.
Knowing how prohibitive it is to hire a live orchestra, one was forgiving of the fact that it was an evening of minus-one music.
But then, one could have listened to the performers' CDs in one's backyard with a cup of coffee.
It would have been less expensive for this septuagenarian.
But then the food was not bad. In between a Pilita love song and Zsa Zsa favorite, one had organic tomato salad, roasted mushroom soup and a certified angus rib.
It blended well with the humor of Nanette who brought the house down with her anecdotes of the weakness of the Filipino.