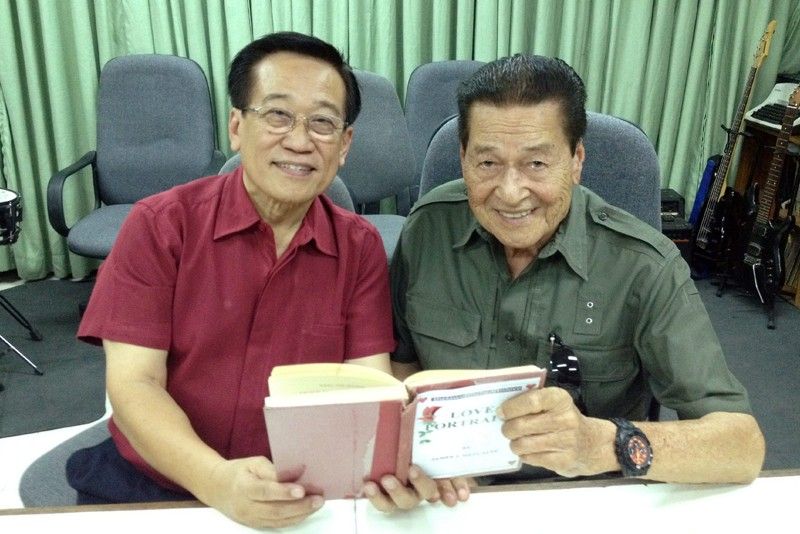 Lawyer Romy Macalintal (left) with Eddie Garcia after reading poems in Romy's radio program The Law of the Heart is Love on Jan 16, 2013
How 'Manoy' became Eddie's monicker
FUNFARE
-
Ricky Lo
(The Philippine Star) - June 26, 2019 - 12:00am
FPJ (still) is Da King and Pres. Manila Mayor Joseph Estrada will forever be Erap (pare spelled backwards, in case you have forgotten). And there's only one Manoy which is how denizens Up There must also be calling Eddie Garcia who is now in an urn which his long-time partner Lilibeth Romero has brought home after a three-day wake at The Heritage.
These past days, everybody who was somebody has sung praises for Eddie who, at 90, met an untimely death in, as Lilibeth described it, "the most freak of accidents" on the set of the forthcoming GMA TV series Rosang Agimat (heard that the title would be changed) on a street in Tondo, Manila.
From New Zealand where he is vacationing with his family, election lawyer Romy Macalintal recalls his memorable close encounter with Eddie who read love poems as a guest on Romy's radio program The Law of the Heart is Love.
So how did Eddie get the endearing monicker Manoy?
"Manoy kasi is a Bicol/Visayan word for kuya," Romy recalled Eddie telling him. "It was just given a wrong connotation when, in a comedy film where I starred with Jun (Aristorenas), he would always tell me, 'Tamang-tama wala si misis, mapapalaban na naman si Manoy' every time Bella Flores, my wife in that movie, is out of town."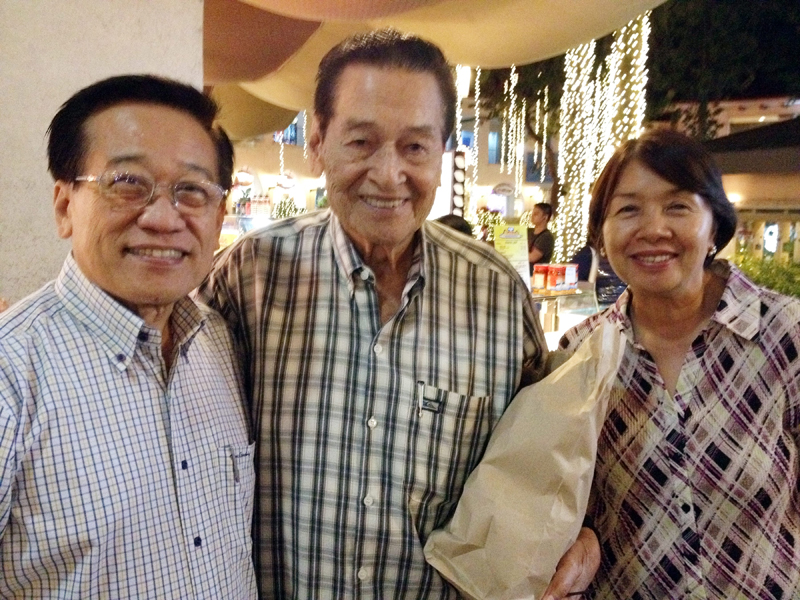 Romy and his wife Mila met the great Eddie Garcia for the first time at Alabang Town in December 2012.
Romy said that he treasures the joyful words of Eddie when he guested on Romy's show (CMMA Best Entertainment Program awardee) on Jan. 17, 2013, and read three love poems which left listeners teary-eyed when Mike Enriquez replayed them on DZBB three days after Eddie was rendered comatose by that June 8 accident.
When asked when was the first or last time he read poems, Eddie said, "To tell you frankly, in my 64 years in the field of entertainment, this is the first time I ever read poems on the air and I look forward to doing it again."
Romy with his wife Mila and lawyer-son Victor met Eddie in a shopping mall at the Ayala Town Center sometime in December 2012 apparently also preparing for the Christmas season. Eddie and Lilibeth lived in nearby Alabang Hills.
Recalled Romy, "When I introduced myself to him, he was so inspiring and with full respect said in his familiar baritone voice, 'Who does not know election lawyer Romy Macalintal?' I immediately grabbed the chance and invited him to my radio show which he, without any hesitation, accepted."
It was a one-hour program and in between the songs Romy played and the poems Eddie read, they had funny and casual dialogues where Eddie talked about his job and life as a multi-awarded actor and director.
When asked if he also acted in a movie that he directed, Eddie said, "Hindi ko ginagawa ang maging director and actor at the same time kasi magsa-suffer ang pelikula. I did it once but didn't do it again. Because if you are concentrating as an actor malilimutan mo 'yung directorial job mo," adding the happiest moment in the life of an actor is "'yung makagawa ka ng pelikulang tinatangkilik ng masa; naging maganda ang iyong performance at naging isang box-office hit."
In the next breath, Eddie mused, "For I want people to remember Eddie Garcia as an actor who gave his moviegoers joy when they were watching; tears when he was doing a tearjerker; laughter when he was doing a comedy role; excitement when he was doing an action film; and anger when he was doing kontrabida roles."
Romy's son lawyer Victor with Eddie.
Asked for a message for young artists, Eddie again gave that familiar smile. "My only message to them is mahalin n'yo ang trabaho n'yo and lay off tsismis."
Eddie read three love poems: I Treasure You and If I Were Not by James J. Metcalfe, and Unang Damdamin whose author is unknown.
With a sad tone, Romy wrote, "Now I know there won't be a second time for him to read love poems again, not only because he's already gone in this world to meet our Creator but for the fact that the program had already been off the air for the past three years."
Added Romy, "But if people like Eddie Garcia and other celebrities who guested and read poems in my said program enjoyed doing it then that gives me more inspiration to revive it again in the very near future."
Romy felt sorry that he wasn't able to pay his last respects to Eddie at the Heritage wake. But he would always pray for the eternal repose of Eddie's soul.
"I'm sure people like me who had the chance to be associated with Eddie Garcia, even for a while, will not only miss his being an actor and director but also how he touched their lives when they had their own personal encounter with him," Romy ended his tribute.
(E-mail reactions at rickylophilstar@gmail.com. For more updates, photos and videos, visit www.philstar.com/funfare or follow me on Instagram @therealrickylo.)